Last Updated on September 22, 2023 by Katie
Do people really get paid to click ads? Yes, they do!
While it might seem a little hard to believe, big companies pay people to click on their adverts and perform simple tasks such as watching videos or opening emails.
You probably get bombarded with ads all day long when you visit a website, on YouTube, on music apps and while watching TV. So why not earn some money from it?
There are platforms that act as the middleman between an advertiser and a person who signs up to click ads.
These are known as PTC (paid-to-click) sites. This article discusses 15 sites where you can make money by clicking ads.
Summary of the Best Sites to Get Paid to Click Ads
PaidVerts
Fusion Cash
Scarlet Clicks
OptimalBux
FamilyClix
Swagbucks
Prize Rebel
Get Paid
Ojooo Wad
Ysense
Offer Nation
GPT Planet
AtiClix
SquishyCash
Buxinside
---
Want to Make Extra Money Right Now?
Acorns: Get a free $10 just for signing up and start saving for your future. Your spare change is invested for you by experts. No investment knowledge is required! Join Acorns Now.
Survey Junkie: Earn easy money by taking surveys and giving your opinion on new products. Make up to $3 per survey and cash out quickly. Join Survey Junkie now.
---
---
More ways to make easy side hustle cash:
---
15 Sites to Get Paid to Click Ads
No we will explore the best sites to get paid-to-click ads.
Take a look through the list and apply to any that suit your needs.
Paidverts is a legit PTC site with 4,104,594 registered users. Reportedly, it's paid out over $9,368,894.91 in cash to its members for their ad-clicking efforts!
To get a part of the payouts, click the ''register'' tab and fill out your details. Once inside, the amount of money you earn depends on your level of involvement with the website.
As your activity increases, so will the number of points you earn which converts into cash. Rounds of ads to click on, only take a few minutes daily and are sent out Monday to Friday.
Payment is made through PayPal, Payoneer, Bitcoin Explorer, AdvCash and Payza.

Fusion Cash pays you to click links and ads, take surveys, fill out forms, download apps and play games.
You earn $5 as soon as you sign up and you can earn extra for referring friends and family. To get your bonus you just need to sign up, confirm your email address and fill out a brief survey.
This platform is only open to those residing in the United States.
Once you reach the $25 payment threshold you can cash out via Paypal or large retailers such as Walmart and Amazon.
Scarlet Clicks is another top platform to get paid-to-click ads. With 1,253,5503 members and $2,600,133.61 paid out, they are one to take notice of!
Earn $0.01 for each ad you click on and receive extra cash for referring new members and by completing surveys. To withdraw your money, you'll need to have earned at least $2.
Keep track of your earnings via a handy statistics table on the site, once you're signed up and active. Pay is made through PayPal, Neteller, Air and Payeer.
This PTC site is free for new members to join worldwide. They have 137,259 members and have paid out a total of $420,411.20 at the time of writing this article.
To start getting paid you need to sign up via the ''registration tab''. Once inside, you can click on ads and refer friends to earn extra cash.  Pay is $0.01 per click and 100% of referral earnings.
Withdraw your money through Payeer, PayPal, Neteller, Skrill, Air and Bitcoin Explorer.
FamilyClix is a trusted PTC site offering families or anyone, the chance to earn money clicking on ads. It also has a few other ways to make money including:
Paid offers
Sign up and get paid offers
Bonus games
Referral contests
Currently, they have 447,154 members and have paid out over $688,481.27. It's one of the better-paying PTC sites compared to the others mentioned so far. Earn up to $0.02 per click and $10 per referral upgrade.
Pay is made through PayPal, Payza and Neteller.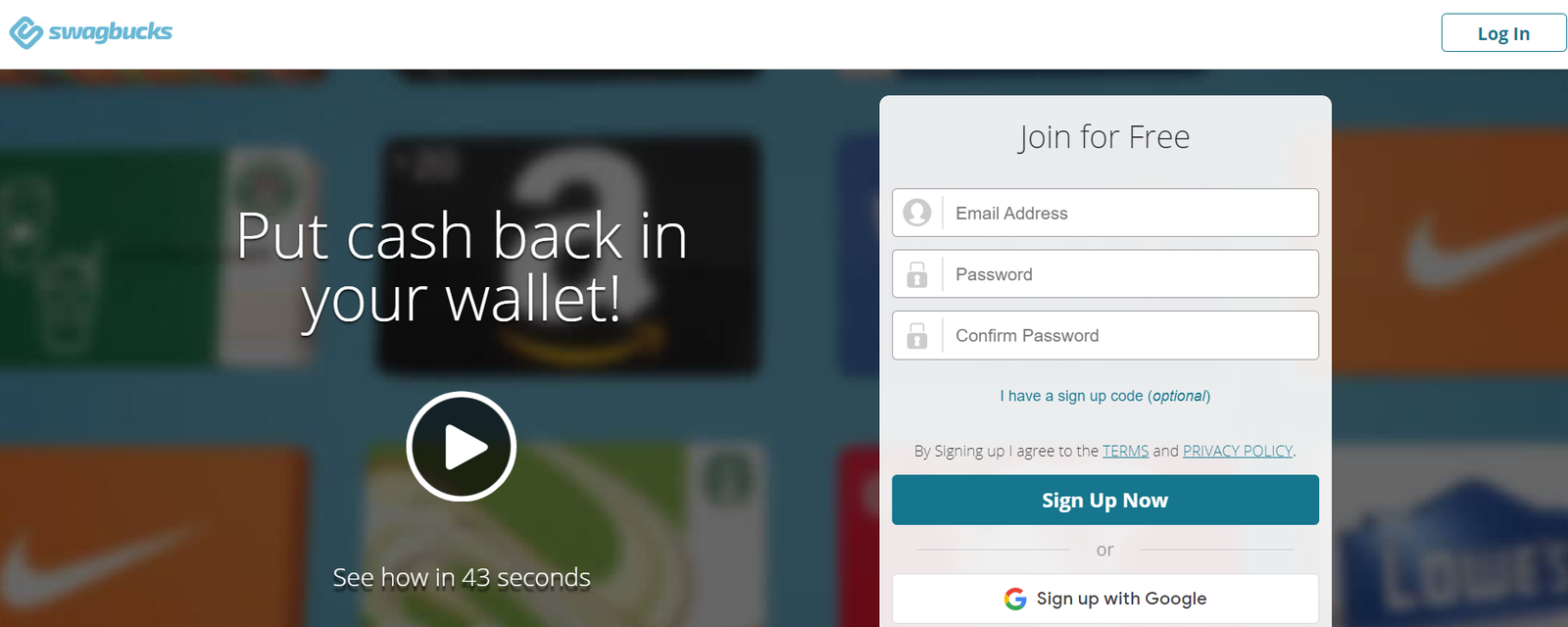 SwagBucks is a long-established PTC site that is well known in the industry. According to the UK website, they've paid out over £372,171,697 to their members and they give out 7,000 free gift cards daily.
Gift cards can be used at many big retailers such as Amazon, Starbucks, Walmart and more. Each time you earn 1 coin on SwagBucks, this is equivalent to $0.01. Cash payments are made through PayPal.
Ways to earn on SwagBucks include:
Play games
Shop online
Answer surveys
Watch videos
Search the web
Coupons and cashback

Prize Rebel offers a range of different ways to make money online. Just sign up for free and earn points for completing surveys and more.
Points can be redeemed for cash and gift cards which can be used at large retailers such as Amazon, Tesco, Café Nero and M&S. Pay is $0.01 up to $0.10 per click and 30% on referral earnings.
Withdraw your cash earnings through Skrill, PayPal, Neteller or WebMoney.
Get-Paid has been around since 2005, conducting online research analysis and offering paid surveys. They partner with worldwide companies that need consumer feedback to improve their business.
Members can earn by completing surveys, transcribing text, watching videos, clicking on ads, playing games and much more. Pay is $0.01 to $0.03 per click and can be redeemed via the online store or in cash.
Withdrawal methods include PayPal, BitCoin Explorer or Amazon Gift Card.
It's simple to get paid to click ads on Ojooo Wad. They have over 39,845.556 members and have racked up over 2 million clicks for their advertisers.
Earn in multiple ways including clicking ads, watching videos, referring friends and by making your own deals with advertisers on the platform.
Pay is $0.04 per click and is made through PayPal, Ethereum and Bitcoin Explorer.
10. Ysense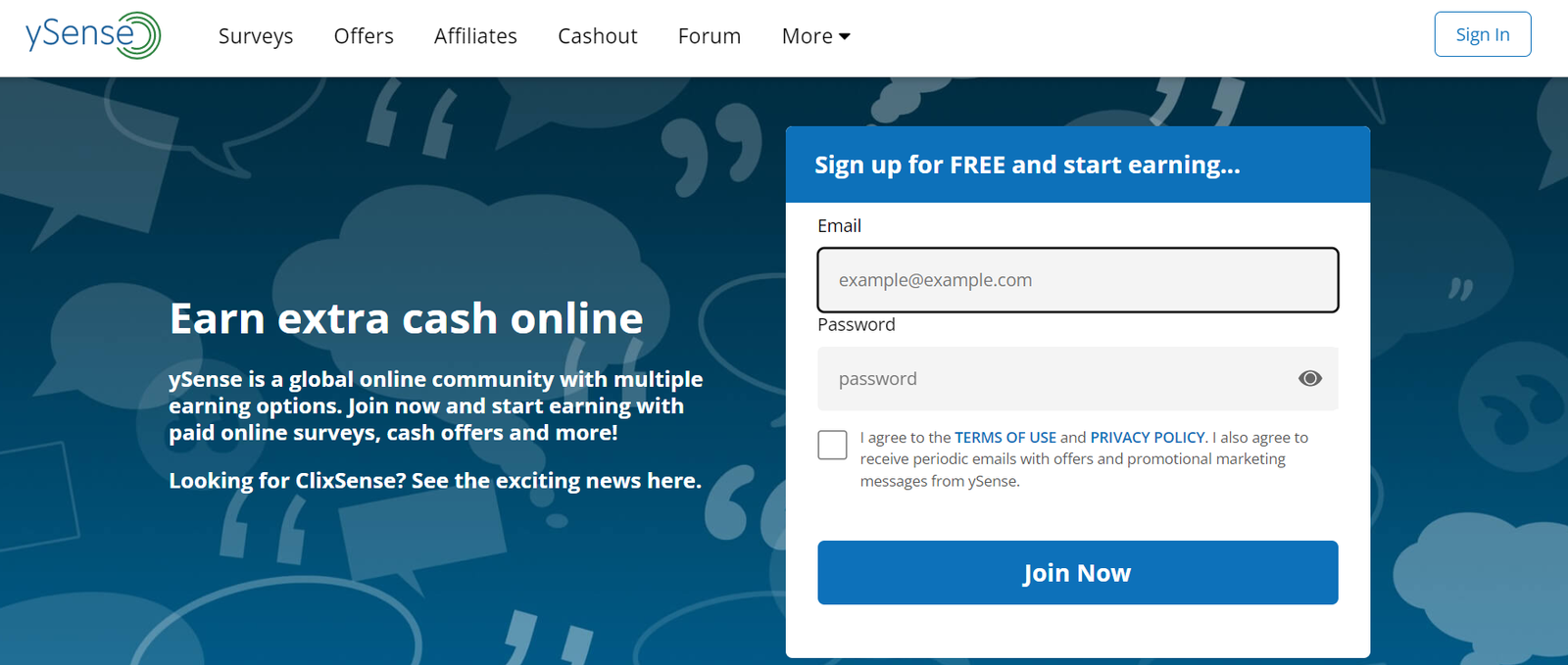 Ysense is a global online community with multiple ways to earn money online. These include downloading apps, completing surveys, trying out products and services, watching videos, signing up for websites and referring friends.
Sign up for free by filling out the simple form and then scroll through the offers to see what takes your fancy. If you enjoy the platform, start promoting it as an affiliate and earn 30% recurring commissions, on those who sign up through your link.
Your earnings also increase, once your referral earns their first $5, which is a nice touch!
Pay is $0.01 to $0.02 per click and paid through Paytoo, Payoneer and Tango GiftCard.
More than $1,267,992.47 has been paid out to the members of Offer Nation! It's quick and easy to register on the platform and you get paid to participate in surveys online.
Offer Nation works with big businesses across the globe to help improve their services and products through consumer feedback. You can help to shape future products and earn money while doing it.
Most of the surveys pay between $0.80 and $5 each and pay is made through Skrill, PayPal, Bitcoin or gift cards. Pay is fast and often on the same day!
According to GPT Planet, they've paid out $1,565,355.34 to over 813,445 members. All countries are welcome to register for free and earn by viewing ads, clicking on ads and more.
Pay is around $0.01 to $0.015 per click and you'll receive between 20% and 100% per referral click.
To cash out, you must have $1 minimum and payments can be redeemed via Skrill, Neteller, AirTM, Payeer and Bitcoin.

AtiClix offers multiple ways to earn such as surveys, completing offers, contests, referring your friends and by clicking on ads.
It makes money from advertisers by displaying their ads on the AtiClix site, which then receives clicks from site users.
At the time of writing this, they had 182, 522 members and had racked up 760,765, 66 paid ad visualizations.
To get started, register for a free account, log in and click the 'earn money' tab. The site pays you $0.04 per click and $0.04 for referrals.
14. SquishyCash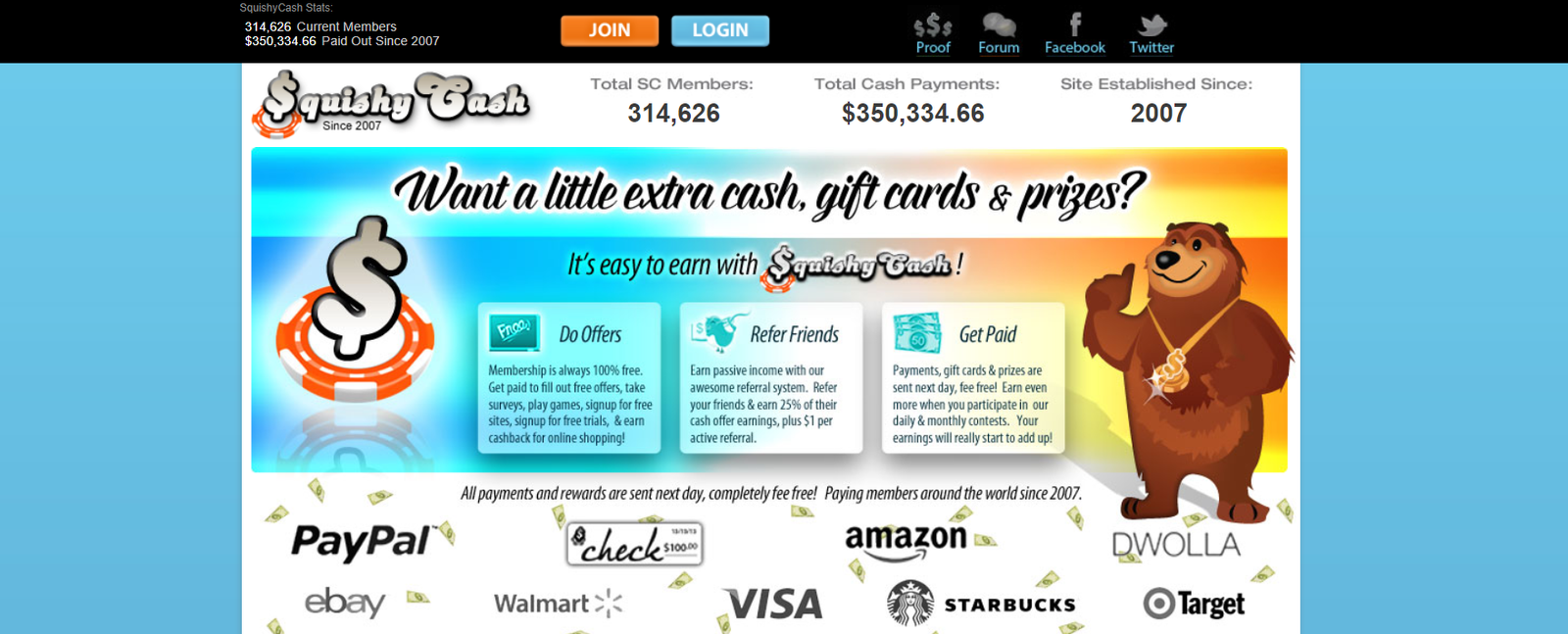 SquishyCash works with advertisers and pays people to complete offers, sign up to free sites, take surveys and try products while shopping online. Each time you complete a task, the advertiser pays and your account gets credited.
You can even earn $1 for every active referral and 25% of their cash and chips earnings. Payments can be redeemed in cash and rewards to be used at large retailers such as EBay, Amazon, Starbucks, bath and Bodyworks, iTunes and more.
To date, they've paid out over $350,003.84 in cash to members. Cash out when you hit a minimum of $15 via PayPal.
15. Buxinside
Buxinside is a simple and fast-paying PTC site, allowing you to get paid just for browsing advertiser's websites. Pay is made instantly when you reach the $2 minimum threshold.
Members are welcome from all over the world and you just need to fill out the simple online registration form. To receive payments, you'll need to have an account with either PayPal, AdvCash, AirTM, CoinBase or PerfectMoney.
Check out their forum to read news about Buxinside and to talk to others earning money on the platform.
FAQs
Get Paid to Click Ads
How Much Money Do Ad Clicks Make?
Ad clicks on PTC sites earn between $0.01 and $0.04 per click. This will never get you a full-time income but is a great way to earn extra cash on the side.
There are many PTC sites for you to explore. To increase your earnings, sign up to multiple at a time. Plus, many of these sites offer extra ways to make money including reading emails, searching the web and completing surveys.
Are PTC (Paid to Click) Sites Safe?
Yes. It's safe to earn money with PTC sites. While this is a legit side hustle, it's important to be cautious and do your research, because there are scam sites that take advantage of people.
How do PTC Sites Work?
PTC sites are websites that pay people from all over the world to click on advertisements. It's a simple way to make money only requiring zero skill and just a few seconds for each task.
To get started on PTC sites you'll need a personal computer, an internet connection, an email account and a payment method such as PayPal (it will vary between the sites).
Once you've signed up to a PTC site, you can search through the available ads to click and view. Each time you click on an ad, you'll be required to spend between 3 and 60 seconds viewing the ad to get paid.
The pay will be added to your account usually straight away, so you can enjoy watching your earnings grow after every click.
PTC site owners are the middlemen between an advertiser and a customer. They earn a fraction of the fee for every ad clicked, so the more people they have clicking, the higher they earn.
The process goes like this:
Advertisement is shown online
You click on the ad and view for the required amount of time
Pay is sent to the PTC site owner
Your account is credited for the click
Can I earn money by clicking ads?
Anyone can earn side hustle cash by clicking on ads. PPC (pay per click) sites pay real people to click on ads for their customers. This helps the business build its authority and the ad clicker gets paid. It's a win-win situation.
While you won't make much money clicking on ads, you can bump up your earnings with other side hustles such as being a virtual friend, browsing the web, listening to music and affiliate marketing on Twitter.
And if you want a work-from-home career, check out this hiring now page and list of 45 entry-level jobs always hiring new talent.
There are hundreds of ways to make money from home alongside clicking on ads. It's best to try a few out and see what works best for you.
How to avoid getting scammed by PTC sites?
Even though there are plenty of opportunities online, there are also plenty of scams. Unfortunately, there are fake PTC sites that offer pay for clicks, but never actually pay you. Avoid scams by:
Researching every site
Look for reviews online
If the pay sounds too good to be true, maybe it is
Don't pay anything up-front to join the site
Avoid giving your credit card information
Can you really make money on PTC sites?
Yes! Getting paid to click ads isn't going to pay a full-time income, but it's a legit way to earn on the side. To make the most of PTC sites, sign up for a few. Click on multiple ads and let them run while you're watching TV or doing chores.
How else to make money with PTC sites?
It's easy to make money by clicking ads. However, you can make even more money by referring people to the pay-to-click site.
Why do they pay you for this? Well, the more link clickers a PTC site has, the more money they make. The majority of PTC sites will have a referral affiliate programme.
As an affiliate, you'll be given a unique link.
This is a link you can share with your friends, social followers or an email list if you have one. When someone joins the site as a click worker, you'll receive a percentage of their clicks.
While this will be a small amount in the beginning. As your referrals rise, so will your earnings.
Get Paid to Click Ads Final Thoughts
Now you know the best sites to get paid-to-click ads.
While I did research the sites for this article, it's always best to conduct thorough research before signing up for anything. Never join any platform that asks you to ''pay a fee'' up-front.
You should not pay anything to become a click ad worker. Check out reviews of the PTC site you intend to use online. If you read anything about not being paid money owed, it's best to avoid the site.
But once you're signed up to a few legit PTC sites, you can earn money from the sofa doing what you normally do!
Have you tried any of the get paid to click ads sites mentioned? Did you make money? Let me know in the comments below.
Get Paid to Click Ads – 15 Sites Worth Your Time
*Disclosure: I only recommend products I would use myself and all opinions expressed here are our own. This post may contain affiliate links that at no additional cost to you, I may earn a small commission.
Summary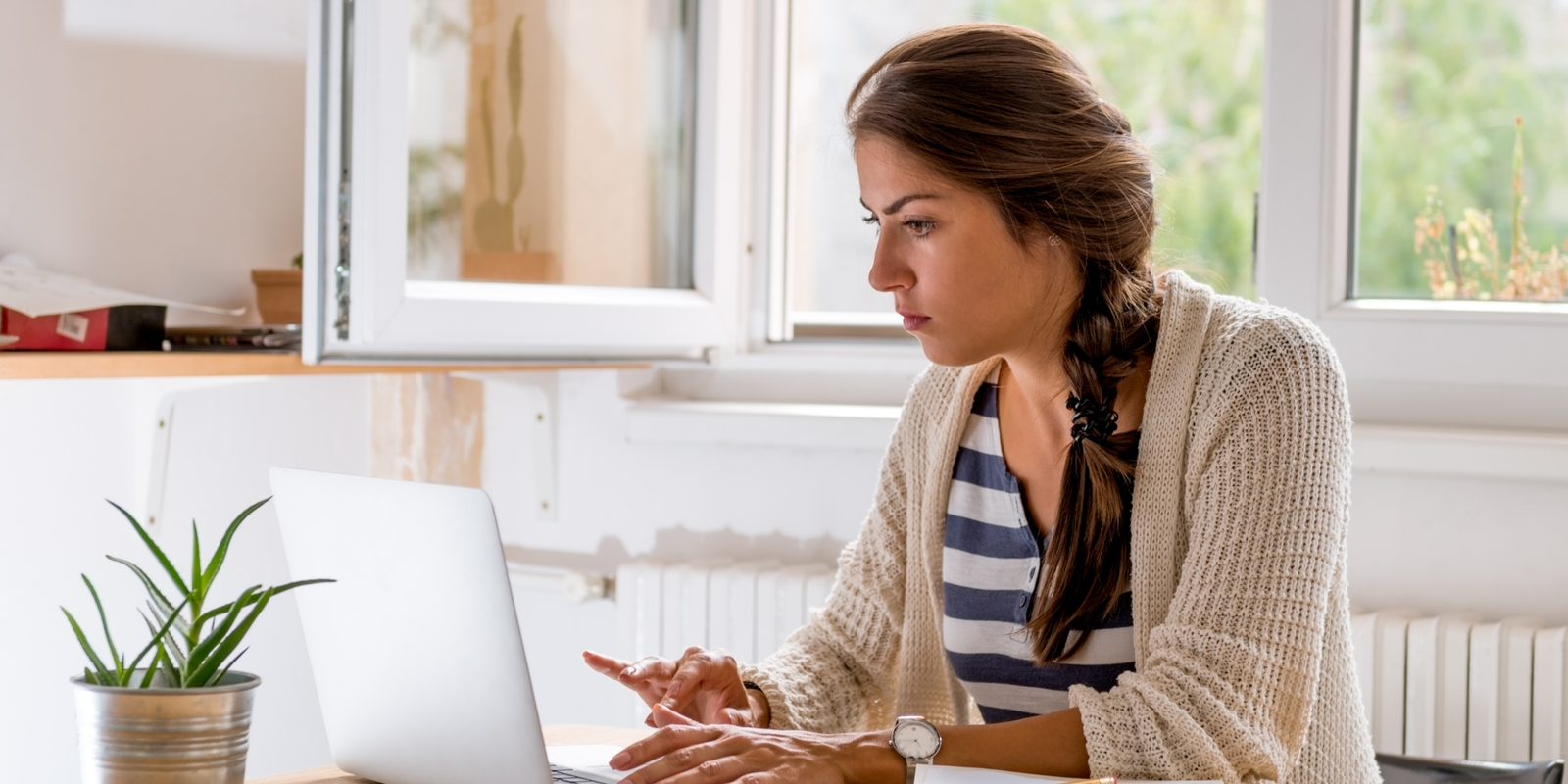 Article Name
Get Paid to Click Ads (15 Sites Worth Your Time)
Description
Get Paid to Click Ads (15 Sites Worth Your Time). Easy way to make money at home from the sofa.
Author
Publisher Name
Publisher Logo