Last Updated on September 22, 2023 by Katie
Do you have an opinion on the latest beauty products? Or, have something to say about how Nike could improve their next trainer? There are so many opportunities to make money with focus groups in various fields.
And not just a few dollars. Many focus groups pay handsomely up to $300 for an hour of your time.
Of course, not all focus groups pay this much. But many pay around $50 – $150 for an hour of your time making it a top side hustle.
But why do companies pay for your opinion?
Big and small businesses want to know what their customers think. This helps them create better products and make more money. So it's a win–win.
These companies hire research companies to hold focus groups. The research companies then look for participants for the focus groups, organise them and collect data.
How to Make Money with Focus Groups
User Interviews
Respondent.io
Recruit and Field
Ipsos i-Say
PingPong
Google Usability
20/20 Panel
Focus Pointe Global
Mindswarms
Survey Feeds
FocusGroup.com
Fieldwork
Find Focus Groups
Probe Market Research
Plaza Research
Engage Studies
SIS International Research
Saros Research UK
Research Opinions
---
Want to Make Extra Money Right Now?
Acorns: Get a free $10 just for signing up and start saving for your future. Your spare change is invested for you by experts. No investment knowledge is required! Join Acorns Now.
Survey Junkie: Earn easy money by taking surveys and giving your opinion on new products. Make up to $3 per survey and cash out quickly. Join Survey Junkie now.
---
How Do Focus Groups Work?
Focus groups are normally held in person or online. They usually include six to eight people who are led through a discussion by a moderator. The focus group will centre around one topic where you'll be asked your opinion on the subject.
In-Person
You may find focus groups near enough to attend in person. The group moderator will ask questions and take note of the results.
You may be asked to attend multiple in-person focus meetings, but will be paid for your time.
Online
Online focus groups are held via video call. You'll be given a unique link to access the discussion on your smartphone or laptop.
Some online focus groups use specific video software you'll have to download. Online focus groups are fast becoming the norm, as they cut down on costs for research companies.
How Much Do Focus Groups Pay?
Every focus group pays differently. But, you could earn anywhere between $50 up to $400 or even more in some cases.
Pay also depends on the amount of time you spend participating and travelling to and from a focus group.
Payments are made via PayPal, bank transfer, gift cards or cheque. A few research companies pay with points that can be redeemed online.
Where to Find Paid Focus Groups?
A quick Google search of ''paid focus groups near me'' should bring up a few.  I've also done a ton of research and listed many legit focus groups below.
Make sure you check out each company before agreeing to anything. Look over their social media profiles and any reviews you find online.
Sign up to as many legit research companies as you can. You'll have to go through multiple screening processes before you can make money with focus groups.
Some look for a unique demographic such as female, over 40, living in NY or male, 18 – 25, so you may have to wait to get offered a paid focus group that fits you.
19 Best Paid Focus Groups to Make Extra Cash
Take a look at the following list of best paid focus groups worth your time.
By applying to multiple at a time, you can earn a decent amount of side cash to help out with the monthly bills.
Use Interviews is one of the best-known companies that want your opinion. To make money with focus groups on this platform just hit the ''sign up'' tab and register in a few clicks.
Once you've created a profile, the system connects you with offers that you qualify for.
User Interviews offers a range of ways to earn money including focus groups, one-on-one interviews, multi-day studies and unique tasks.
Pay is reportedly $75 for 30 minutes of your time and up to $450 for special, one-hour studies. Not bad for giving your opinion!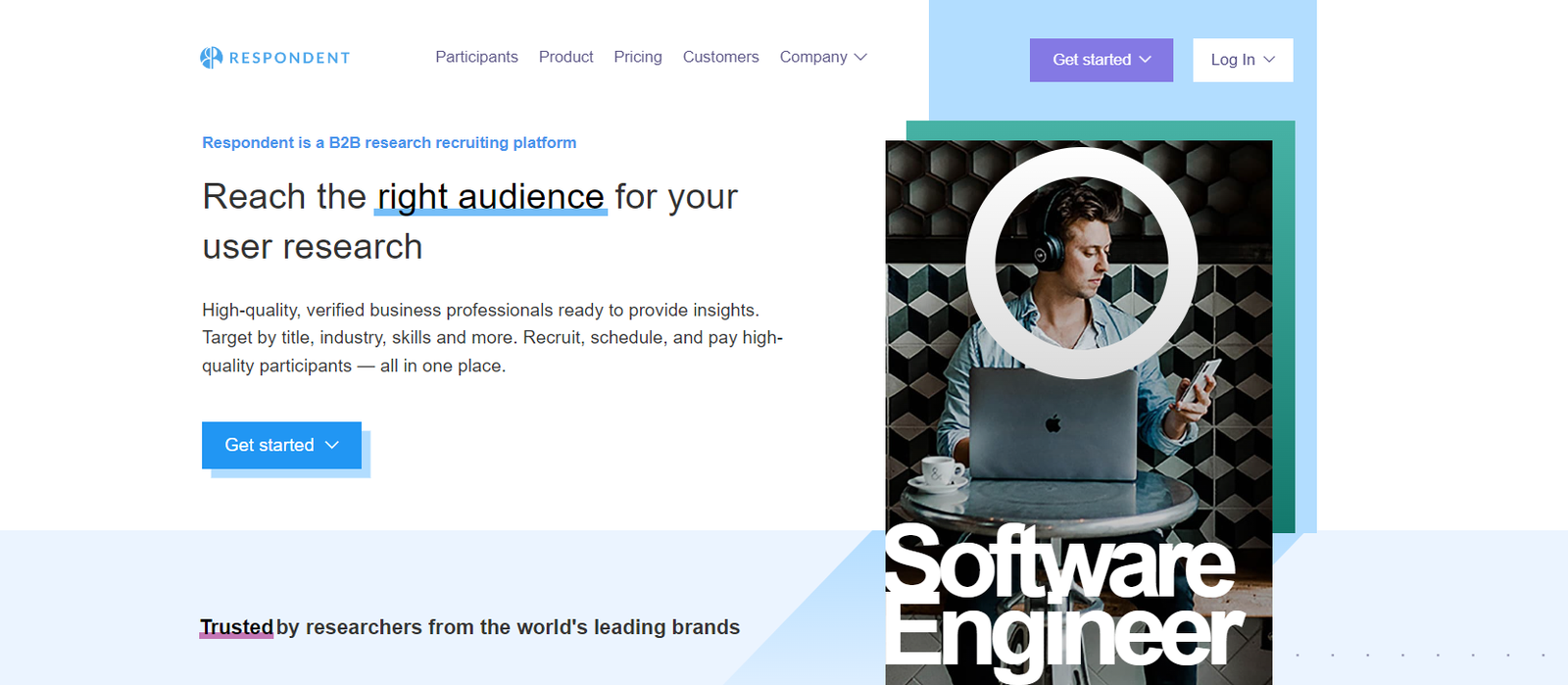 Respondent is another company that pays focus group participants extremely well.
They recruit people worldwide and pay is up to $250 an hour. Just set up an account and fill out your profile to start sharing your insights.
Once inside the platform, you can see all the focus groups available to join. No need to wait for an email, just click on the ones you'd like to take part in.

Recruit and Field is another great company to make money with focus groups. Many of the studies are held online, meaning you have a larger pool of focus groups to choose from.
Payment is $100 to $300 per and paid through PayPal or gift cards.
You can register as a participant in the US or if you live outside the United States. Just fill out the short survey with your details, to join Recruit and Field focus groups.
If you have specialised knowledge in the medical, legal or marketing field you'll do well here as they often want participants with qualified backgrounds.
Ipsos is a leader in the market research world and accepts participants from around the world.
They work with companies in various industries and offer paid surveys and focus groups. Surveys only pay up to $1.50 each, but the focus groups generally pay $100 for an hour of your time.
After taking part in a focus group or completing a survey, you'll get rewarded in points. Once you hit 500, you can redeem them for PayPal or visa cash and gift cards.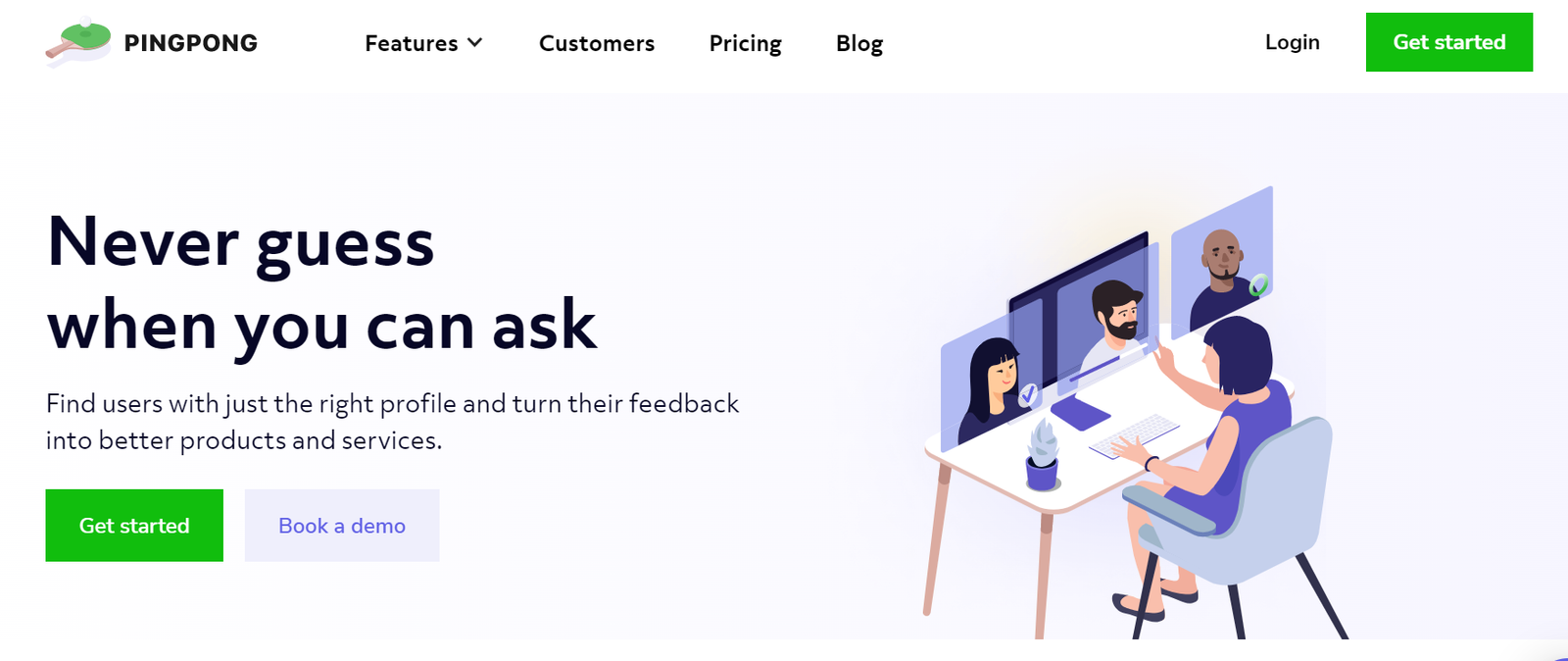 PingPong is a little newer than some of the other research companies. But, according to reports, it pays focus group attendees well and works with some big companies such as Nestle, SkyScanner and Dropbox.
Pay is 100 Euros per hour for focus groups and participants are welcome worldwide even though pay is in Euros.
You can also get paid to test websites and take part in one on one interviews with brands.
To get started hit the ''sign up as a tester'' tab, fill out your details and create your PingPong account.

Google pays participants $75 per hour to share opinions on Google products. Many of the studies and surveys are done online, but occasionally in-person focus groups are offered.
To get started, fill out a short form with a few personal details. If a study is a good fit for you, Google will contact you with a short questionnaire and details about the project.
20/20 Panel is an established research company that has been around for over 30 years.
They recruit participants to give their opinion on different client products and services. Many of their focus groups are online or held at one of their US offices.
They also offer paid surveys to top up your earnings. Pay is $50 to $100 for joining focus groups and you can sign up easily with just your email address.

Focus Point Global is a US company that is linked with Inspired Opinions in the UK.
This company needs paid participants for research studies. Some are held online and others on the phone or at an informal group venue.
Pay is $50 – $250 per discussion and the subject is often centred around the topic of illness and medicine. But, you don't need to be working in the medical field to get accepted.
Even if you've experienced an illness in the past, you may be asked to share your thoughts about that.
If you have a smartphone with a camera, you can film yourself answering market research questions and get paid after uploading this to the Mindswarms app.
This means you can make money with focus groups on your own time. Just record and share your opinion when it suits you, no need to travel anywhere or be online at a certain time.
Top brands and agencies use Mindswarms including Nike, Verizon, Google and many more. Pay is $50 to answer seven questions at a time, making it an extremely quick and easy way to make extra cash.

Survey Feeds is a research and participant recruitment company for focus groups in the US and online.
They have over 20 years of experience in the game and pay is anywhere between $50 up to $475 per session!
In-person studies include focus groups, interviews and clinical research studies. Online studies include phone interviews, web conferences and online surveys.
Keep an eye out for research opportunities on their Facebook page and by checking the website regularly.
11. FocusGroup.com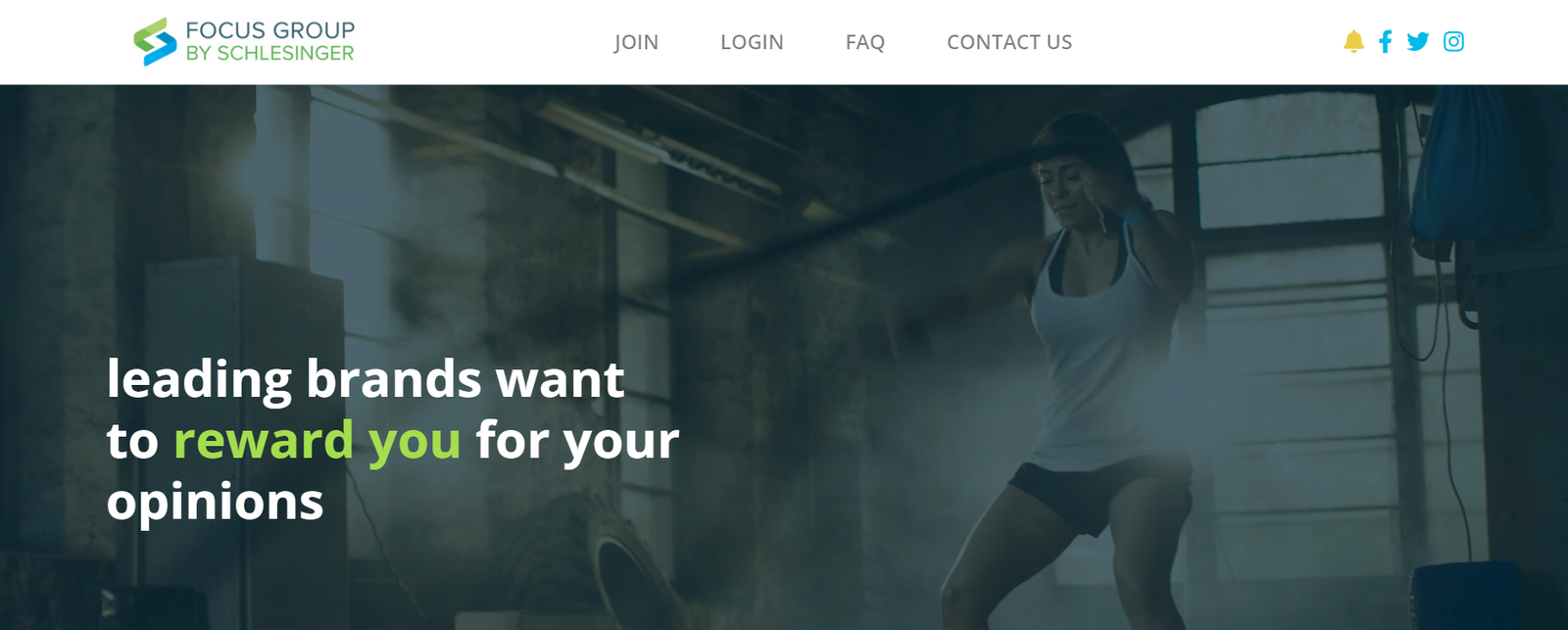 FocusGroup.com offers online and in-person paid focus groups throughout the US and worldwide.
Just click to join and you could be earning $75 to $250 per study.
They run focus groups in many topics including business, medical, cellphones, pets, dining out, entertainment, electronics, children's products and more.
Pay is made by cash, gift cards, cheque or visa card and varies between each study.
12. Fieldwork
Fieldwork recruits focus group participants nationwide across the US. They need people from all areas and from all backgrounds to give their opinions.
Pay starts at $75 for up to two hours in a focus group. Pay is usually given in Visa gift cards, but it's best to check before you commit to any of their sessions.

Find Focus Groups has been in the business since 2006 and has listed over 75,000 focus groups in the US. Every listing on the site is hand-picked and verified, so you can be sure you won't get scammed.
This platform makes it easy to make money with focus groups you're actually interested in.
You can search by city or state and look for topics that interest you. If you qualify, you'll be contacted by the company conducting the research with further details.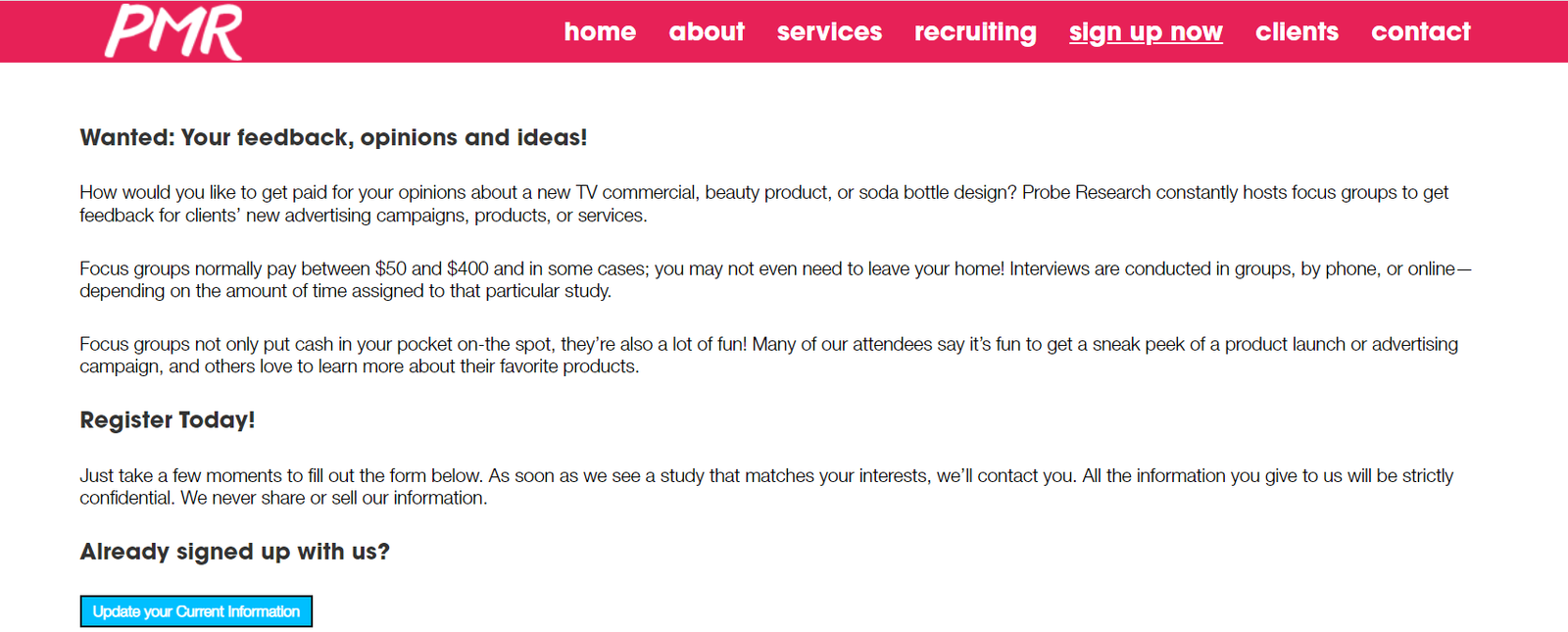 Probe wants your feedback, opinions and ideas! They'll pay for your opinions on TV commercials, beauty products, soda bottle designs and more.
All the information gathered is used to get feedback for clients' new products, advertising campaigns and services.
Focus groups are paid from $50 up to $400 online and in person. They also conduct paid interviews by phone, online and in groups.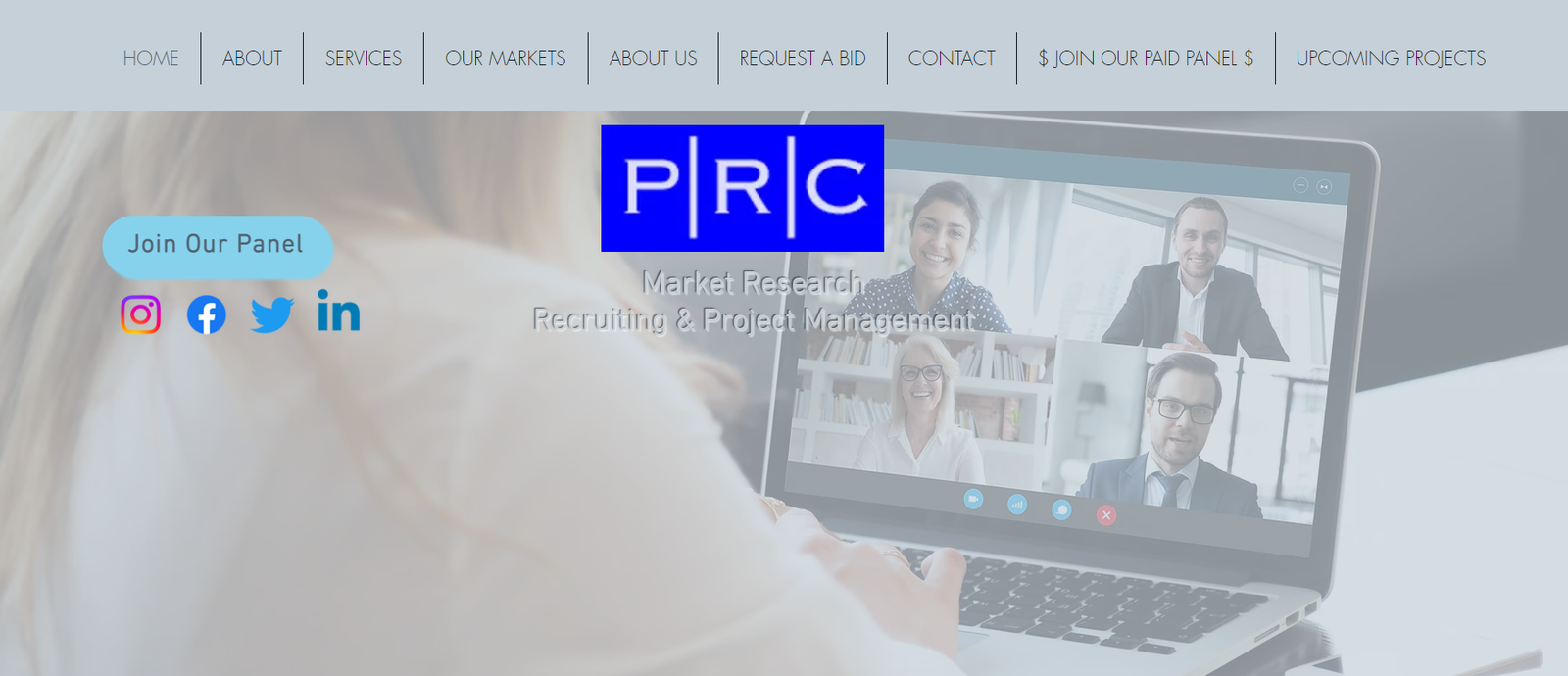 Plaza Research operates throughout 14 US cities. They hold focus groups during the day and the evening and pay $50 – $200 for a two-hour session.
Group sessions consist of several consumers and market professionals representing major brands.
You may be asked to sample a product, talk about new products or preview a TV commercial.
Complete the electronic registration form to become eligible for Plaza Research focus groups.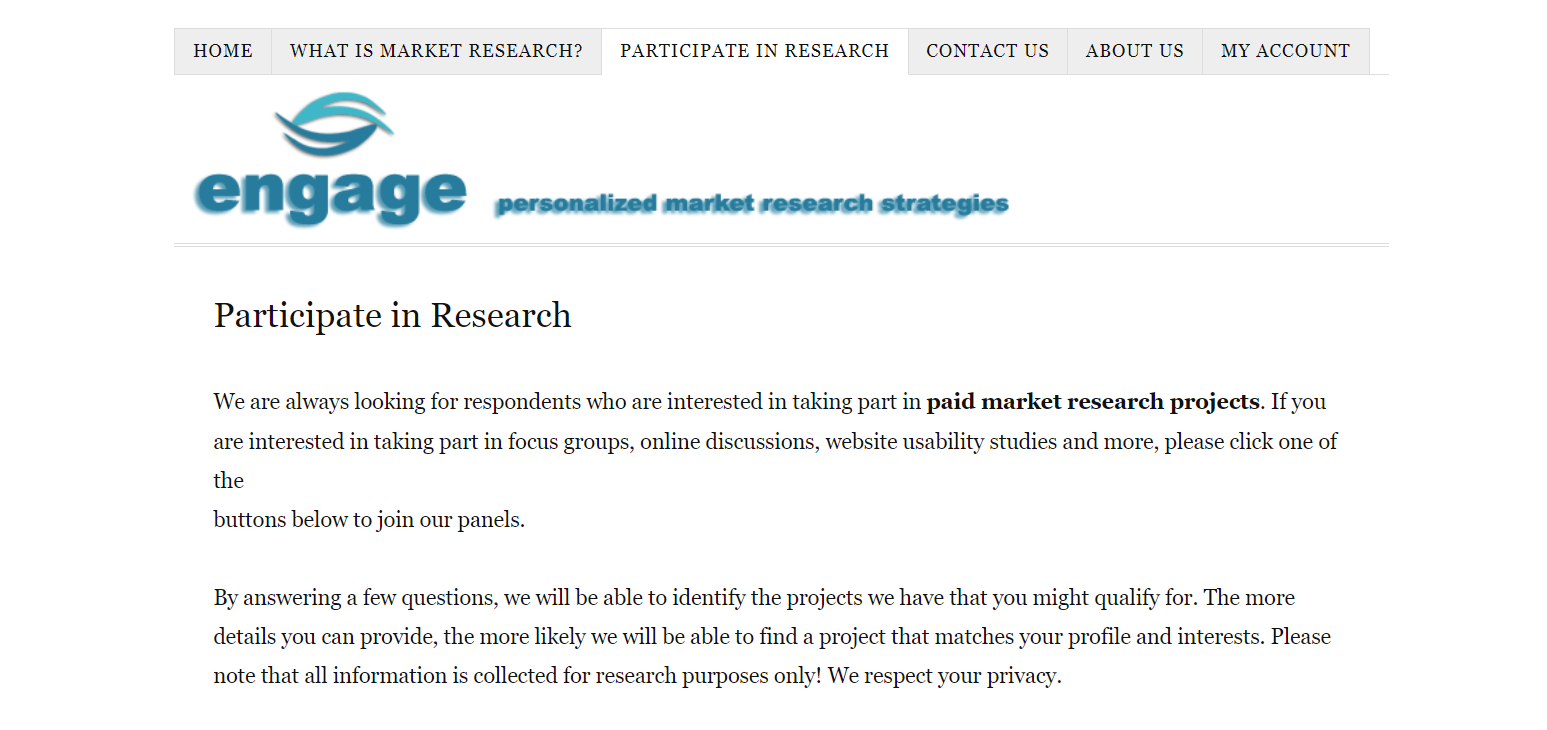 Engage Studies needs participants for paid research projects. They hold focus groups, online discussions, website usability studies and more.
There are two options to make money with focus groups on this platform:
Consumer market research studies
Healthcare market research studies
To sign up, you'll need to choose one. Engage takes on participants from all over the world and pay is $50 – $250 depending on the study.
17. SIS International Research
SIS International is a global market research firm with over 35 years of experience. Their consumer research is used by businesses to provide insight on buyer behaviour, attitudes and needs.
They hold focus groups worldwide and online. In a typical focus group, you'll join 6 – 8 others to give your feedback on skincare products, appliances, cars, televisions and more.
They also regularly have opportunities for consumers with niche knowledge. One gig I saw offered on their platform was $250 for a 30-minute interview with finance professionals.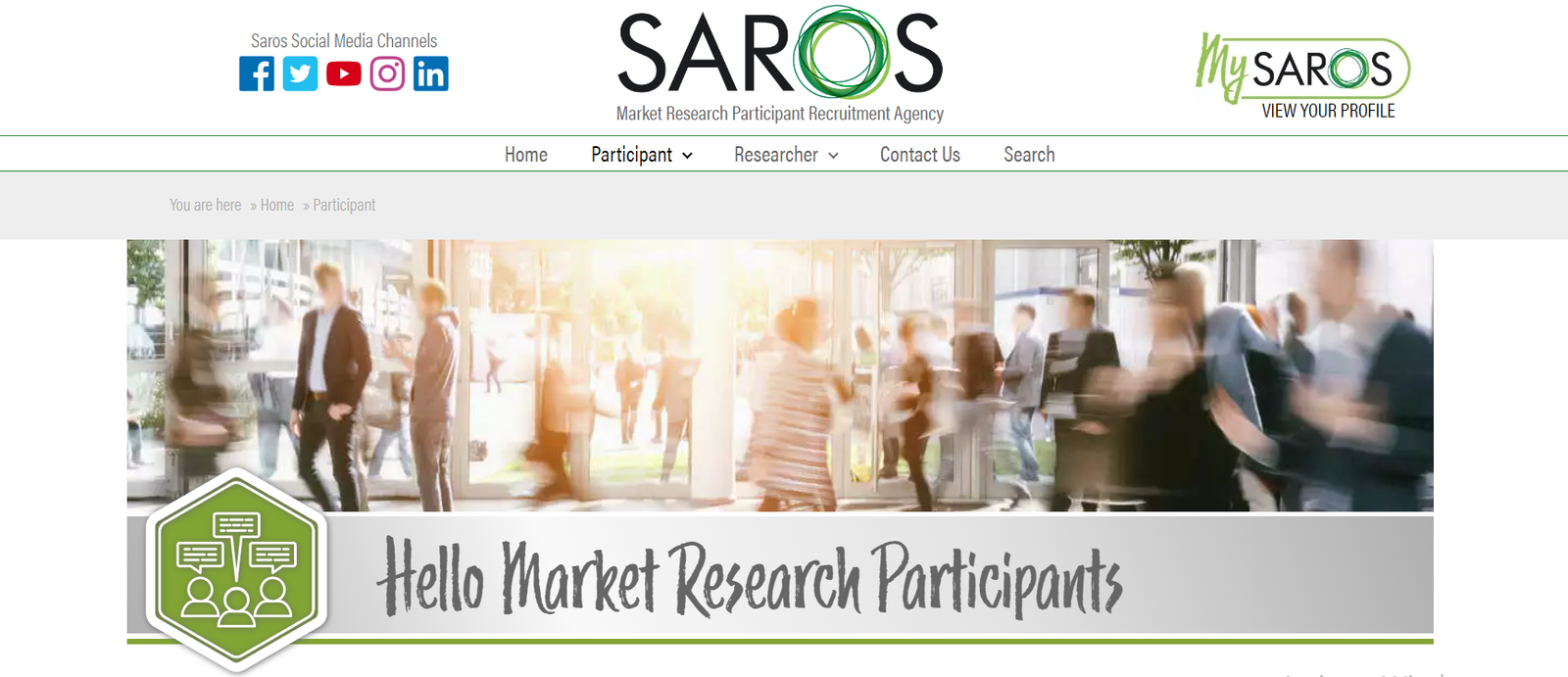 Signing up to Saros is one of the best ways to make money with focus groups in the UK.
They pay participants £40 – £100 for an hour or two of their time, although some are longer and paid more. Focus groups may include anything from a lively discussion about a craft beer, talking about the latest technology or testing out snacks, foods and products.
Focus groups are held online and in person. To get started, fill out a basic profile which is used to send you targeted research invitations tailored to your likes and location.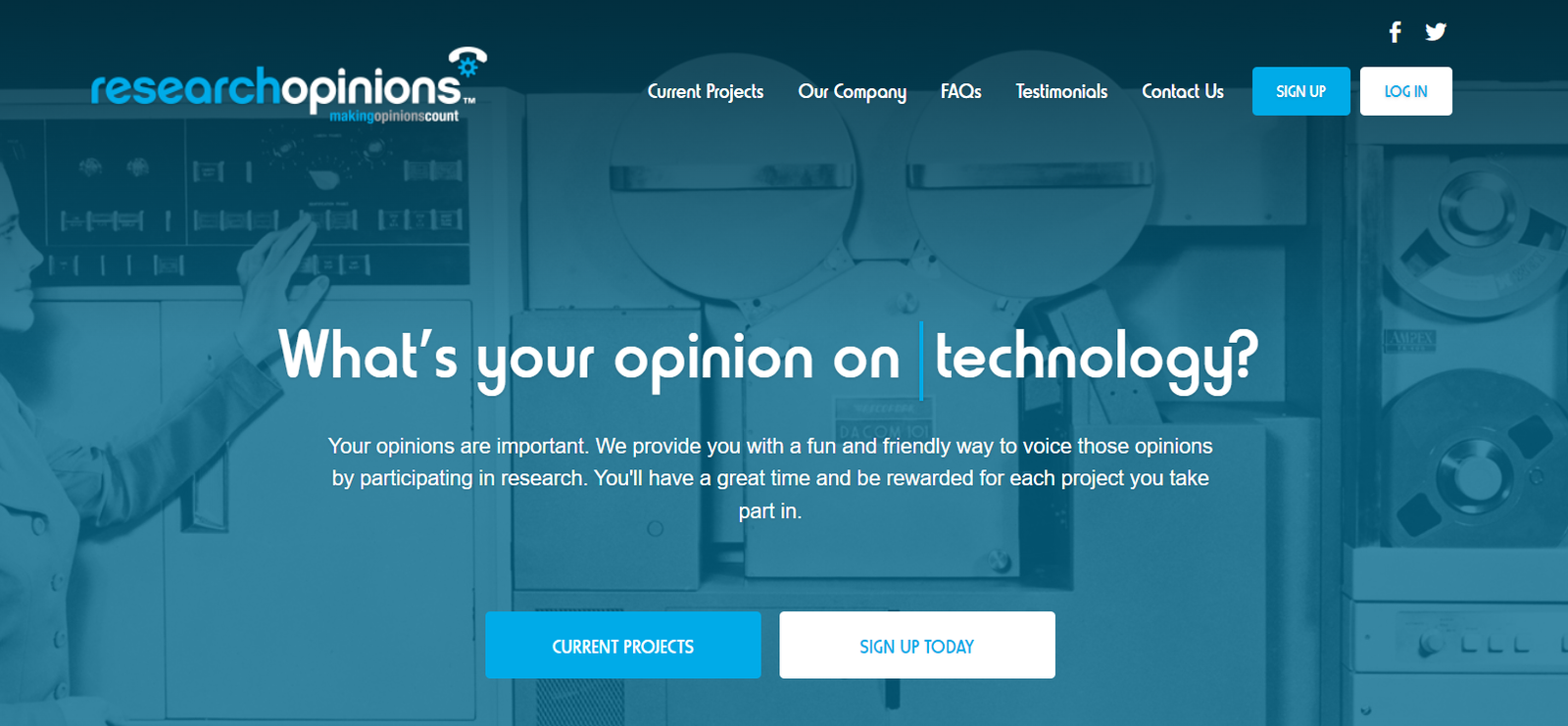 Another place to make money with focus groups is Research Opinions. It offers phone, online and in-person studies.
Having been around since 1987, you can have peace of mind this company is reputable. The research team recruit people from all over the UK to take part in online interviews and online focus groups.
Paid studies are offered in a range of subjects like shopping, cars, preparing for university, golf, home renovations and more. Pay ranges from £20 – £200.
Just click on the projects you're interested in and fill out the form to see if you qualify.
How Else Can You Find Paid Focus Groups?
You should be able to make money with the focus groups mentioned above. But if you need extra opportunities, here are a few more places to check out:
Now Go and Make Money with Focus Groups!
Now you know how to make money with focus groups! I hope you've enjoyed this list and managed to earn some extra cash.
Focus groups are an easy side hustle, that can make a few hundred dollars extra each month if you sign up to multiple platforms. Remember to always check your inbox so you don't miss opportunities.
To increase your monthly earnings, combine focus groups with other side hustles such as:
Have you joined any paid focus groups? I'd love to know about your experiences in the comments below.
How to Make Money with Focus Groups (Up to $300/Hour)
*Disclosure: I only recommend products I would use myself and all opinions expressed here are our own. This post may contain affiliate links that at no additional cost to you, I may earn a small commission.
Summary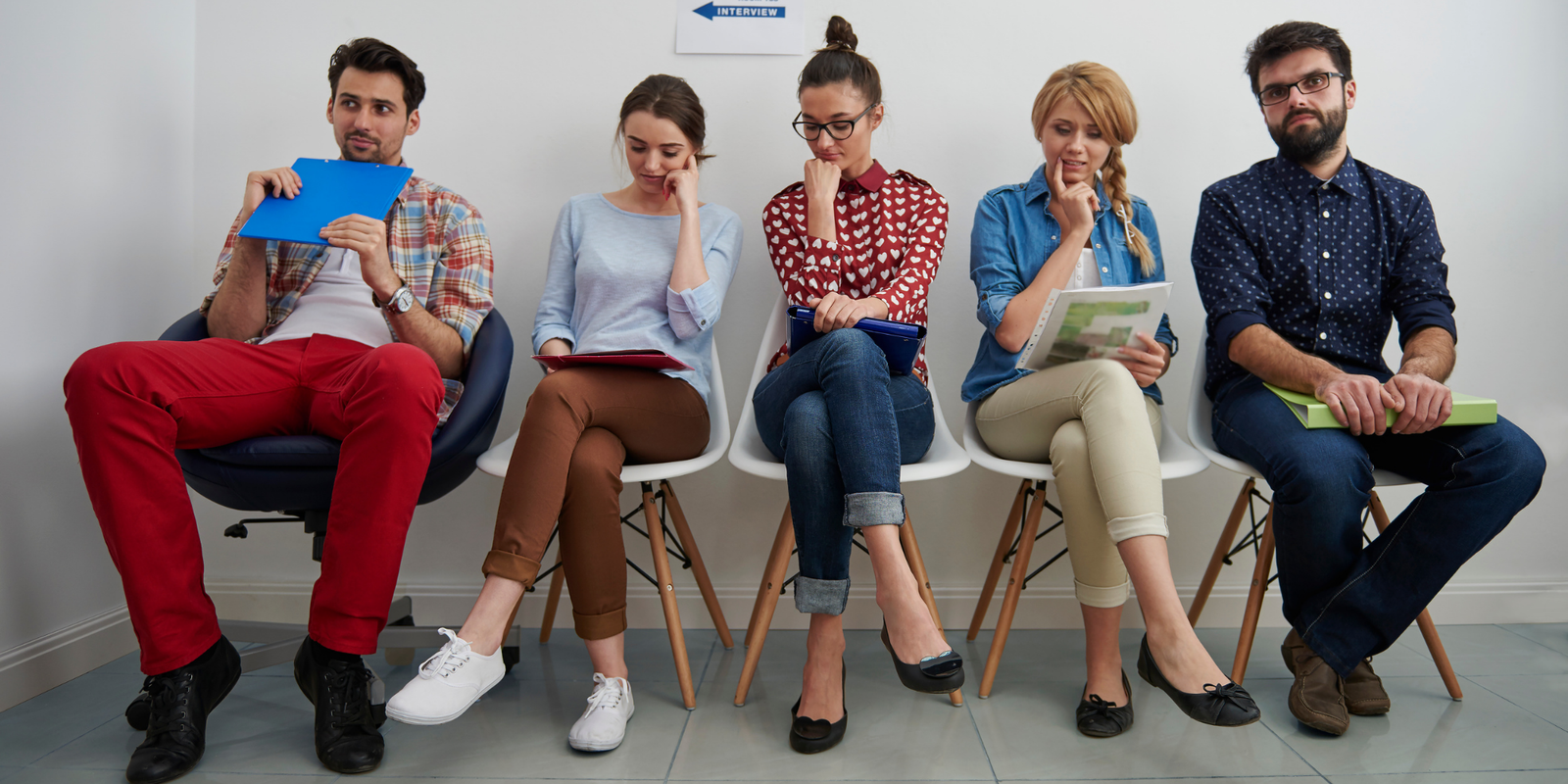 Article Name
How to Make Money with Focus Groups (Up to $300/Hour)
Description
How to Make Money with Focus Groups (Up to $300/Hour). Uk, Us and worldwide opportunities.
Author
Publisher Name
Publisher Logo