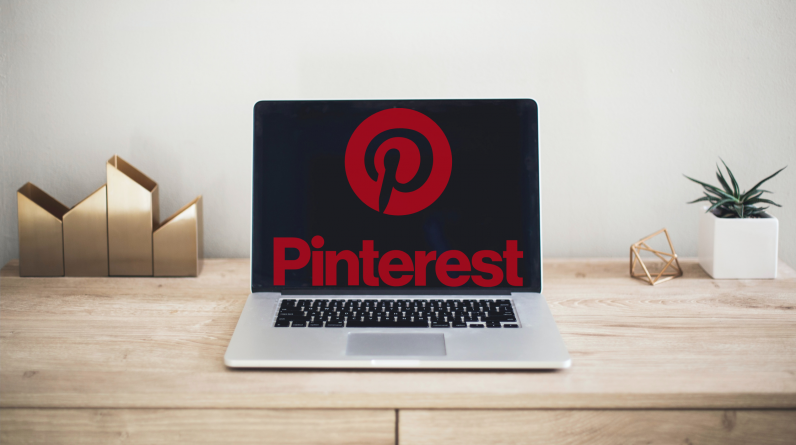 This post is all about Pinterest affiliate marketing without a blog.
By adding affiliate links directly to your pins you can make passive income. So if you have a Pinterest account already, why not start making money from it?
This doesn't mean you should just spam affiliate links on your account all day long. This is a surefire way to get your Pinterest account banned.
While Pinterest is tolerant of affiliate links now, you should be mindful to share a mix of affiliate pins and niche relevant pins.
Affiliate marketing is a beginner-friendly way to start making money online. It's an agreement between you and the product vendor to send them traffic through a unique link you're given.
When someone clicks on your link and makes a purchase, you make a commission.
So why is Pinterest affiliate marketing such a good idea?
Well, according to statistics around 70% of Pinterest users go on the platform to make a buying decision.
That makes it one of the best social media platforms to make money from.
---
Want to Make Extra Money Right Now?
---
What's Needed to Start Pinterest Affiliate Marketing Without a Blog?
To make money with Pinterest affiliate marketing, you need very little. This is why it's such a great new side hustle for beginners. Some basic things you need to get started;
A Pinterest business account. You can either switch your personal account or set up a new account
A free Canva account to design pins
A niche to target e.g. Mom and baby, fashion, making money, travel, home decor
Products to promote and your affiliate links
Optimised boards filled out with keyword-rich descriptions
Time daily to create, upload and share pins
Best Affiliate Programs for Pinterest
The affiliate programs you decide to sign up to really depend on your niche. Here are some recommended affiliate programs for Pinterest which align with different niches.
For multiple different affiliate products search these large affiliate platforms:
ShareASale
Awin
Clickbank
Amazon Affiliates
How to Make Money On Pinterest Without a Blog?
It's really simple to start Pinterest affiliate marketing without a blog. The guide below shows you the exact beginner steps to make your first affiliate commissions.
Step #1: Make a List of Products or Services Your Niche Needs
Affiliate marketing works if you show people products they want and need at the right time.
Make a list of all the useful products and services you can think of in your niche. Also include products you've used yourself that were helpful.
Research your products to see if they have an affiliate program.
Step #2: Search and Sign Up to Relevant Affiliate Programs
Choose a few affiliate products that align with your niche.
Use Google to search for relevant affiliate programs.
Type in ''your niche'' + affiliate programs, which will show you the currently available programs you can apply to.
Apply to be a part of the affiliate program. Each program will have different rules to which you'll have to adhere to.
Remember that some will only take on affiliates with a blog. Don't let a 'no' dishearten you. Just move on and find another.
Step #3: How to Use Affiliate Links on Pinterest
Now you have your affiliate links, you need to create pins to promote them on.
I use Canva which has an extremely great free version which is all you need. You don't need to be a graphic design expert either, Canva has tons of ready-installed free graphics, photos, stickers and videos to use.
Create pins that are tall and of 2:3 ratios. Canva makes it easy by giving you the exact preferred pin size already.
Just click on 'create design' and type in 'Pinterest pin' which is already set at 1000-1500px. You can add in custom sizing if you require.


Once you've created your pin, give it a name (this helps with SEO), and download it to your computer.
On Pinterest, click 'create pin', add your image and write the title and description.
Use the Pinterest search box to find keywords and add them your description. Start typing your keyword in and Pinterest will show you related keywords.


By making your pin description keyword-rich, you're telling Pinterest what your pin is about, increasing the chances it gets seen higher up in the searches.
Make sure you declare that the pin is an affiliate pin. You can do this by writing #affiliatelink, #aff or #promotion for example. In the link section, this is where you add your actual affiliate link.
DO NOT use a link shortener like Bitly. Use the original link.
Unlike other social platforms, Pinterest doesn't like affiliate links to be hidden.
Step #4: Pin to a Relevant Board
Pin your new affiliate pin to the most relevant board first.
If the title is 'best 12 baby dummies for teething', pin this to your baby product, or tips for baby teething board.
Make at least three versions of that pin to send out every couple of days. You can use a paid scheduler like Tailwind or you can actually schedule pins for free right in Pinterest.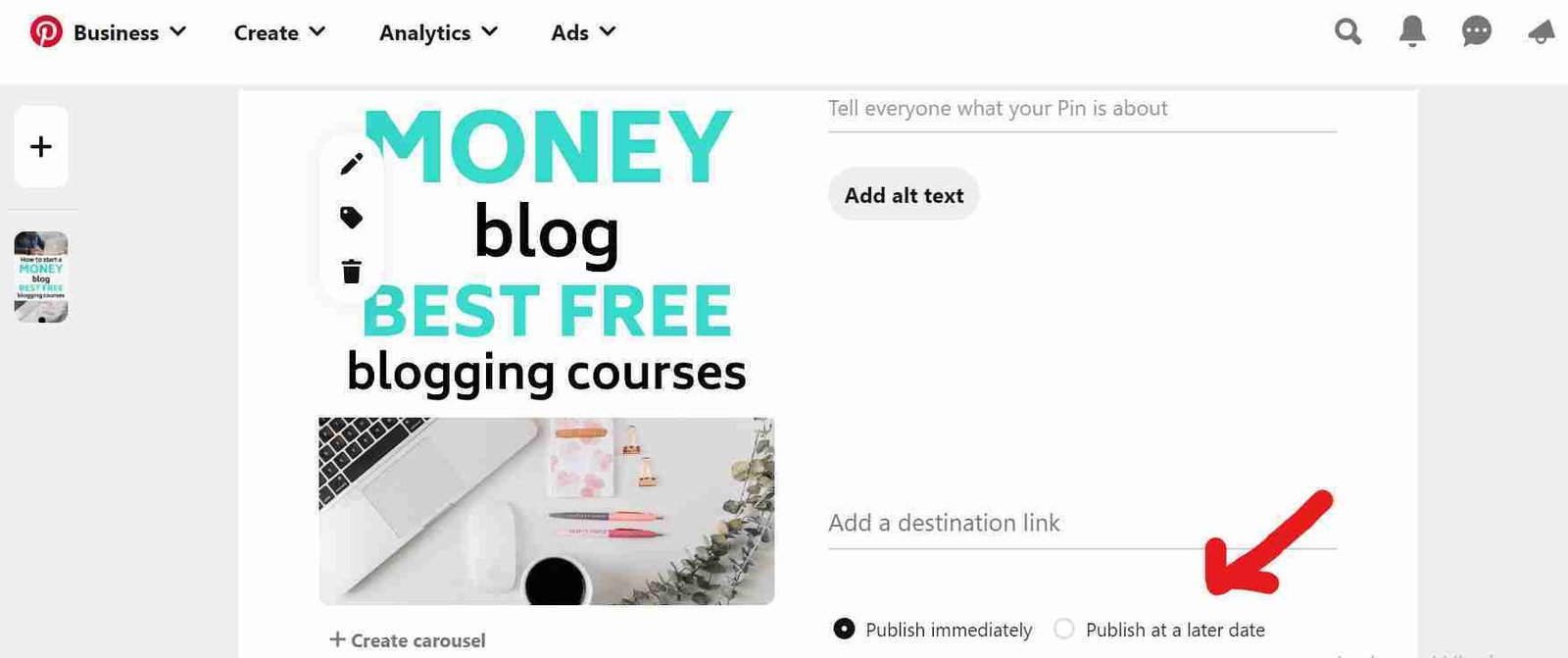 Join group boards and share your pin there to get more exposure. Just make sure the group is tolerant of affiliate pins.
How to Make Money On Pinterest with A Blog?
Pinterest affiliate marketing with a blog has a higher conversion rate.
This is because you prime people with information before showing your affiliate link. You can even use lead magnets on your blog to build an email list and promote extra products later on.
This turns a one-time buyer of your affiliate product into a customer you can promote to for years.
Once your blog is set up, write articles that answer questions in your niche. Articles that do well;
How to……
15 best of….
One product Vs another product…
Buyer guides
Tutorials
Inside your article, you can add affiliate links to relevant, helpful products.
When readers click on your links and buy what you recommend, you make a commission.
Create 3-4 new Pinterest pins for every article and send them out over a few weeks. Be careful to change up images and text because Pinterest regards fresh pins more highly, even if it links to the same article.
Create dedicated affiliate product boards. Name your boards something like; 'best tools for bloggers' or 'best products for Mum and baby' depending on your niche.
Learn More with a Pinterest Affiliate Marketing Course


While Pinterest affiliate marketing is simple in theory, this doesn't mean you'll receive an avalanche of commissions immediately (unless you're really lucky!).
Take time to build up your Pinterest account to get followers, re-pins and likes.
Follow other creators and join relevant group boards.
Invest in your knowledge to really learn about Pinterest and its ever-changing algorithm.
Take a look at these highly-rated, affordable Pinterest affiliate marketing courses on Udemy.
You'll learn exact strategies to build your brand, skyrocket your Pinterest followers, get your pins seen and how to earn passive income pinning.
Pinterest Affiliate Marketing —  FAQS
Is Pinterest good for affiliate marketing?
93% of Pinterest users are planning their purchases when using the platform. This means there is huge potential here to make money in affiliate marketing. Many bloggers and entrepreneurs make passive income by pinning relevant affiliate products.
How to make money with Pinterest and Clickbank?
It's simple to make money promoting Clickbank products on Pinterest. Here's the method; sign up to Clickbank, find a product that helps your audience, create a pin in Canva, upload to Pinterest and add your affiliate link into the website section. Use the original link — Pinterest does not like cloaked links.
Create multiple pins for the same product to go out over the next month. Make sure to disclose the link is an affiliate link by adding #afflink, #sponsored or #affiliate into the description.
What are the most popular categories on Pinterest?
Some of the most popular Pinterest categories include;
Home decor
Mom and baby
DIY and crafts
Women's fashion
Travel
Health and fitness
Hair and beauty
Quotes
Making money from home
How many followers do you need on Pinterest to make money?
You don't need a large Pinterest following to make money affiliate marketing. Increase your reach by joining group boards and sharing other popular content. When bigger accounts re-pin your pins, they get seen by more followers increasing your chance of sales.
How to disclose affiliate links on Pinterest?
On every affiliate pin your need to disclose that it is an affiliate link. At the end of your description section write either: #ad, #sponsored, #afflink or #affiliatelink.
Pinterest Affiliate Marketing Without a Blog — Conclusion
Pinterest affiliate marketing without a blog is a simple way to earn side hustle cash. But it's important to adhere to best practices and don't just spam your account with links. Affiliate pins don't get the most traffic so don't overdo them.
Also, Pinterest may not like an account just posting product links so you risk getting banned. Aim to provide value to your followers with daily pins to your own blog content or to different blogs if you don't have your own.
Share big accounts popular content that is relevant to your boards. Sprinkle in affiliate pins occasionally, leading to a helpful product for your audience.
Thanks for reading!
Have you tried affiliate marketing on Pinterest? Let me know your results in the comments section.
---
Further reading:
---
*Disclosure: I only recommend products I would use myself and all opinions expressed here are our own. This post may contain affiliate links that at no additional cost to you, I may earn a small commission.
Summary
Article Name
How to Start Pinterest Affiliate Marketing without a Blog
Description
Article about how to make money Pinterest affiliate marketing.
Author
Publisher Name
Publisher Logo