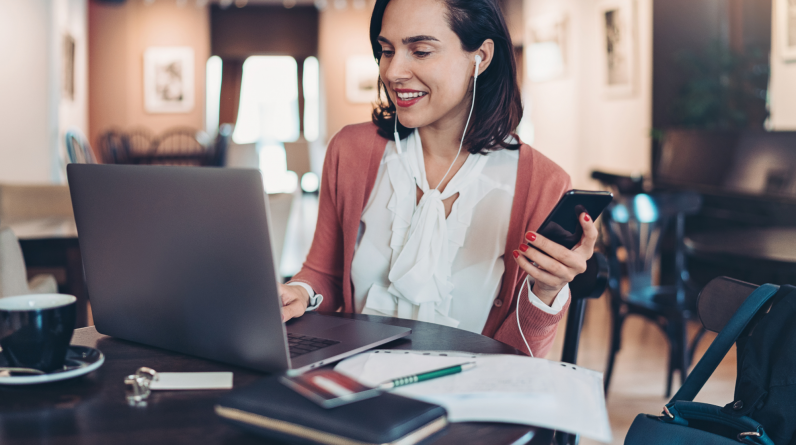 Last Updated on September 8, 2023 by Katie
Thanks to remote working becoming more popular, legitimate virtual assistant jobs for beginners have become more plentiful.
Many companies need help with the day-to-day running of their business. They used to hire personal assistants who would work in the office with them and get a full-time salary with benefits.
Now, taking on a virtual assistant helps the business cut costs and gives the worker the opportunity to work their own hours from home, avoid rush hour travel and have more freedom in their daily life.
It's a win/win for the virtual assistant and the company owner.
According to recent research: 60% of the UK's adult population worked at home during the Coronavirus lockdown, 26% plan to continue to work from home after the lockdown and each of these workers saved on average £44.78 a week which is in total £1.1 billion saved weekly!
Remote working is fast becoming the norm. If you work remotely already, that's great.
If not, now is the time to get skills to secure a job online or start a side hustle so you can be your own boss.
If you've been thinking about a new way to make money from home, virtual assistance is a beginner-friendly career to get into.
This article will guide you in finding legitimate virtual assistant jobs that are currently hiring for beginners.
Summary of the Best Legitimate Virtual Assistant Jobs Hiring Today
24/7 Virtual Assistant
Fancy Hands
Smart PA
Verbatim
Fusion First
Vicky Virtual 
Belay
Time Etc
Virtalent
Boldly
Headroom Assistance
Virtual Gal Friday
Virtual Assist USA
99 Dollar Social
Zirtual
Task Virtual
Delegated
REI Assistant
Assistant Match
Fiverr
Upwork
---
Want to Make Some Quick Cash Right Now?
Acorns: Get a free $10 just for signing up and start saving for your future. Your spare change is invested for you by experts. No investment knowledge is required! Join Acorns Now.
Survey Junkie: Earn easy money by taking surveys and giving your opinion on new products. Make up to $3 per survey and cash out quickly. Join Survey Junkie now.
---
21 Legitimate Virtual Assistant Jobs for Beginners
Whether you're looking to work as a virtual assistant full-time or part-time there is a company right for you.
The work is usually pretty flexible and you can work the hours that suit you.
Here are the best legitimate virtual assistant jobs hiring today for beginners.
24/7 Virtual Assistant is a company that takes on beginner to more experienced VAs and adjusts pay accordingly.
Some basic skills you'll need to work here include; PowerPoint, basic transcription, email marketing and research.
Most of the work is part-time, with companies needing VAs to work from 20-120 hours per month.
The tasks you'll be asked to perform include things like;
Booking appointments
Typing and word processing
Responding to emails and questions
Sorting and filing information
Pay: $10 – $12 per hour.
Fancy Hands hires US-based virtual assistants for part-time and full-time work.
VAs are called 'operation assistants' and the work is a range of small tasks with each taking no more than 20 minutes to complete.
The tasks seem to be simple and they take on virtual assistants with no prior experience.
Work may include;
Scheduling appointments
Making phone calls for clients
Data entry
Finding and booking hotels or travel arrangements
Pay: $3-$7 per task with an average hourly wage of $12-$18 per hour
Smart PA is a platform connecting businesses in need with virtual assistants who can help them out.
They offer a range of services including; executive personal assistant services, marketing, personal support plus more.
Smart PA even helps you to launch your own virtual assistant business with their tried and tested 'business in a box.'
This is a great place to look for virtual assistant jobs for beginners because they provide in-house training, mentoring and lifetime support to their partners.
Tasks you may be asked to do include;
Bookkeeping
Call handling
Travel management
Admin support
Email marketing
Market research
Social media
Pay: $25 per hour.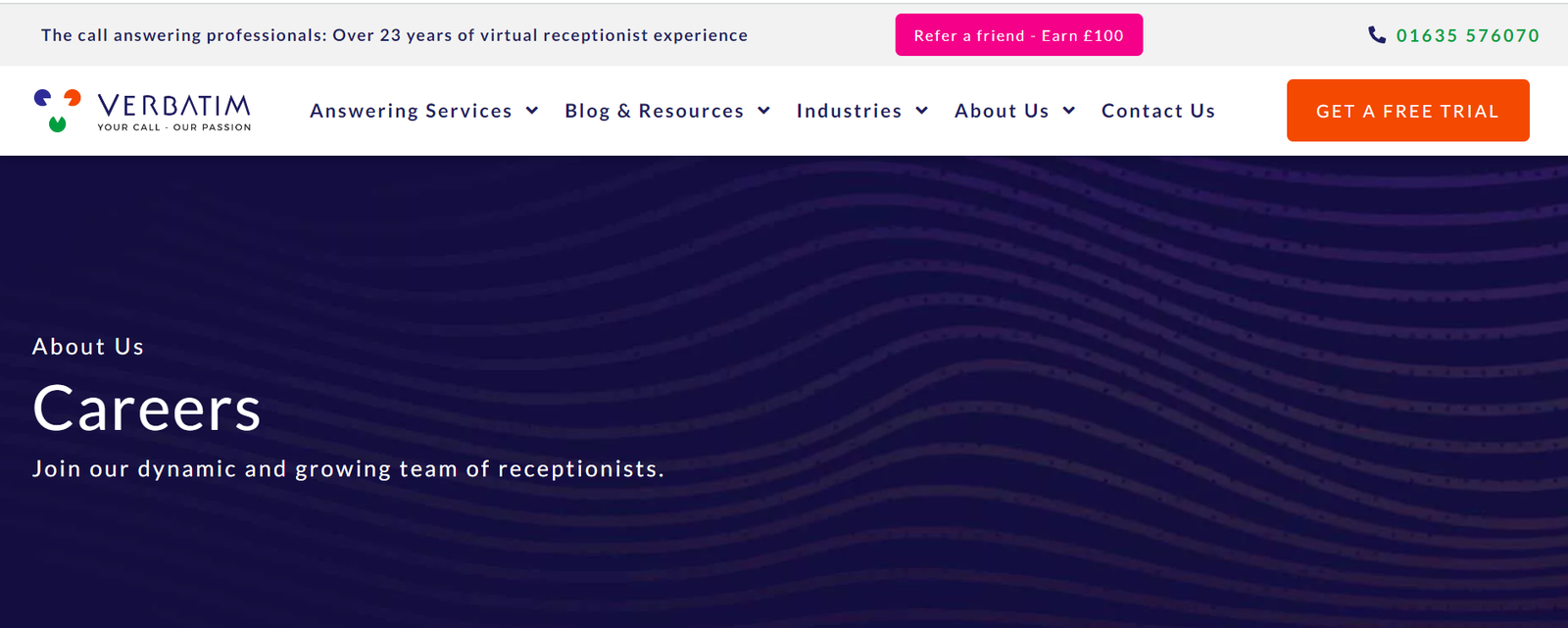 Verbatim needs virtual receptionists to answer calls and web chats for businesses.
For over 23 years, Verbatim has been providing virtual receptionist services and is always on the lookout for new talent.
You'll need to have excellent customer care skills, a clear and friendly telephone voice, decent computer skills, good typing skills and the ability to work productively unsupervised.
Jobs you may be asked to do include;
Virtual receptionist
24/7 call answering
Lead qualification
Call answering
Virtual switchboard
Business continuity
You will be required to attend in-house training in Newbury UK. But once this is completed, the position is home-based.
Pay: $25 per hour.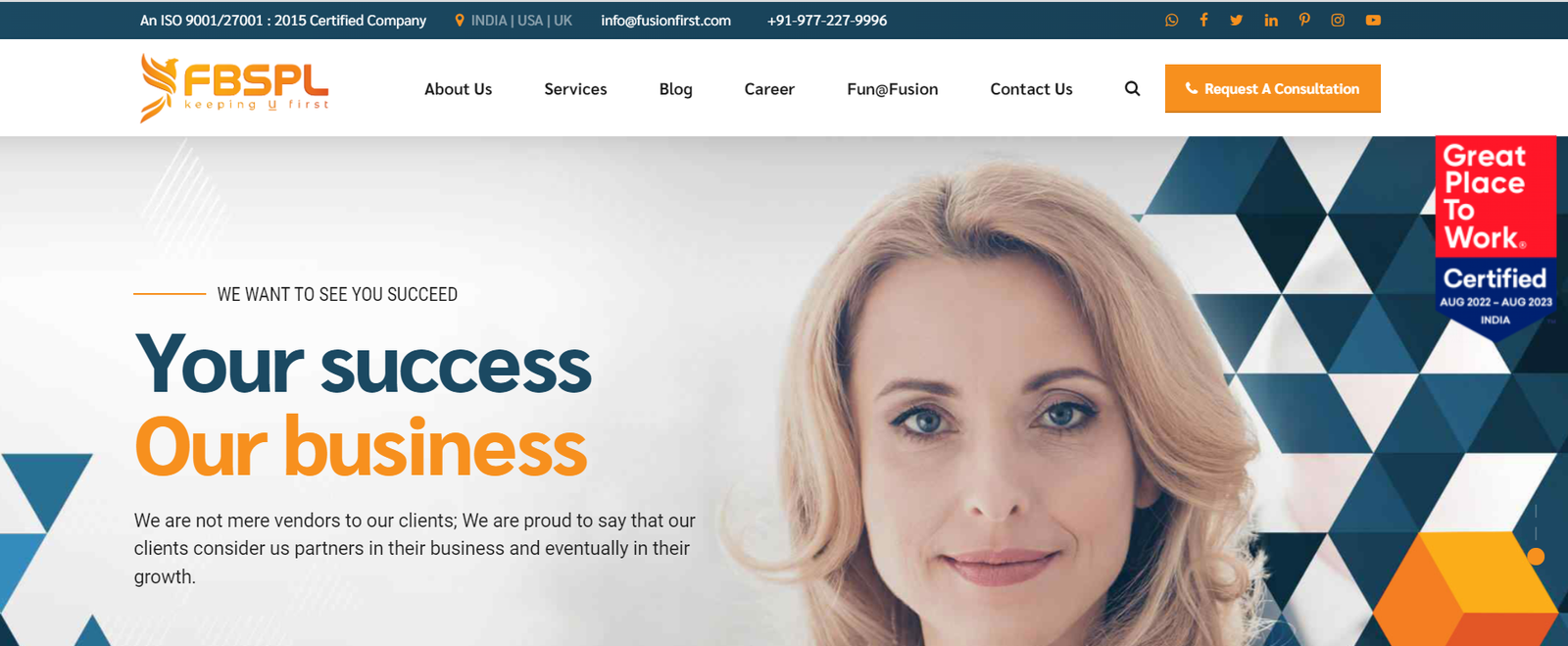 Fusion First is based in the UK, US and India and currently looking to hire; tele-callers, android mobile developers, content writers, iOS mobile developers, associates, web developers and more.
Check out their career page to learn more about each position.
Their virtual assistants work on a range of tasks to support businesses.
Work may include;
Accounting and bookkeeping
Recruitment process outsourcing
Data management
Pre-sales support
Phone support for customers
Pay: $25 per hour.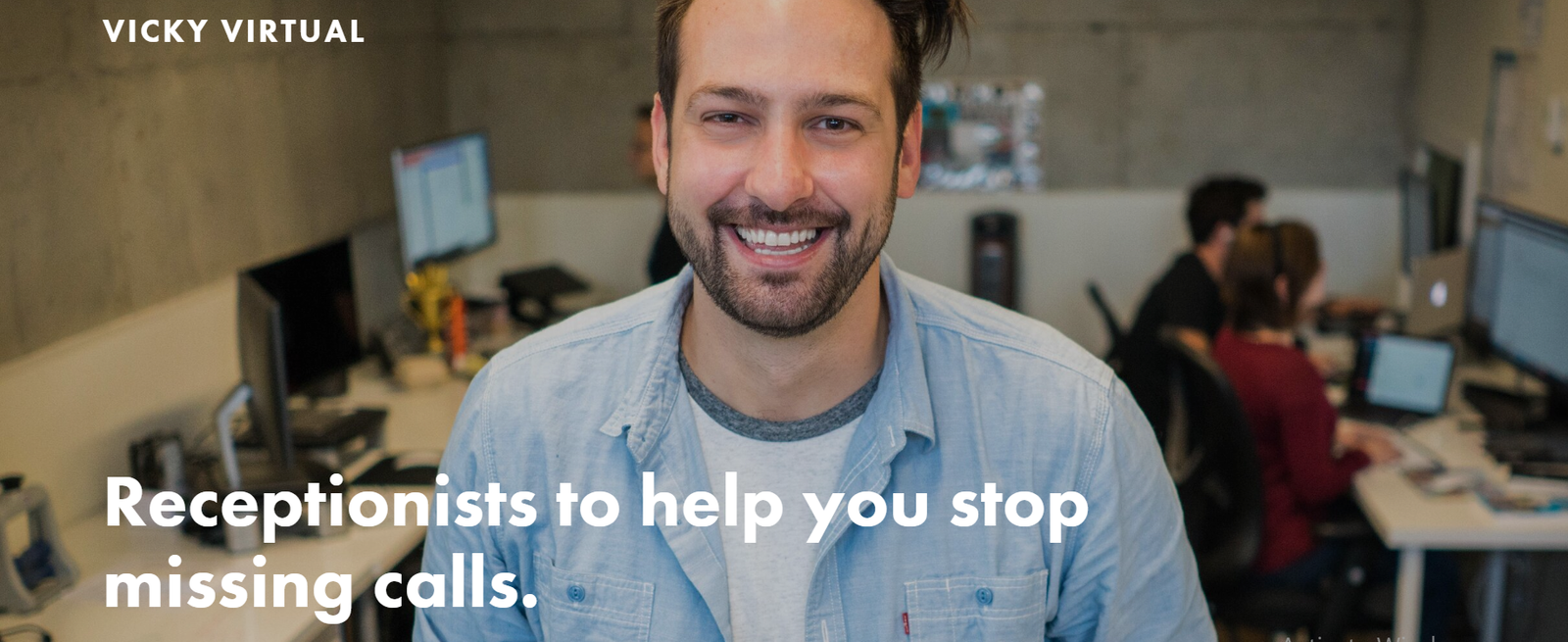 Vicky Virtual mainly need freelancers to handle calls for clients as a virtual receptionist.
If you like to help people, can type 50 words per minute and have a pleasant telephone manner, you could be right for a job at Vicky Virtual.
The company seems to be growing according to its career page and they need more virtual assistants.
Their clients are busy, small business owners that need help turning callers into loyal customers. This opportunity is only open to US residents.
Day-to-day responsibilities include;
Answering calls and offering additional assistance where necessary
Use active listening skills and seek creative ways to offer assistance
Be warm, friendly and professional on every call
Be responsive via email, instant messaging etc…
Pay: $10 per hour.
Belay does require you to have niche experience as a bookkeeper, social media manager, executive assistant or web specialist to be considered to work with them.
And because of this, the hiring process is a little more ruthless.
You'll have to complete an interview, a skills assessment and a second interview over a week.
If accepted you're required to work a minimum of 10 hours a week or 40+ hours a week and you need to be available Monday to Friday.
Tasks you may be asked to work on include;
Gathering data and research
Coordinating projects
Managing an email inbox
Organising content
Managing schedules
Social media management
Bookkeeping
Web development
Pay: $14 – $18 per hour but this may vary depending on your skillset
Time Etc takes on virtual assistants that have at least 5-8 years of experience working as a personal assistant, secretary, executive assistant or virtual assistant.
They offer flexible, part-time work from home and need you to be available at least three hours a week.
You'll need to be available Monday to Friday and have your own computer with Office software.
Clients range from entrepreneurs to managers, business owners and more. If you get accepted with Time, you'll get unlimited support and guidance from the friendly team.
Tasks may include;
Executive assistant duties
Administration
Formatting and typing documents
Managing calendars
Arranging appointments
Updating social media
Writing articles
Making and receiving calls
Pay: £11 per hour to start with.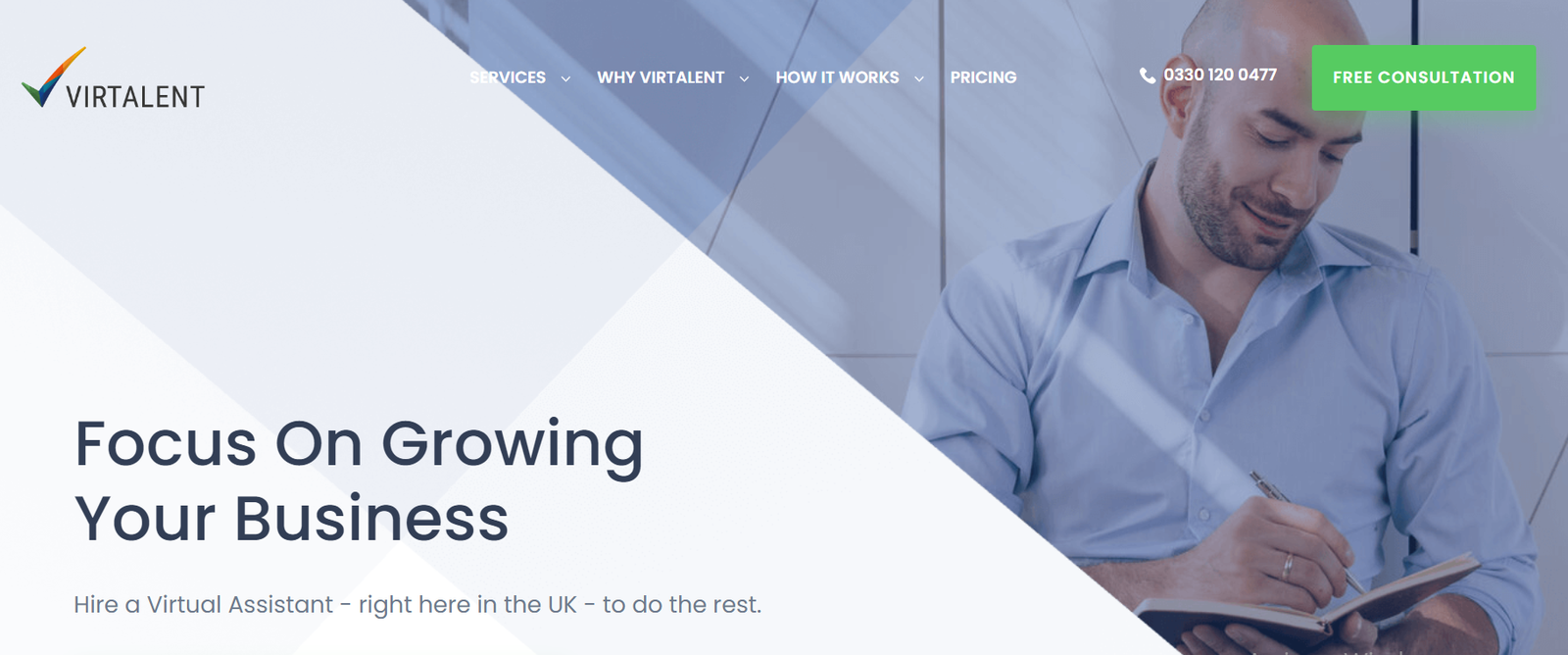 Virtalent is looking for VAs with at least eight years of professional experience as a marketing manager, office manager, PA, EA, virtual assistant or any other relevant experience.
They seem an extremely flexible company to work for, allowing you to choose hours to suit your schedule and to take time off when needed.
Once accepted, you'll get exclusive access to their Slack group, have regular check-ins with the whole team and be given access to all the right software you need.
In your first month, you'll be given a single client to work with from 10-60 hours per month. If all ok, you'll be put forward for more clients who need your skill set.
Virtalent accepts people who have;
Great time management skills
A high level of professional experience
Outstanding customer service
Flawless communication skills
Top organisational and tech skills
Pay: Starts at £13 per hour
Boldly is a remote staffing company hiring virtual assistants, social media specialists, executive assistants, project managers and paralegals for big brands.
You'll need at least seven years' experience in your field but could get to work with Facebook, Google, Zendesk, Asana and many more big names.
To apply for a virtual assistant position with Boldly you'll need to follow their onboarding process. But if accepted, they reportedly have a good amount of work available.
Hours are flexible and you even get paid vacation and parental leave time.
They hire only US workers in certain states. You'll be expected to have;
Strong time management skills
A proactive work ethic
A reliable, fast internet connection
Solid understanding of cloud-based technologies
A quick ability to understand new concepts
Pay: Starts at $20 per hour.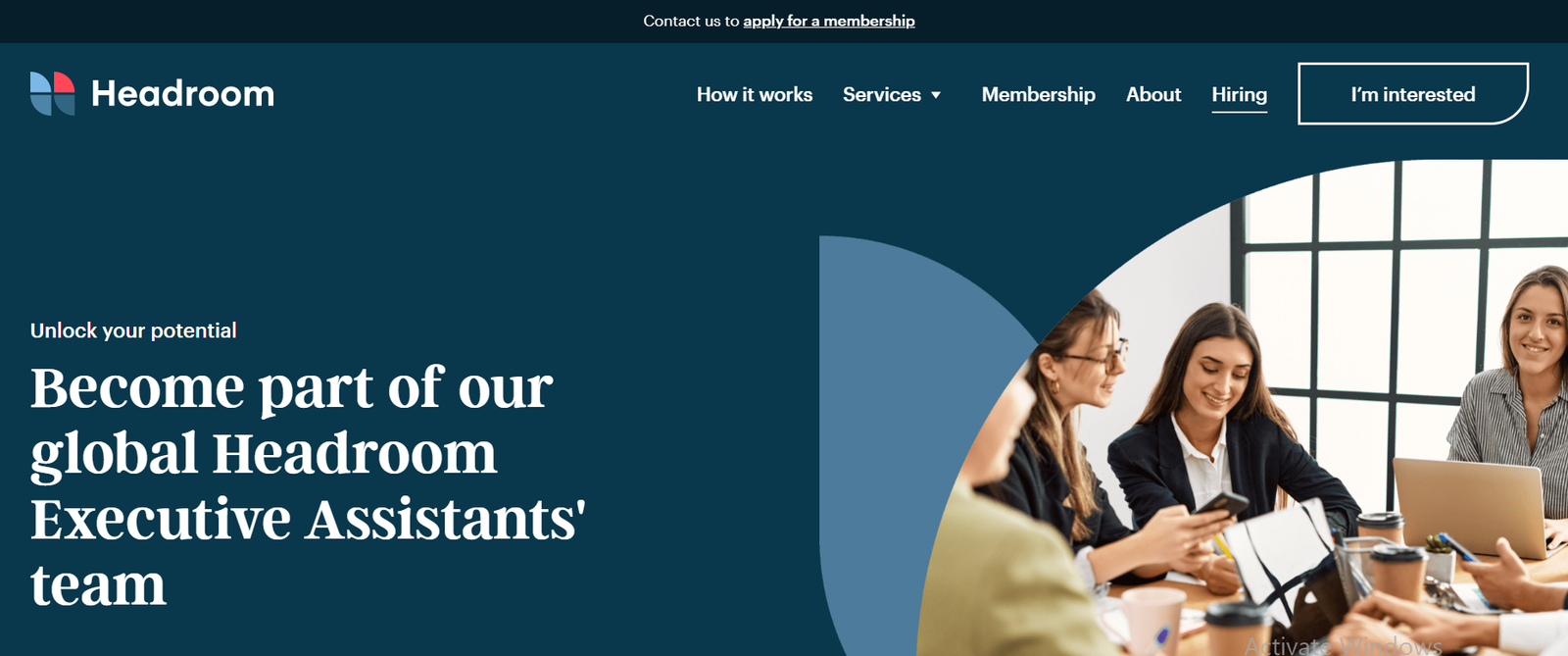 Headroom Assistance is a platform offering remote executive assistance for executives, entrepreneurs, companies and growing teams across Europe and the US.
With its headquarters in Amsterdam, they are a fast-growing company that hires virtual assistants from a range of diverse backgrounds.
They also offer great learning opportunities, a good work-life balance and paid time off.
The benefits of working as a Headroom VA include:
Employment compensation and benefits
Supportive and inclusive work environment
Work flexibility from anywhere you want with smart task management software
Enjoy continually learning and developing your career through the growth academy
20 days paid time off (US) and 25 days (EU) plus national holidays
Work in teams to support the coolest founders and executives
Pay: 40 hrs p/w  $40,000 – $60,000 based on experience and location, with W2 employment status and benefits.
Virtual Gal Friday is a well-established virtual assistant provider.
They provide virtual medical assistants, virtual legal assistants and virtual executive assistants to businesses across America.
This means you will need specialised knowledge, depending on which are you work in.
Tasks you'll be expected to handle include taking messages, answering phone calls, editing and managing documents, data entry, paralegal work and more.
To work for Virtual Gal Friday, you must:
Have a bachelor's degree
Be available Monday – Friday during normal work hours as you're considered an employee if hired
Not work for any other VA company while working for them
Be able to multi-task and work calmly even in stressful situations
Pay: Based on experience. Expect $5 – $20 an hour or more for specialised projects.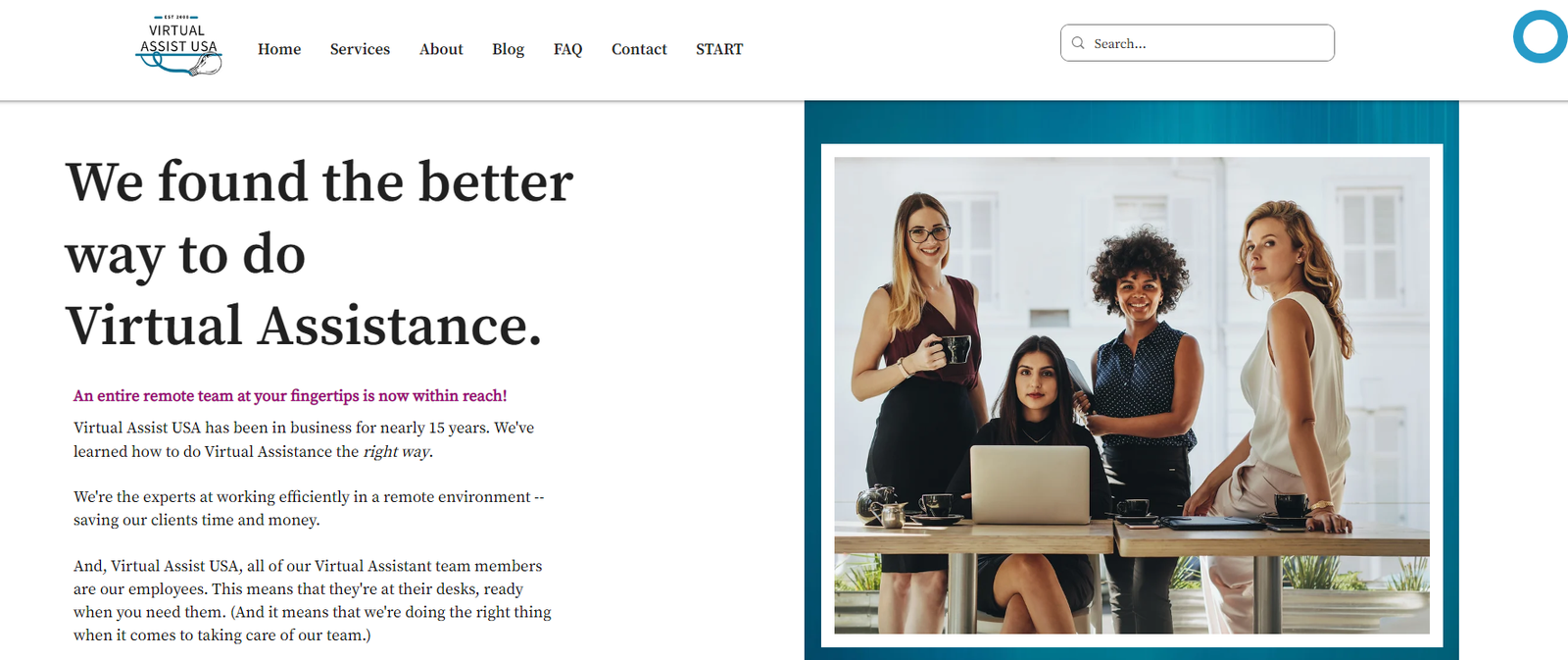 Virtual Assist USA has been around for over 15 years.
They began helping coaches, speakers, authors and entrepreneurs with admin tasks and today have branched out to help businesses and government agencies.
If you're looking for legitimate virtual assistant jobs for beginners, this company is worth checking out.
As a Virtual Assist USA VA, you'll be considered an employee so required to work normal working hours Monday to Friday.
Upon signing up, you'll be matched with businesses via a personality assessment.
Daily work will include marketing, strategy, general admin and different tasks depending on your experience.
To work for this company you must:
Be a US-based virtual assistant
Be a college graduate with 10+ years experience
Have a friendly personality and good communication skills
Be available to work normal weekly hours and occasionally unusual times on request
Pay: $10 – $15 per hour but will vary depending on your experience and the projects you work on.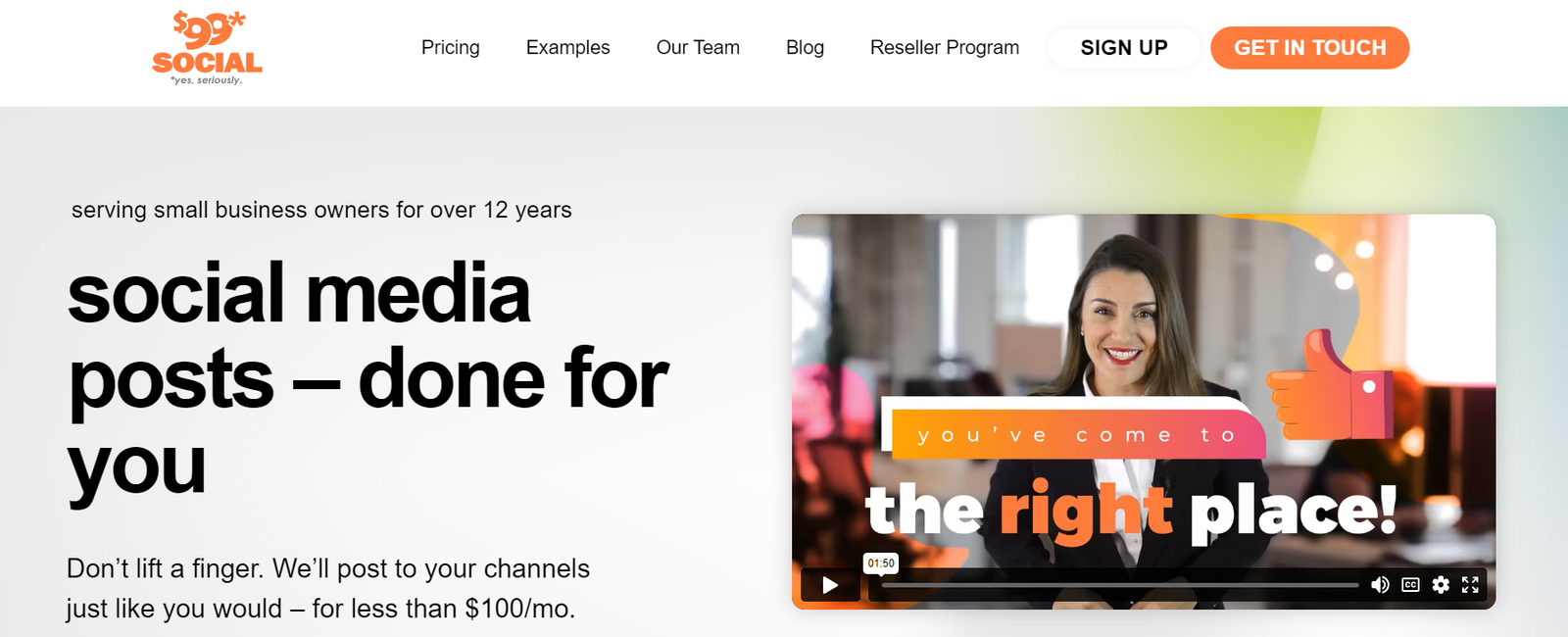 99 Dollar Social helps businesses manage and grow their social media accounts.
As a VA here, your work will include searching for relevant content to share, creating compelling content, finding eye-catching images for posts and social media strategy.
You may be managing multiple accounts at a time and expected to post across Facebook, LinkedIn, Twitter and Instagram daily.
You'll be expected to work 40 hours a week, which are flexible and take part in 6 – 7 hours of unpaid training before you start working.
To work with this company, you'll be required to:
Speak and write perfect American English
Organised and able to work at home unsupervised
Submit content on time every week
Have a reliable internet and up-to-date computer
Take part in the initial training so you're industry ready
Pay: Flat rate per account you post for monthly. This works out to $12/hour if you manage 120 accounts.

Zirtual provides virtual assistant services to professionals, entrepreneurs and corporate teams.
They've been around since 2011 and help a variety of companies in different niches including non-profits, startups, property managers, real estate agents, eCommerce store owners, writers, agencies and more.
You must reside in the US to work for Zirtual and will have to pass a background and reference check.
Reportedly, they get thousands of applicants so you need to be on your A-game to get work here.
Tasks you may be asked to work on include:
Data entry
Invox management
Event planning
Content creation
Expenses and invoices
Social media management
Web research
Powerpoint presentations
Travel arrangements
Pay: You receive 50% of each client's monthly plans. These vary from $13 – $18 per hour.

Task Virtual is based in India and has offices in Atlanta.
They focus on offering VA services for e-commerce, social media management firms and real estate businesses.
Because of their offshore location, they offer competitive prices compared to many other VA companies.
You can find legitimate virtual assistant jobs for beginners and more experienced here.
They mainly use in-house Indian staff for their VA services but do hire some US virtual assistants for certain clients.
Services they provide include:
Virtual assistant services
Virtual personal assistant
Virtual reception services
Data management services
Digital marketing services
Web design and development
Content writing
IT and technical support
Pay: $15 – $20 an hour for US-based VA. $3 – $4 an hour or a fixed monthly rate for Indian workers.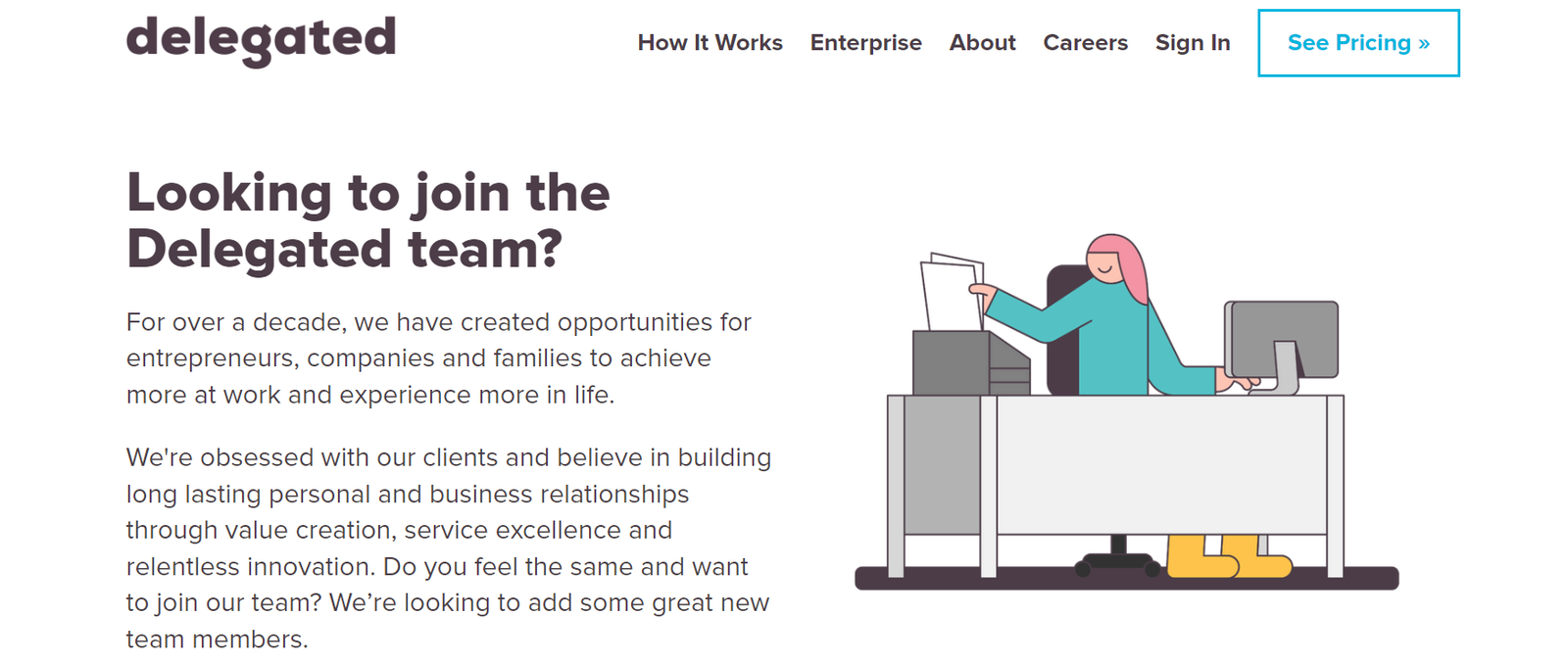 Delegated hires US-based virtual assistants for executives who are college-educated and specially trained to work with small businesses and executives.
Work includes front office, back office and personal support.
Tasks you may be asked to work on include making sales calls, digital marketing, web research, scheduling appointments, website development and data entry.
To work for Delegated you must:
Have High School or GED equivalent and some college
5+ years of relevant VA experience
Excellent written and communication skills
Ability to multi-task, manage projects and meet deadlines
High-speed internet
Experience using Microsoft Suite, Google apps, email and accounting software
Pay: This is dependent on the projects you work on. The average is $10 – $15 per hour but can go up to $30 an hour.

REI Assistant is a dedicated VA staffing firm based in the US.
They offer virtual assistance for all small businesses, but especially real estate professionals.
Tasks you may be asked to work on include inbound and outbound calls, data entry, admin support, social media marketing, lead generation and appointment setting.
As a REI virtual assistant, you'll be a contractor and will be forbidden to work for other companies in the area to avoid lead sharing.
This is one of the best legitimate virtual assistant jobs for beginners because no formal education requirements are mentioned and they provide training to successful applicants.
On the virtual assistant contractor application, you can choose which account types you want to work on which include:
Real estate inbound calls
Real estate outbound calls (not sales)
Other small business inbound calls
Other small business outbound calls (not sales)
Admin tasks
Bookkeeping/accounting
Pay: Between $9 – $10 an hour paid weekly via PayPal.

Assistant Match is an online virtual assistant staffing company providing US-based, pre-screened VAs for businesses worldwide.
To get work through this platform, you need to register your details which will then be stored and matched with any business that matches your skills.
Work as an Assistant Match VA may include data entry, marketing, customer services, appointment scheduling and more specialised tasks such as bookkeeping, sales and social media marketing.
If you're new to working as a VA, take a look at their virtual assistant resources and you can even take their Virtual Assistant Quickstart Self Study program.
To get work through Assistant Match you must:
Be based in the US
Complete a screening process
Have strong interpersonal and communication skills
Pay: This can vary depending on the project but expect $12 – $15 an hour.

Fiverr is a huge freelancer platform with a massive amount of organic traffic.
This is why, there are many ways to make money on Fiverr, but offering virtual assistance is one of the most profitable.
Whether you are a beginner or a more experienced virtual assistant, there's a huge opportunity on Fiverr.
Sign up and create your profile. List the services you offer containing keywords that people will search for.
You can set your own rates for work here, but if you're new, start a little lower to reel the first few clients in and get testimonials.
You can offer whatever virtual assistant skills you have including;
Data entry
Administration
Making appointments
Arranging travel
Writing and editing articles
Blog management
Social media management
Email writing and answering
Calling clients
Any other skill you have to help small businesses
Upwork is another freelancer marketplace that works a little differently from Fiverr.
You can still set up your own profile and show off what skills you offer, but clients don't come to you, you have to bid on projects against other freelancers.
But, they have a huge audience and a big reputation so a lot of people use Upwork to post their gigs.
This means you have a huge amount of work to choose from, you just have to build up good testimonials to make yourself stand out.
Type in 'virtual assistant' in the Upwork search bar and you'll see jobs popping up needing;
Project managers
Contact lists compiled from databases
Customer service reps
Mail management
Bilingual virtual assistance
Task management and creative collaboration
Book promotion
Much, much more…
What Does a Virtual Assistant Do?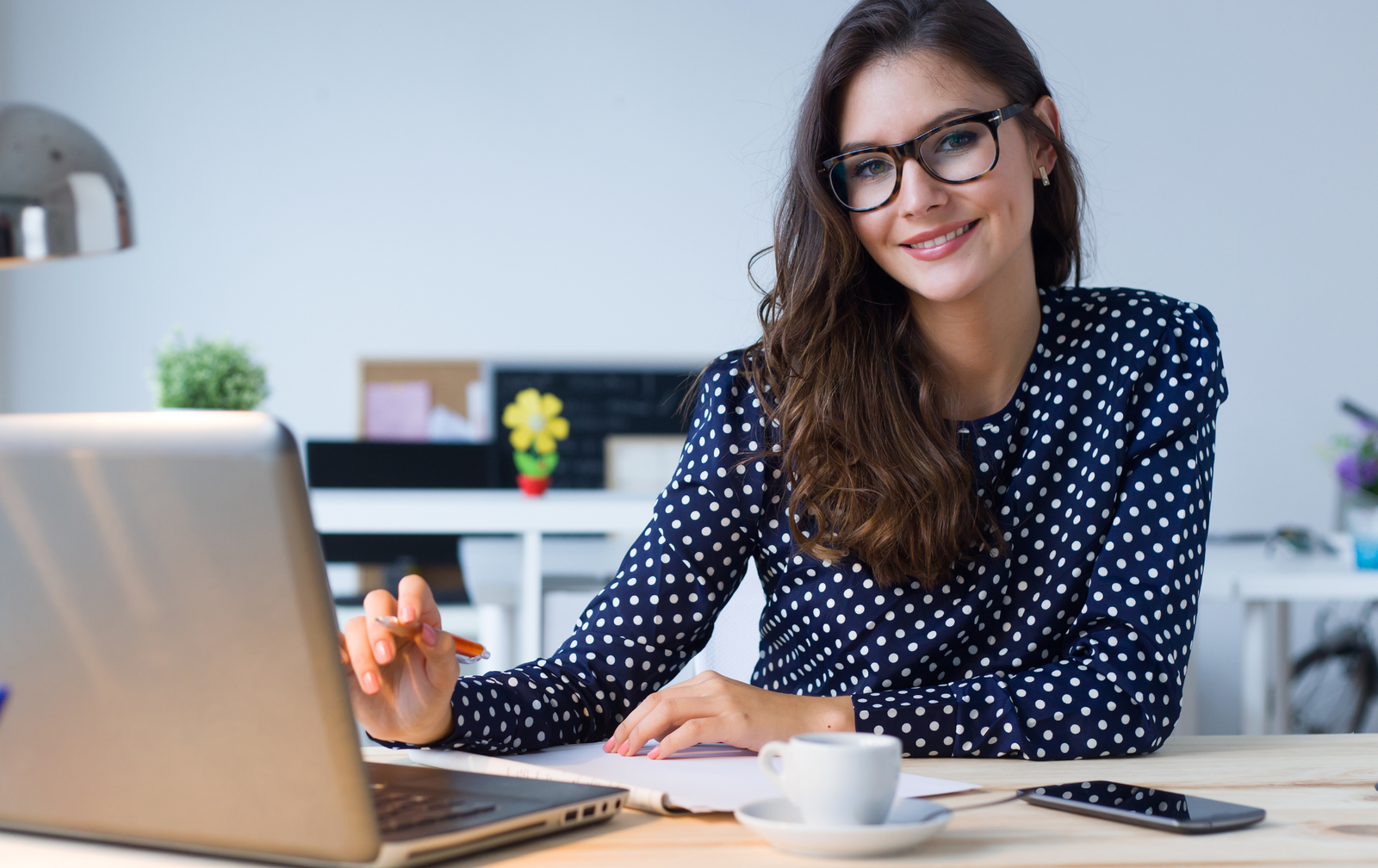 A virtual assistant (VA) is someone who assists a business virtually with various tasks.
VA work can be full-time or part-time and you can work for one business or assist multiple.
You can find work through a company that connects you with businesses in need, or set up as a freelance VA.
Tasks you'll be required to do range from:
Organising data
Customer support
Social media management
Booking appointments
Research
Content writing
Email box cleanup
Replying to emails and more…
Which Skills Are Needed to Be a Virtual Assistant?
VAs are usually multi-skilled and proficient at performing several online tasks.
But it is possible to set yourself up as a VA who specialises in certain areas – if you have niche skills.
Here are some common skills that are useful for virtual assistants;
Well organised
Able to manage time
Industry-specific skills eg; digital marketing, social media, bookkeeping, blog management
Proficient at using Word, Excel spreadsheets and email
Able to use popular communication tools like; Slack, Zoom, Skype
Self-motivated and able to work alone
Decent written and verbal skills
What's the Average Wage of a Virtual Assistant?

According to Indeed, the average wage for a virtual assistant in the US is $20.92 per hour.
This will of course vary depending on who you work for, your experience and the skills you offer as a VA.
The more useful you can be to a company, the more you can earn.
Where to Get Virtual Assistant Training?
If you already have skills that can help others online like; copywriting, email writing, web development and social media marketing, you should have no trouble getting VA work.
If you feel you lack relevant skills, there are many places to learn what is required from a VA and how to set yourself up as a professional virtual assistant.
Take a look at these recommended virtual assistant courses:
Legitimate Virtual Assistant Jobs – Final Thoughts
As you can see, there are many places to find legitimate virtual assistant jobs for beginners and more experienced workers.
Don't give up hope if you feel you have no experience.
Companies need virtual assistants for a range of jobs including simple admin tasks to more complex managing of projects.
So it's totally possible to get work as a virtual assistant even when it's a new career for you.
Have you worked as a virtual assistant? What was your experience? I'd love to know in the comments…
---
Further Reading:
21 Legitimate Virtual Assistant Jobs Hiring Today ($3,000 – $8,000/Month)
*Disclosure: I only recommend products I would use myself and all opinions expressed here are our own. This post may contain affiliate links that at no additional cost to you, I may earn a small commission.
Summary
Article Name
21 Legitimate Virtual Assistant Jobs Hiring Today ($3,000 - $8,000/Month)
Description
Legitimate virtual assistant jobs hiring today for beginners.
Author
Publisher Name
Publisher Logo