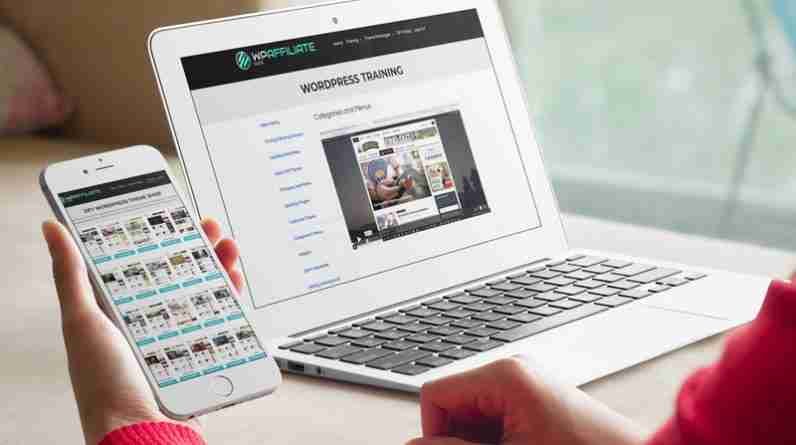 Last Updated on June 8, 2021 by Katie
Welcome to this WP Affiliate Suite review.
Let's dive deep inside the training and bonuses to see what you get.
Affiliate marketing is a simple business model for beginners or advanced. You partner with a product owner to send traffic to their sales page. When someone buys through your link, you get a commission.
While it is simple in theory, many new marketers struggle setting up their affiliate businesses. This is where the WP Affiliate Suite training comes in. You just need to follow the in-depth videos, to set your website up and you can be started in a few hours.
WP Affiliate Suite Review — Overview
Creator: Chris Derenberger
Release Date: Feb 3rd 2020
Official Sales Page: wpaffiliatesuite.com
Front End Price: $16.95
Upsells: Yes
Custom Bonuses: Yes
Risk: 30-day money-back guarantee
Fast Support: Yes, by email
Recommendation: Highly recommended
Newbie Friendly: Yes. Just follow along with the video tutorials
What is WP Affiliate Suite?
WP Affiliate Suite is an in-depth set of training videos suitable for beginners or advanced marketers.
You'll learn step by step, what affiliate marketing is and how to get approved for networks, how to set up a website similar to this one, how to get traffic, how to write articles that rank and how to get your posts indexed.
Included in the basic training, you get a free, ready to go affiliate marketing template, you can plug straight into your website. This cuts out the techy, design phase which many struggle with as all the pages are already there and optimised.
If you want to set up an affiliate website in another niche, WP Affiliate Suite also has over 50 other ready to go, highly optimised theme templates. Just download, add in your own text and links and you're ready to start making affiliate commissions!
Some other niche theme templates you can choose from are;
Arthritis
Car insurance
DIY auto repairs
Back pain
Bodybuilding
Camping
CBD solutions
Contractors
Crafting
Crypto
Dating
Debt management
Depression
Electrician
Email marketing
And many more….
A Look Inside WP Affiliate Suite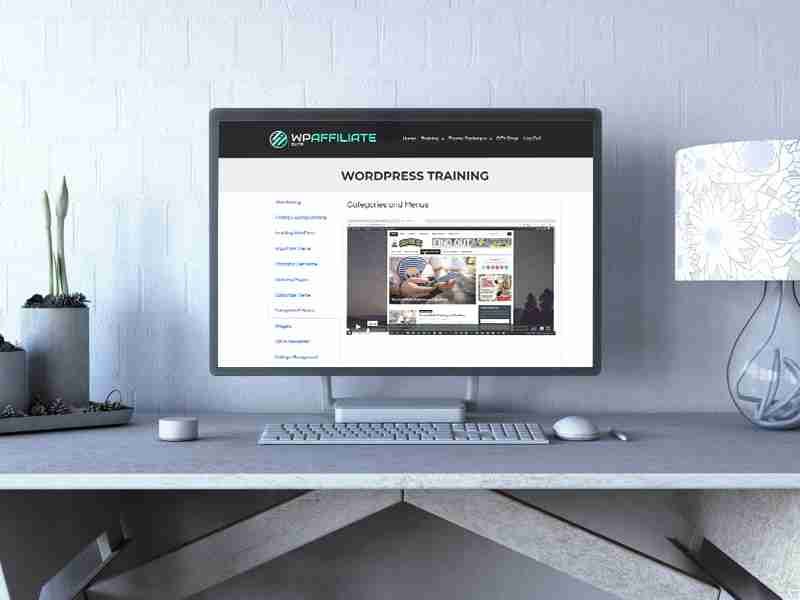 WP Affiliate Suite gives you all the information you need to build and sustain and thriving affiliate business. You can follow the over the shoulder videos to set up your website fast.
Once you're set up and you start creating your content, t's possible to start making commissions, even when you sleep.
It should be noted that you do need to be patient. Results are not instant as you have to wait for your posts to be indexed and for the authority of your site to grow.
But if you keep working at it, your new affiliate site can bring you in regular passive income.
WP Affiliate Suite Review: What's Inside the Course?
For $16.95, here's what you get:
Affiliate marketing training videos
WordPress training videos
Custom WordPress theme (the one I'm using for this site)
This will be the best money you've ever spent. For a tiny price, you'll be able to look over Chris Derenberger shoulder as he sets up a new site. And you can follow exactly what he does to start your own, awesome little affiliate business.
Some of the affiliate marketing videos you'll get to see are:
Choosing the right keywords (amazing video)
Using affiliate links
Best affiliate networks and how to get approved for them
Researching niches and products
Much more…
The WordPress training covers in detail how to buy a domain name, which hosting is best, how to set up WordPress and import your theme, how to create a website email and how to customise your theme.
Other content in the WordPress training is:
Creating an opt-in newsletter
Writing articles and reviews
Cloaking affiliate links
Banners and ads
How to get your posts indexed
While there is some content about SEO (search engine optimisation), I felt it was a little light and I highly recommend purchasing the Advanced SEO training. I did and it was well worth it, teaching me methods I've never heard of before.
You can check it out below.
WP Affiliate Suite Upsells and OTO's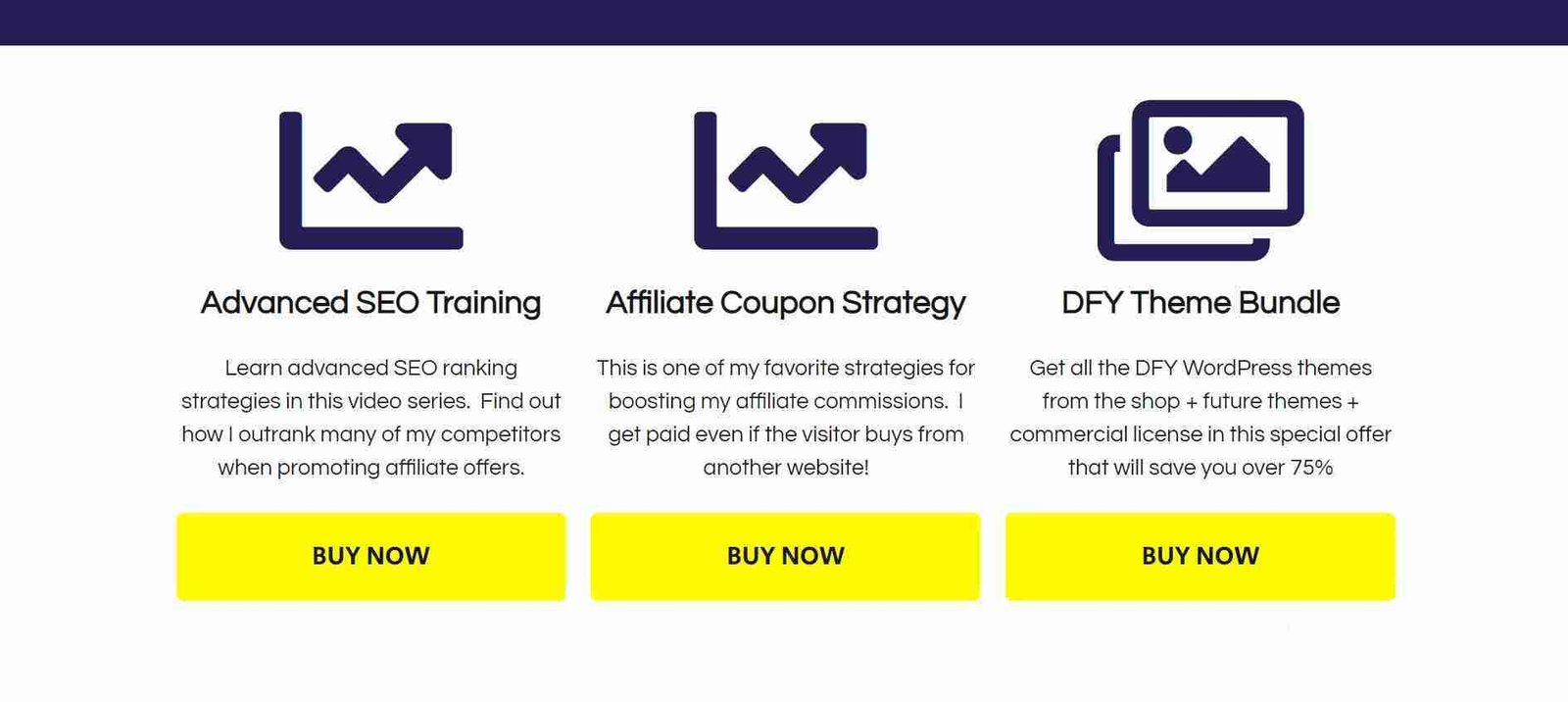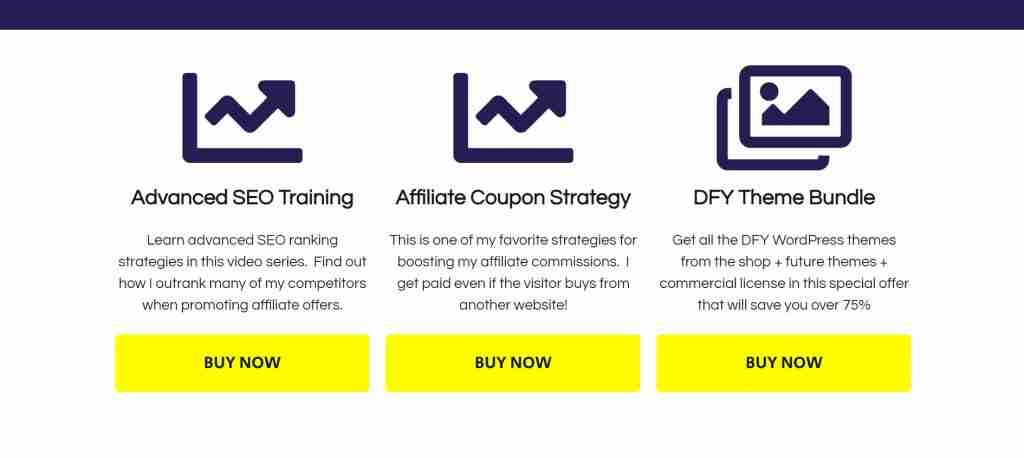 While the general training is brilliant, you can purchase upsells to boost your results and start making money faster.
Upsell #1 Advanced SEO Strategies ($37):
This is some of the most helpful SEO training I've ever seen. You'll learn advanced SEO strategies to help rank your website faster and get your content seen by more eyes.
Without an SEO strategy, it's likely your website and its content will never get near the front page of Google. And if you don't make it there, you'll never get people looking at your articles.
Chris gives you his insider methods he uses himself, to rank his new websites. Some of his methods are paid, but still super cheap and worth it for the results you get.
Upsell #2 DFY WP Theme Bundle + Commercial License ($297):
If you're serious about starting a full-time affiliate marketing business, this DFY theme bundle is a powerful tool to have in your arsenal.
This bundle contains 60 DFY niche themes, ready to plugin and start making you money. Investing in the bundle means they only cost you $5 each and the potential money they can make you in the future is limitless.
You even get the commercial license so you can sell the themes on to your clients, or after a few months f building a website up — you can flip it for cash.
Here are some of the awesome benefits of getting the WP Theme Bundle:
60+ DFY niche WordPress themes
Any future themes that Chris adds to the bundle
SEO and optimised for mobile
Already loaded with content
Professional logos and stock photos
Includes commercial license to resell your sites to customers and clients
Upsell #3 Affiliate Coupon Strategy ($47):
This smart affiliate method teaches you how to make affiliate commissions, even after someone leaves your website and buys from someone else.
Sounds crazy right? But Chris shows you his little known method, which has got him to the top of some affiliate marketing leaderboards.
Here's what you get with the Affiliate Coupon Strategy training:
Chris shares his secret method for the FIRST time ever!
Get his custom WP theme that gets incredible results with this method
Watch over Chris's shoulder as he shows his method
Build your credibility and trust with affiliate networks
Learn how to offer your visitors huge savings but still rake in the commissions
See results in as little as 24 hours!
Who is WP Affiliate Suite For?
The great thing about the WP Affiliate Suite is that it's made for all levels of marketers. If you're a newbie (like me) you may have to go through the training videos and few times and stop the videos while you set up your own site.
If you have more experience, you can skip the basic training and move on to the advanced SEO and affiliate coupon strategies.
The WP Affiliate Suite is perfect for:
New affiliate marketers looking to get started
Medium-advanced affiliate marketers who want new, smart strategies
Stay at home mums looking for a side hustle
OAPs wanting a passive income that isn't too techy to set up
Full-time workers wanting a profitable side business
Freelancers wanting to learn how to monetise their current website
Entrepreneurs wanting to make a full-time affiliate marketing business
Entrepreneurs wanting a new part-time, profitable hustle
What Are the Benefits of WP Affiliate Suite?
The good thing about WP Affiliate Suite is a lot of the hard work is done for you. The site is set up and optimised for SEO (search engine optimisation), the theme is fast loading, plus you have articles and premium images. All you have to do is follow the video training to make the site unique to you and add in your affiliate links.
Other benefits of the WP Affiliate Suite training include;
Training is taught by an experienced six-figure affiliate marketer 
Get a free, fully optimised WordPress theme loaded with articles
Complete, beginner-friendly affiliate marketing training
Get fast approval with affiliate networks with your 'ready to go site'
Enjoy a massive shortcut by having an affiliate site set up for you
Option to buy more niche website themes to increase your earnings
No need to spend time creating a product. Profit from promoting other peoples products
No need to handle inventory or post products to customers
Earn 50 – 100% commissions on products you promote
Testimonials for WP Affiliate Suite
If my WP Affiliate Suite testimonial isn't enough, don't worry as many others have talked about how much they love it. Here are some more glowing reviews and awesome result stories.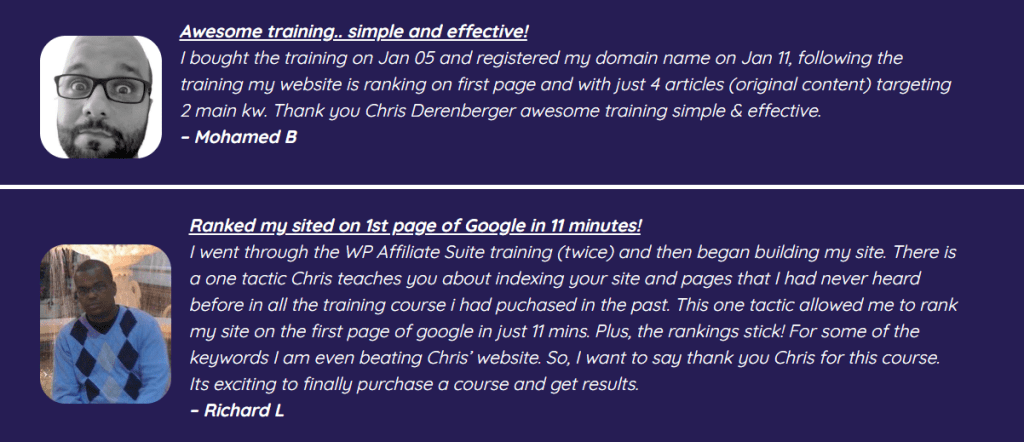 WP Affiliate Suite Review — FAQs
What do I get after purchasing WP Affiliate Suite?
After purchase, you get: affiliate marketing training, WordPress training and a custom affiliate marketing WordPress theme loaded with articles and banner ads. Just follow along with the tutorials to customise, edit, optimise and rank your site in Google.
Do I need technical experience to make this work?
No. The tutorials are designed for beginners with no previous experience of building a website, to follow along step by step.
I don't understand much about affiliate marketing. Will this teach me?
Yes! The affiliate marketing training gives you an introduction to affiliate marketing and how to get started. You'll learn all you need to know to build and make money from a niche affiliate site.
I have a full-time job and a family. Can I still make this work?
Yes definitely. If you can spend 1 – 2 hours of focused work a day on your affiliate site, you will be able to rank it and make money.
Is this a sustainable, long-term business model?
Yes! Affiliate marketing has been around for decades and it's only going to keep getting bigger. The spend in the affiliate area grows 10.1% every year. Customers want recommendations and they want information. All which you can give them on your niche affiliate site.
How do I buy the WP Affiliate Suite training now?
Click here to view the WP Affiliate Suite training and to make a purchase. Whether it's 4pm or 2am, you can get started!
What is the refund policy?
There is a 30-day money-back guarantee on the WP Affiliate Suie course and themes. If you try it out and it's just not for you, we'll refund your money back — no questions asked.


WP Affiliate Suite Review: Conclusion
If you want an affiliate marketing business that will survive long-term, the WP Affiliate Suite teaches you how to achieve this. Having a fully-optimised website is essential to affiliate success and the WP themes are great to get this fast, even with little knowledge.
There are many 'get rich quick' affiliate courses out there, which are usually just a load of fluff. I say — run from these types of courses which are usually just marketing scams.
To get started quicker, you can grab the DFY themes in various popular niches like health, finance, dating and crafts.  
Honestly, I wish I had found something like this years ago. I've spent thousands on other courses that didn't give me the training you get here for just $16.95.
For the price of a few coffees, you can have the training and step by step guidance to start and maintain your own thriving affiliate business.
Related reads:
*Disclosure: I only recommend products I would use myself and all opinions expressed here are our own. This post may contain affiliate links that at no additional cost to you, I may earn a small commission.
Summary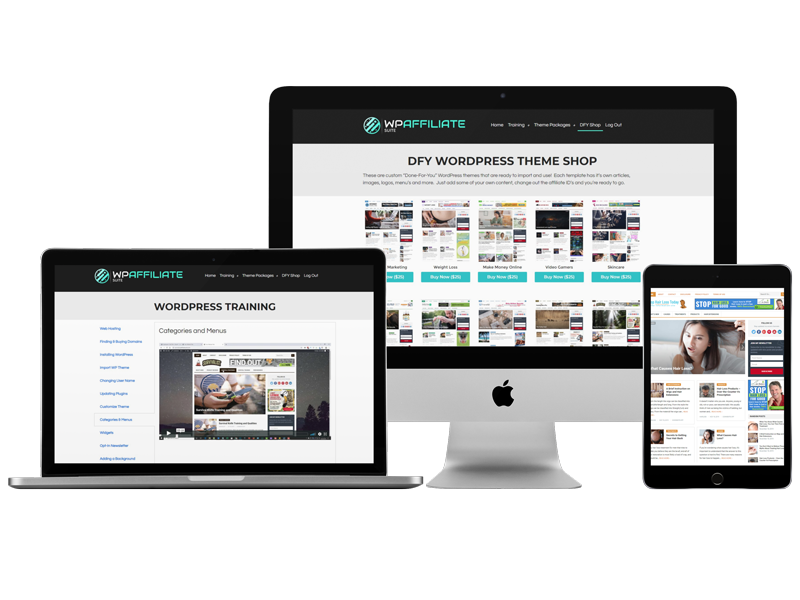 Article Name
WP Affiliate Suite Review
Description
WP Affiliate Suite review. Learn how to start a niche affiliate website and rank it in Google.
Author
Publisher Name
Publisher Logo