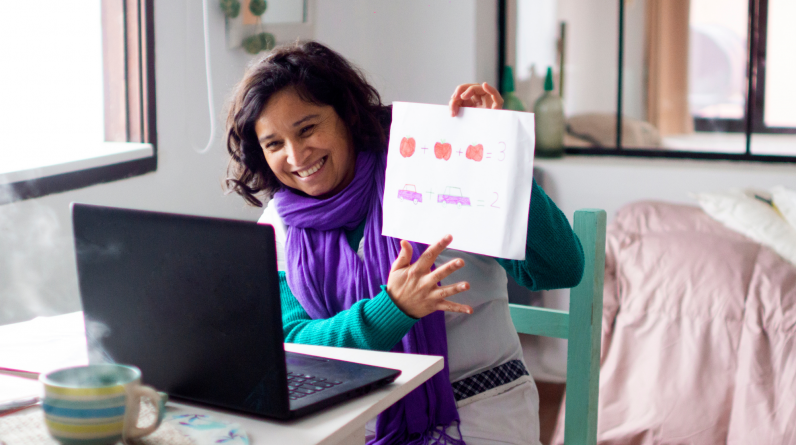 Last Updated on September 1, 2023 by Katie
Is it possible to teach English online with no experience?
Yes, it is! There are many platforms out there that need English teachers you can apply to.
You will of course need some basic skills like fluent English and the ability to engage students.
Plus, some platforms will require you to have a degree. As long as you tick these boxes and have a laptop with fast WIFI, English teaching could be the perfect new side hustle for you.
Teaching English online is a rewarding way to make money. You're helping a child out and making money – so what's not to like?
If you start to enjoy this side hustle, you can progress on to securing qualifications like a TEFL or TESL which could turn net you better paid teaching jobs.
Before we get ahead of ourselves, let's take a look at 10 platforms to teach English online with no experience.
Overview of the Best Platforms to Teach English Online with No Experience
VIPKid
Cambly
GoGoKid
Magic Ears
SkimaTalk
Preply
QKids
Landi English
Palfish
Skooli
10 Platforms to Teach English Online with No Experience
Teaching English online is an ideal job for those travelling or if you want to make some extra cash from home.
Take a look at the best entry-level English teaching platforms that take on new teachers.

VIPKid needs English teachers for students in China.
You'll be provided with full lesson plans so you can focus on creating great classes for your students.
You can set your own schedule, with no commitment to a minimum or maximum amount of hours.
To be accepted as a VIPKid teacher, you need a bachelor's degree and you'll have to complete an interview plus a demo lesson.
If all goes well, you'll be asked to sign a 6-month contract.
Pay: Earn $14 – $22 an hour from the comfort of your own home. Payment is on the 10th and 15th of every month. Every time you renew your contract, it's possible to get paid more if you've had great feedback from students.
Cambly teachers are paid to have 20-minute English conversations with worldwide adult ESL students.
No structured lesson required — the aim is to practice conversational English.
Cambly tutors are mainly hired from the UK, United States, Canada and Australia.
Because of the relaxed way Cambly works, it's low-pressure and a good place to start teaching online.
You get paid just to chat and correct students when they slip up.
To be accepted as a Cambly tutor, sign up, upload a short 2-minute introduction video and wait for approval.
Pay: Cambly pays $0.17 per minute which adds up to $10.20 per hour. Work hours are flexible. Just log in when you have time.
3. GoGoKid (Stopped Operating in 2021)
GoGoKid takes on teachers with no prior experience. But, experience with kids like babysitting or working in a young environment will increase your chances of being hired.
As a GoGoKid teacher, you'll be teaching American English to kids in China, around the age of 4 – 12.
To be accepted, you'll need a Bachelor's degree and to be legally eligible to work or reside in the USA or Canada. Interviews are carried out on the GoGoKid portal and you'll be asked to complete a 10-minute demo lesson.
Pay: GoGoKid pays its teachers $14 – $25 per hour. Classes are 25 minutes long and you're free to choose your preferred work schedule.

Magic Ears is another great platform to teach online with no experience.
But you will need to hold a Bachelor's degree, be a native English speaker from the US or Canada, have a filmed interview and present a demo lesson to be successful.
Teachers with Magic Ears, tutor Chinese students between the ages of 4 – 12.
You can choose your own hours and teaching materials are provided through the company.
Pay: Magic Ears pays teachers $19 – $26 per hour. Money earned is sent through PayPal or by direct bank transfer.

Skima Talk takes on native English teachers with an English, Irish, American, Australian or Canadian dialect.
No teaching experience or Bachelor's degree is required.
To be accepted as a Skima Talk teacher you must be over 18 years old, have a reliable internet connection and have a passion for teaching.
You'll be asked to sign up, fill out a profile, take a few simple tests and wait for approval.
Once accepted you can work as many or as few hours as you choose.
Pay: You can set your own rates, but be aware; Skima Talk takes 20% of the session price plus PayPal fees.

Preply is an online tutoring platform helping students learn English and many other languages all over the world.
To teach with Preply, you don't need experience but you will need a stable internet connection, a microphone and a webcam.
Lessons are completed through the Preply interactive classroom.
To get accepted as a teacher you need to:
Fill out your basic information
Upload a headshot photo
Describe your strengths as a tutor
Record a 2-minute introduction video
Select your availability
Your application will be reviewed in 5 days and you'll be notified if accepted.
As a Preply tutor, students from around the world get to see your profile and book lessons with you.
Pay: Preply takes a 100% commission for your first lesson. This then drops to 18 – 33%, depending on the number of teaching hours you complete with students. Some top Preply tutors reportedly earn up to $550 a week.
QKids is another quality place to teach English online with no experience.
But you will need a TEFL certificate and a Bachelor's degree to be accepted.
Lessons are 30 minutes long and contain 1 – 4 Chinese students from 4 – 12 years old.
No lesson planning is necessary, lessons are preset in the app using original characters and engaging stories.
Interactive games are also used, which are fun for you and the young learners.
To become a QKids teacher, you need to be eligible to work in the US or Canada and go through an initial screening, interview, trial class and background check.
Pay: QKids pays $8 per lesson ($16 per hour) and $4 for a standby lesson with no teaching required. You'll get a $1 bonus based on the feedback after class and a $1 attendance bonus for each lesson once you complete 15 in a week.

Landi English is another top platform needing English teachers for their young Chinese learners.
You don't need teaching experience to apply, but you will need an ESL certificate like a TEFL, TESOL or CELTA, plus a college degree.
To apply, submit your CV and take part in an interview.
If you pass this stage, you'll be invited to an online training lasting 1 – 2 days, an orientation and a profile completion which takes up to two hours.
Landi asks its teachers to give at least 12 hours of teaching time a week from 6pm to 9pm Beijing time and 3 – 4 days' availability weekly.
Pay: This can vary from $10 – $18 depending on your experience.
Palfish connects you with Chinese learners of varying ages.
It's a great platform for teachers on the work with because you can download the Palfish app and teach directly from your phone.
Once you have the app installed, you can show yourself to be online when you want to take lessons.
This allows the student to call you, where you can teach a lesson or have a ''free talk'' session. Lessons may include 1 – 6 students and you can set your own rates and the number of hours you want to work.
You must be a native English teacher to become a Palfish teacher or course instructor.
Or you can join the Palfish Philippines course if you're a native Filipino. It's recommended to have a teaching certification such as TEFL to be accepted.
Pay: Palfish teachers set their own rates. Course instructors earn up to $22 per hour plus bonuses.
If you want to teach English online with no experience, Skooli is a top platform to look at.
Skooli links teachers with students all over the world to tutor in their interactive classrooms.
Once accepted, Skooli students can request a lesson or help when they see you're online.
You can set your own schedule and help students from a desktop or your mobile on the go.
To apply, send Skooli any teaching qualifications you have, along with your ID and proof of education.
If you seem a good fit, a Skooli team member will reach out to schedule the next steps.
Pay: Skooli tutors are paid based on their qualifications and experience. Pay is calculated according to each completed minute during a tutoring session.
Teach English Online with No Experience – FAQs
Can I make a living teaching English online?
Many people teach English online as a side income. But those who put in the hours, earn a full-time income and thrive in the industry.
Is teaching English online worth it?
As long as you get the right position and enjoy hanging out with kids, teaching English online is worth it.
Most education platforms are flexible, allowing teachers to set their own hours.
This is a real plus for the job – being able to take charge of your work day. Plus, you can work from anywhere you have a WIFI connection.
Can I teach English online without a TEFL certificate?
Not all platforms require you to have TEFL to become a teacher. Some platforms ask applicants to have a degree or to send in a demo video.
How much does a TEFL certification cost?
Prices for a TEFL vary, depending on where you study. A minimal online certification costs around $200 and expect to pay $400 – $500 for a full TEFL.
Can I teach English online without a degree?
Yes! Companies that allow you to teach English online without a degree include Cambly, Palfish, SkimaTalk, Lingoda, Open English, Verbling, LatinHire, iTalki, Tutlo and Preply.
Is it hard to get a job teaching English online?
This really depends on you. For those with no degree and no TEFL, your English teaching options are limited.
If this is you, try applying to a conversational platform like Cambly where qualifications are not needed.
For applicants with qualifications, it will be simple to get a job teaching online with any of the platforms listed.
Teach English Online with No Experience – Final Thoughts
Now you know the best platforms to teach online with no experience!
Apply to different platforms and see which one works for you. If you start to enjoy teaching, consider investing in a TEFL qualification that allows you to apply for higher-paying positions.
Teaching is a rewarding career. I taught English in Cambodia for two and a half years and it's an experience I treasure.
Have you experienced teaching English online?
How did it go? Let me know in the comments…
More side hustle ideas:
*Disclosure: I only recommend products I would use myself and all opinions expressed here are our own. This post may contain affiliate links that at no additional cost to you, I may earn a small commission.
Summary
Article Name
10 Platforms to Teach English Online with No Experience
Description
10 Platforms to Teach English Online with No Experience.
Author
Publisher Name
Publisher Logo