Maybe you're stuck in a job you hate and want a new income stream? Or are you looking for a money-making side hustle to bump up your monthly earnings?
Either way, there are many awesome blogs out there teaching you how to make money online.
I've learned about new passive income streams and unique side hustles from hundreds of bloggers over the years.
So I wanted to save you days of scrolling and compile a list of the top 50 blogs that will help you make money online in 2021.
This is a long article and I advise you to not visit all these blogs at once – overwhelm is real!
Focus on reading 1 – 2 blogs a week and take notes on the money-making ideas you come across. Then start taking action on what you've learned.
Because information without action is pretty useless and won't get you far.
This article is over 5,000 words long so you can download it here to reference when you have time.
Top 50 Blogs to Help You Make Money Online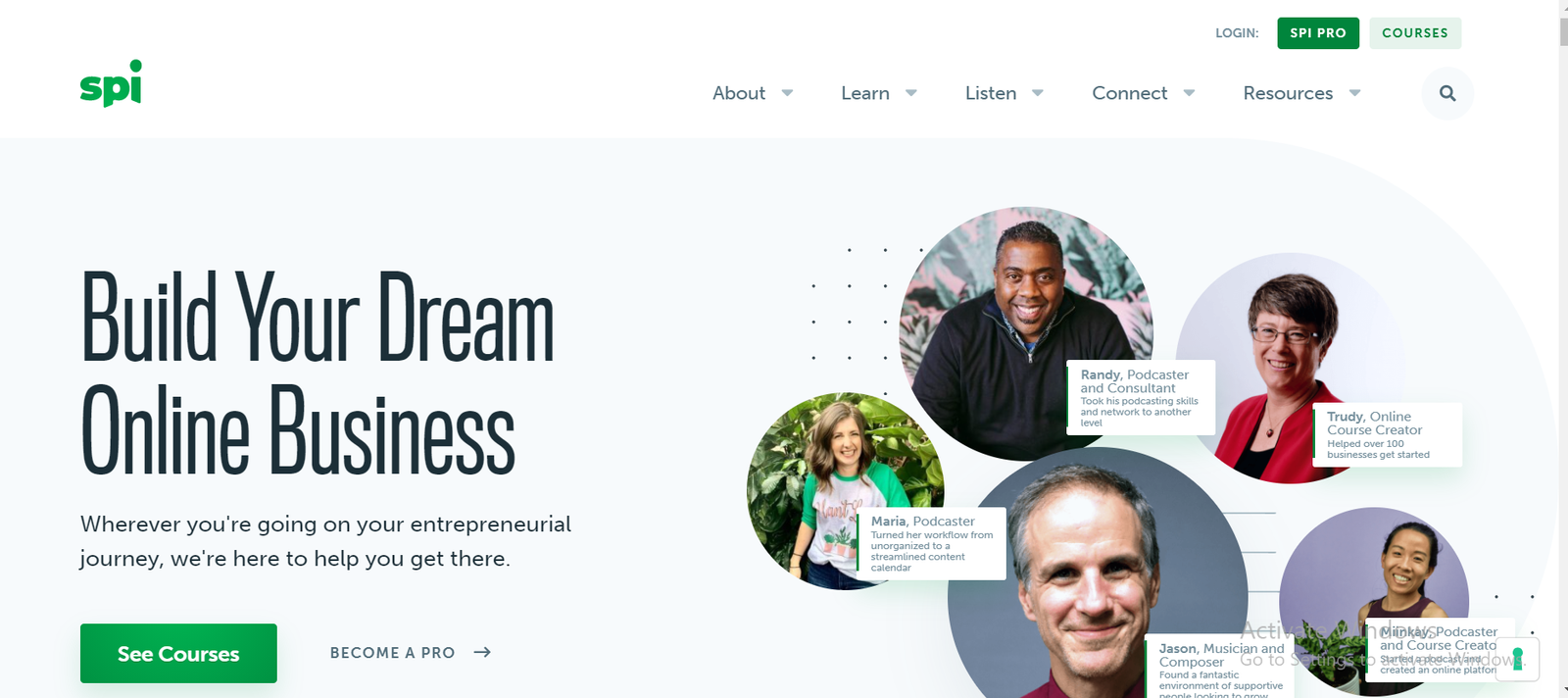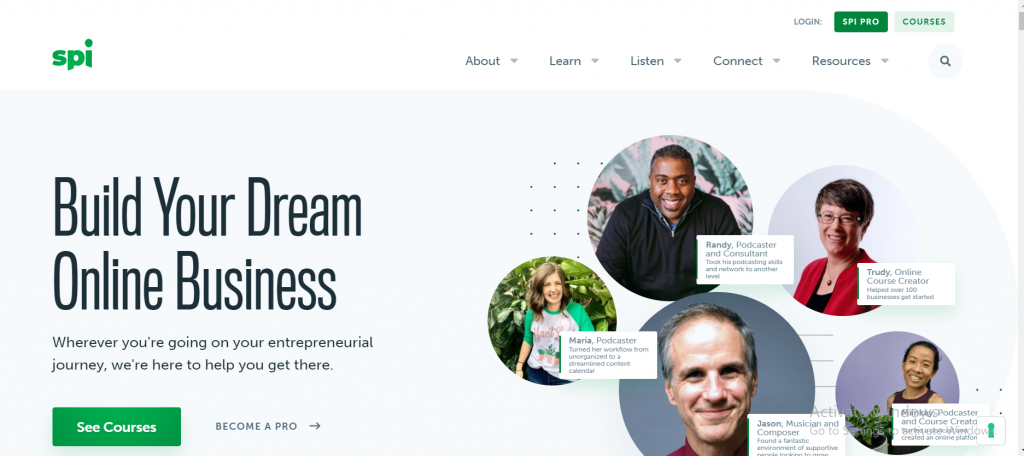 Smart Passive Income was the brainchild of Pat Flynn who started his blog after getting laid off in 2008. Pats mission is to elevate entrepreneurs to reach their dreams with his range of online courses.
Learn about affiliate marketing, business development, email marketing, book publishing, podcasting, course creation and much more. The SPI team regularly hold free webinars, podcast sessions and live training workshops.
If you're looking to start your own online business and make money online, this is a good place to start.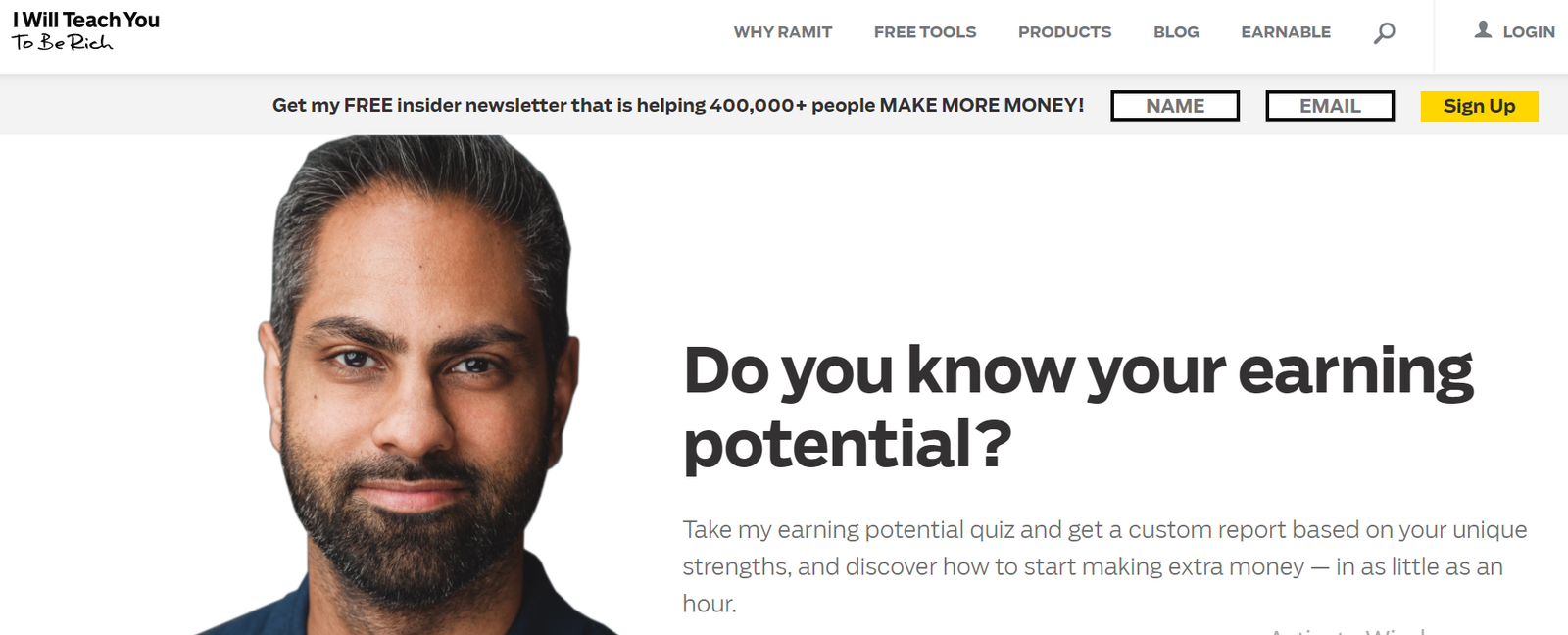 This awesome blog was started by Ramit Sethi, a New York Times best-selling author.
It says it all in the name really – if you want to live a wealthy life, Ramit will teach you how using psychology and systems.
Content includes: finding your dream job, starting an online business, automating your finances or making more money on the side. Ramit offers a range of free and paid courses to help you live a financially free life, without cutting back on lattes and vacations.
Take the I Will Teach You to Be Rich earning potential quiz today, to discover the best ways for you to make extra money.
Harsh Agrawal is the founder of Shout Me Loud, one of the most successful money-making blogs out there.
Starting out hobby blogging, Harsh soon discovered how to turn his blog into a full time business and now helps others do the same.
Check the Shout Me Loud guides on how to start a blog, install WordPress, start a podcast and much more. The blog is also full of tips and tutorials on earning money blogging and how to build your blog up for success.
---
Related articles:
---
Income Diary provides over 400 blog posts, 7 educational courses and best-selling software products all aimed at helping you make money online.
Founded by Michael Dunlop in 2005, the company originally started as a graphics forum and now provides awesome content around building websites, driving traffic, social media and making money online.
If you want to start a new money-making gig, or get your current business more customers, the Income Diary is a place to find answers.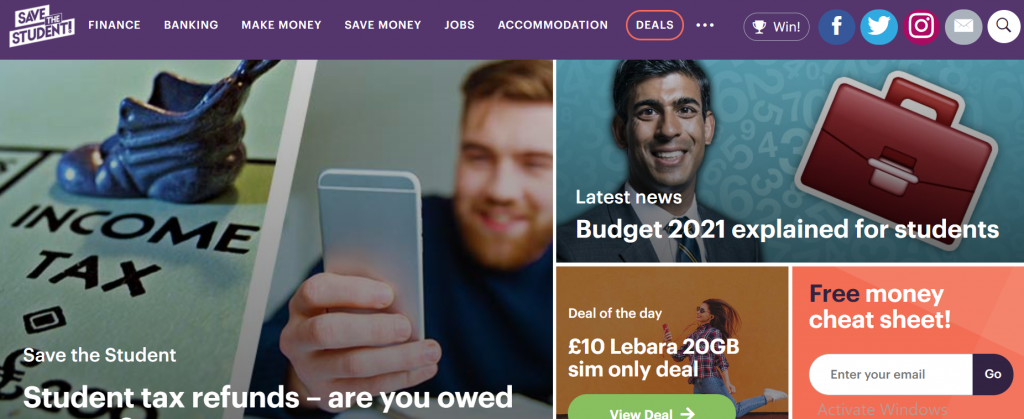 Founded by Owen Burek in 2007 in his first year of Manchester university, Save the Student was created to help students make more money and make what they had go further.
Today the Save the Student team has upgraded from dingy college digs to a 60-foot yacht in East London.
If you are a student looking to make money, save money, get a part time job or learn about banking and finance, the Save the Student blog will help you out.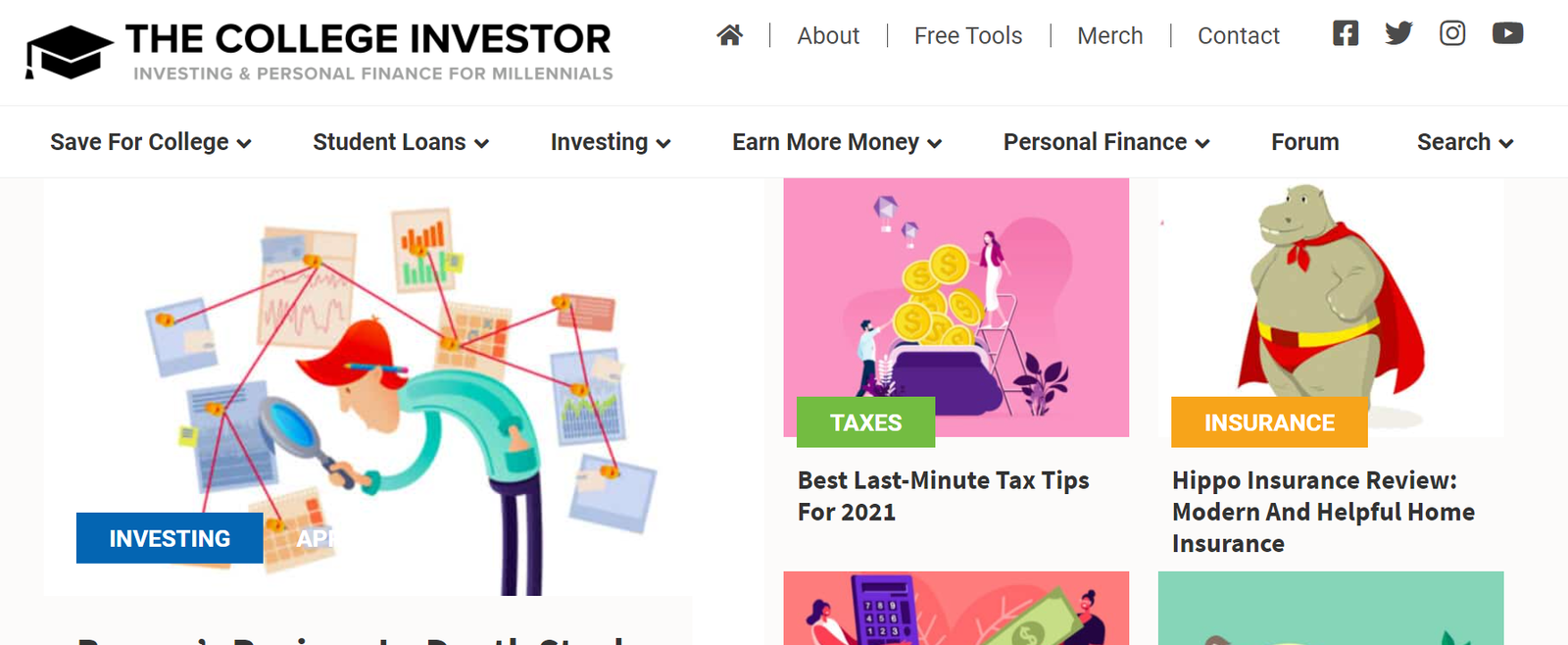 This blog showcases the best information for millennials around investing and personal finance. If you're feeling tied down by student debt, The College Investor can help you escape and build a financially free future.
Built by Robert Farrington, the platform started out as a personal finance blog and has now evolved into a financial media brand.
Visit the College Investor to learn about side hustles, passive income streams, investing, how to get out of debt and how to save for college.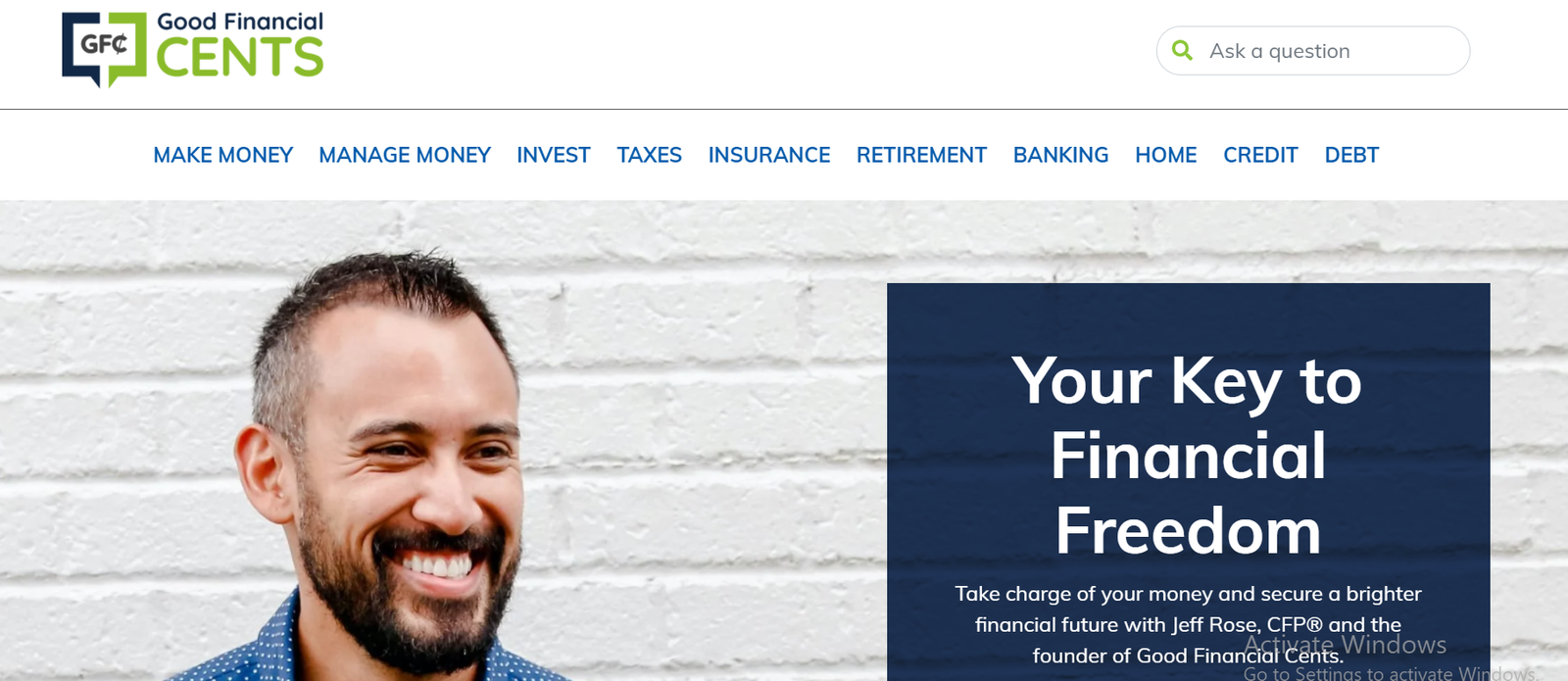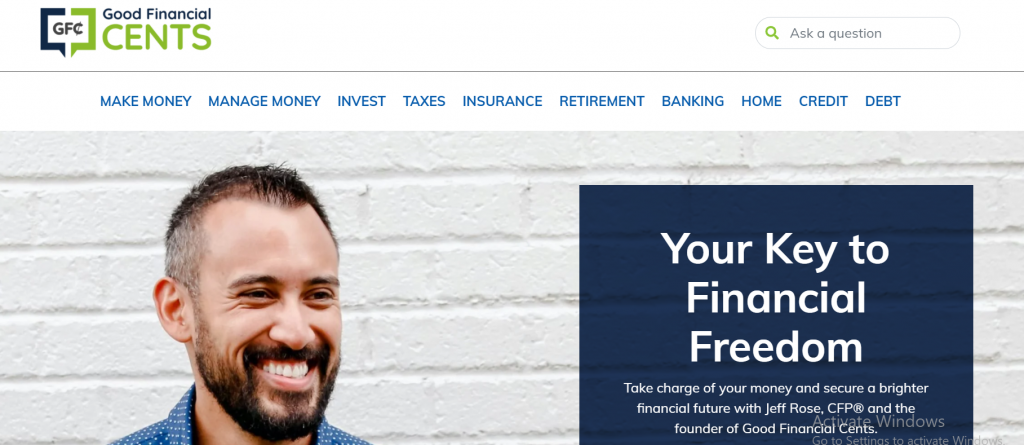 Jeff Rose is the founder of Good Financial Cents, a blog that teaches you to take charge of your money, make more money and secure a brighter financial future.
Jeff is a certified financial planner, recognized as one of the top financial advisors of 2019 and author of the book: Soldier of Finance. You'll certainly learn a lot from visiting his website.
Check out the Good Financial Cents blog for guides on how to make money fast, how to manage your money, where to find remote jobs, tips on how to invest and much more.
This platform offers a massive range of money-making ideas including; making money with a phone, making money with a car, making money with hobbies and more.
You'll also find a ton of info on how to save money, invest and pay off debt.
Go visit this blog to start making side hustle cash today.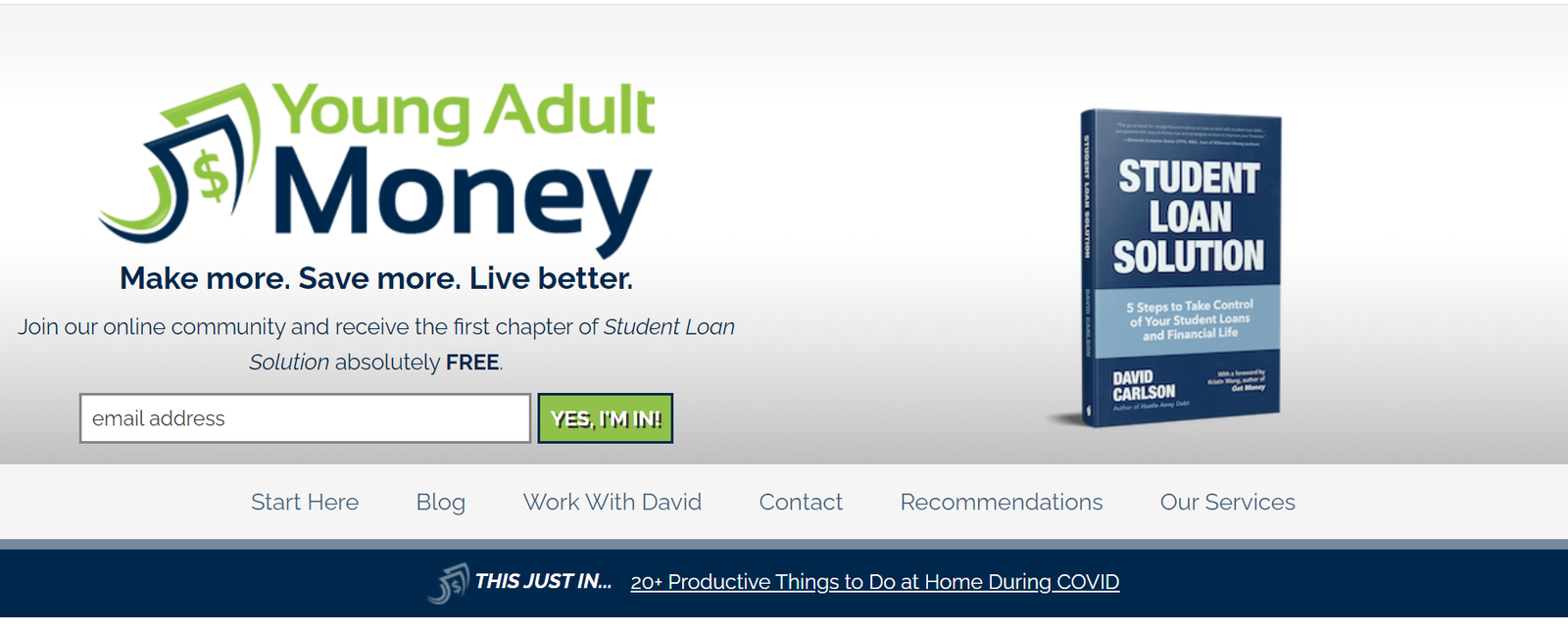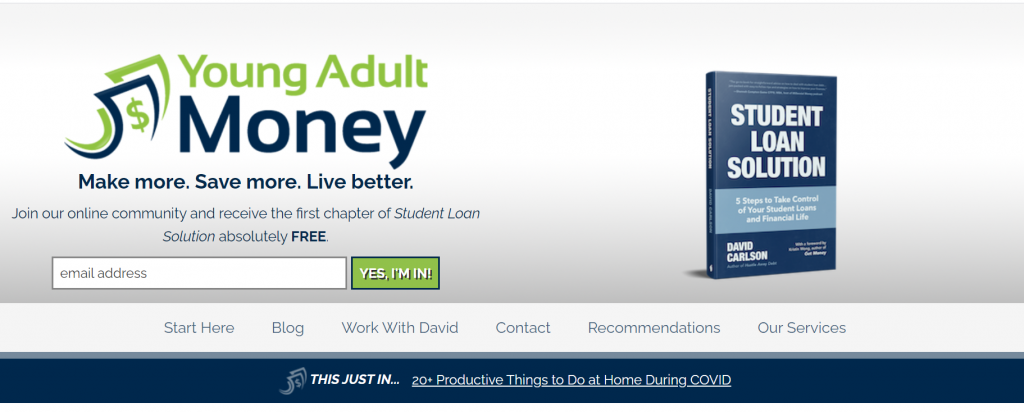 Do you want to make money from home, improve your finances and navigate your financial life through the Covid pandemic? Then Young Adult Money has got the answers.
Founded in 2012, Young Adult Money has grown to become a brand that champions financial wellness. The owner David Carlson is the author of two personal finance books and has had his work featured in top publications.
Check out some of the latest posts; 15 Ways You Can Make Money From Your Computer Right Now and 100+ Ways To Improve Your Finances.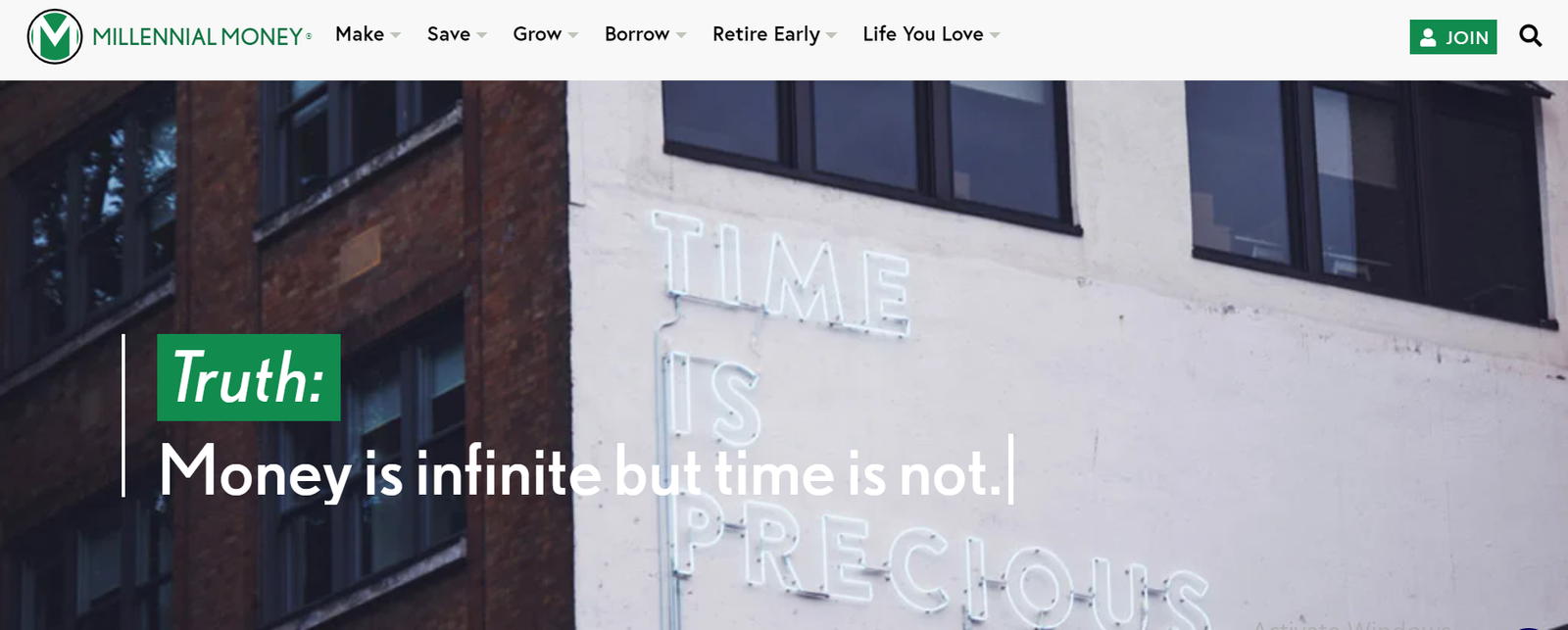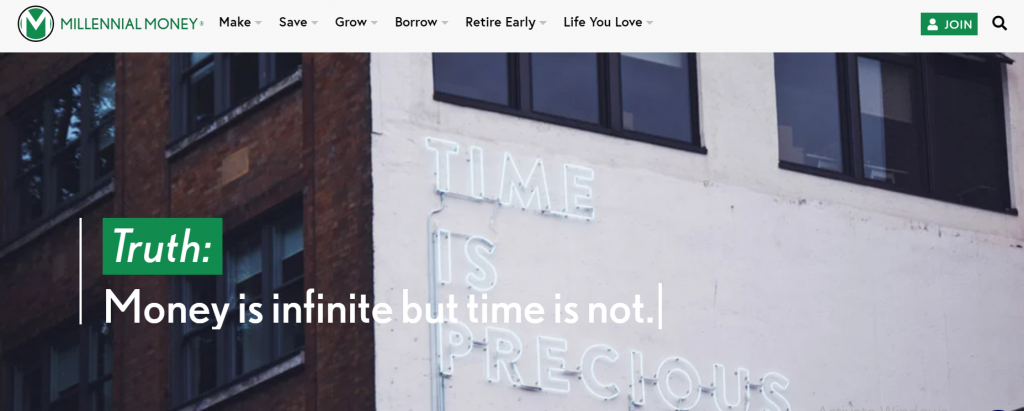 Grant Sabatier is the creator of Millennial Money, author of Financial Freedom and founder of the Financial Freedom Summit.
Since 2015, over 10 million readers have visited this website to learn how to build side hustles, to save money, how to invest intelligently, fast track financial independence and to learn about early retirement.
Grant reached financial independence at 30 and continues to help others do the same. If you're looking to start making money online or you want to make more money, the Millennial Money blog will guide you.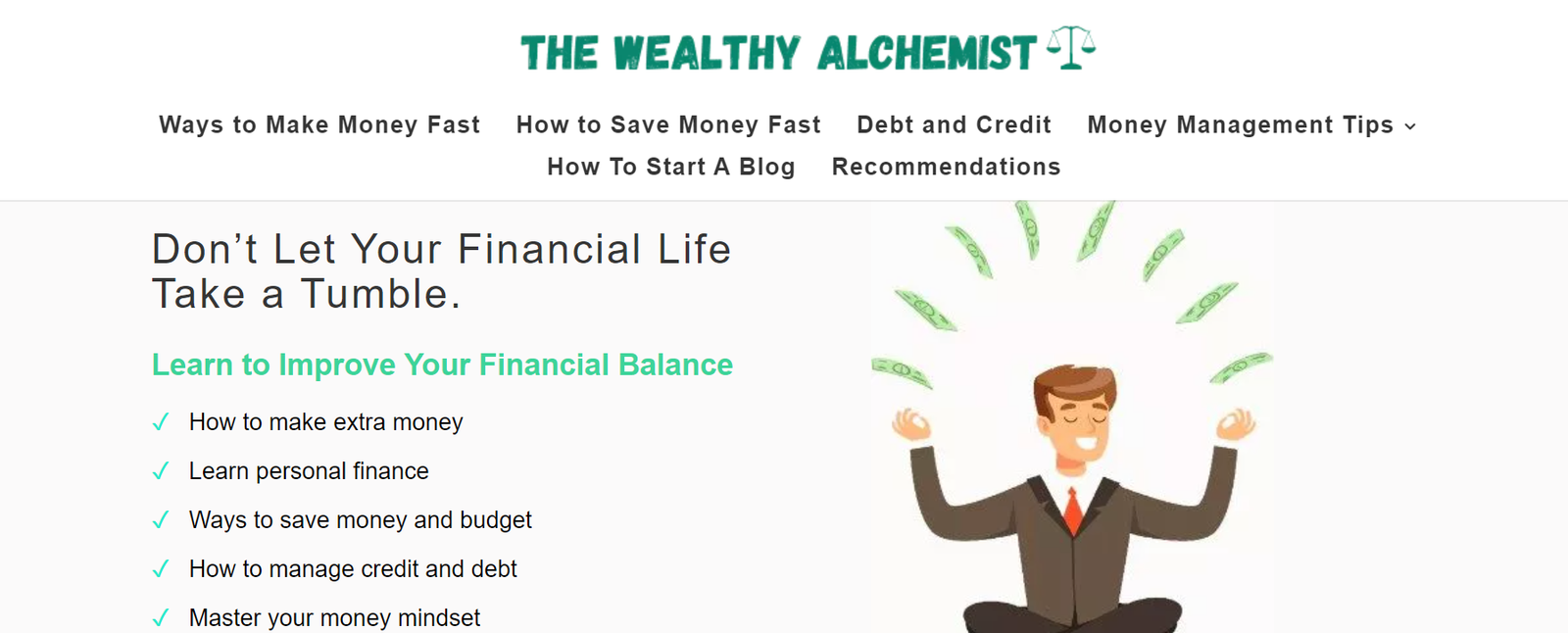 If you want to make money online, it's also a good idea to learn about personal finance and how to save and budget.
The Wealthy Alchemist teaches you all that plus how to manage credit card debt and how to master a strong money mindset.
The site was created by Oliver and Idalmis who firmly believe that in order to grow your wealth, you must first grow yourself.
Check out the Wealthy Alchemist site to explore your personal development and personal finance.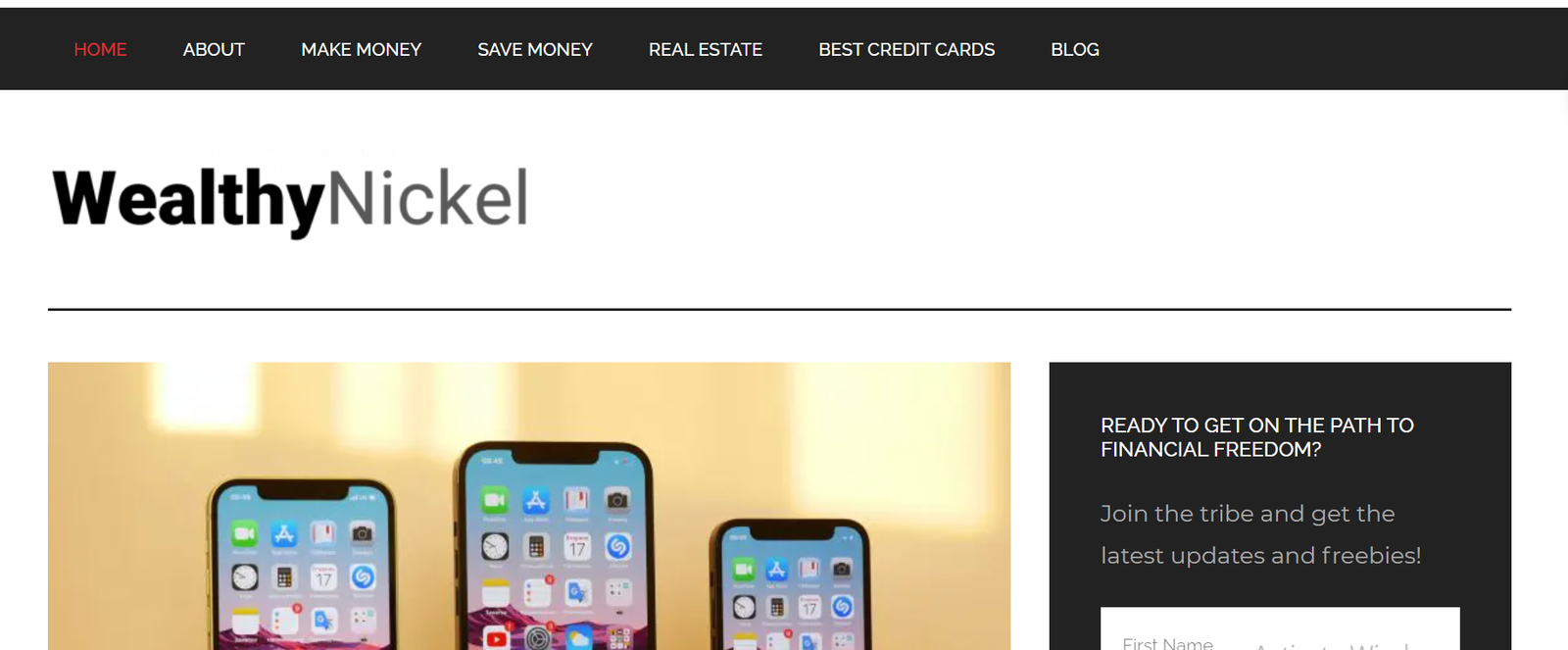 The Wealthy Nickel is packed full of content about making money, saving money and real estate investing.
If you're ready to get on the path to financial freedom, this blog will show you the way.
The Wealthy Nickel was launched by Andrew, a 30 something husband and father of two kids who purchased his first rental property in 2013.
Since then, his blog has grown as he shares his journey discovering new ways to make passive income, save money and invest money.

I Like To Dabble is one of the best websites to learn how to make money online, start a side hustle, save money, pay off debts and get career tips.
The Dabble team say 'screw get rich quick schemes, let's start something legit!'. So you can be sure any side hustle you start with them is the real deal.
Daniella is the serial side hustler behind Dabbling For Dollars, who paid off $40,000 in debt with her partner Alexandra through side hustles.
Their blog started as a creative outlet way back in 2017 and through lots of trial and error, they now have 12 lucrative income streams and want to help you do the same.
---
Related articles:
---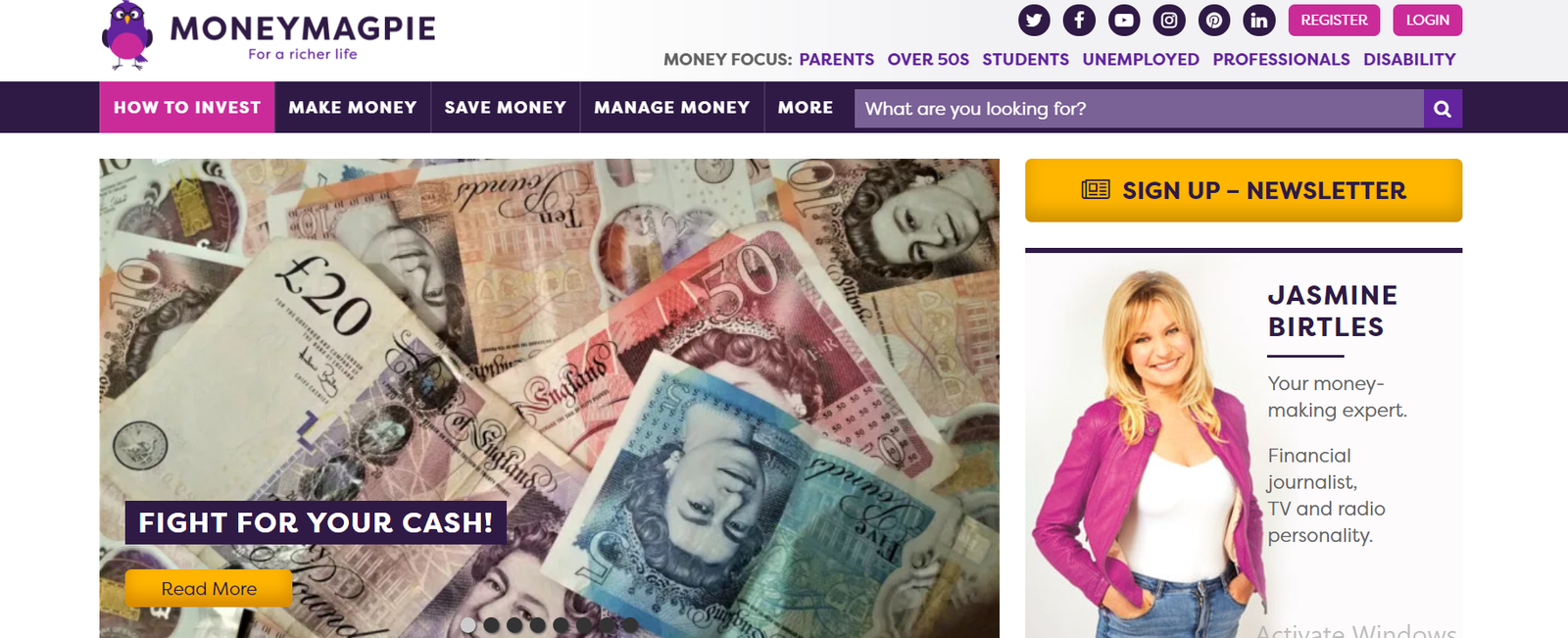 Money Magpie is headed up by Jasmine Birtles, a financial journalist, TV and radio personality.
This website is a goldmine for anyone wanting to make money, save money, invest money and learn how to manage their current funds better.
What I like about this blog is that its super organized. Click on the parents, over 50s, students, unemployed, professionals or disability tabs to be taken to info that relates to your situation.
Learn a ton of new and unusual ways to make more money and even win cool freebies in the competitions and deals section.


The Golden Bloggerz teach you how to work less and earn more. Who doesn't want that?
This blog is one of the best for learning how to start a money-making blog. Having an awesome blog themselves, the Golden Bloggerz teach you everything they know including; starting your blog the right way, how to get traffic, how to make money online and more.
They even help you with engagement by offering a free Facebook page engagement thread, free page views click-through thread and free social media shares thread.
Go check out the Golden Bloggerz platform to kick off your blogging career and make more money online.

Dollar Sanity teaches you how to make money, save money and invest money.
You'll find hundreds of side hustle ideas, passive income strategies and creative ways to earn extra cash even as a beginner. Selling on Amazon is a particular focus for this blog, so if that interests you, go check out their many tutorials.
Started by Peter Koch, he originally bought DVDs for 70 cents and sold them for $7 – $10 dollars! These early wins showed him what opportunities were available online and he went on to create the Dollar Sanity blog to share his knowledge with others.

Learn how to work from home, start a side hustle and earn extra passive income on the Crowd Work News blog.
Sign up for their weekly newsletter to hear who's hiring or scroll through their blog posts showcasing a ton of legit companies looking for remote workers.
Crowd Work News was started by Sireesha, a work at home mum of two lovely girls. Her work has been featured in Forbes, Business Insider, The Muse, Side Hustle School and many more popular publications so you can see you'll learn a lot here.
Go check out Crowd Work News and start a new money-making hustle.
Money Peach guides you in saving money, getting out of debt, creating a budget and starting a new side hustle.
Chris or (Peach) the owner of Money Peach, is a personal finance expert and helps people manage their own finances through his blog and podcast. He learned the hard way from earning top dollar, to not managing his money and falling into debt.
But instead of crying about it, Chris and his wife turned things around by creating a budget and sticking to it. He now teaches others to do the same through his incredible blog Money Peach.


Don't just make money, make your money work for you through investing, real estate and building passive income streams.
You'll learn all about this on the Great Passive Income Ideas blog. There's a ton of information here guiding you how to make money on the side, work from home and get out of debt.
Go check out the Great Passive Income ideas blog to be inspired.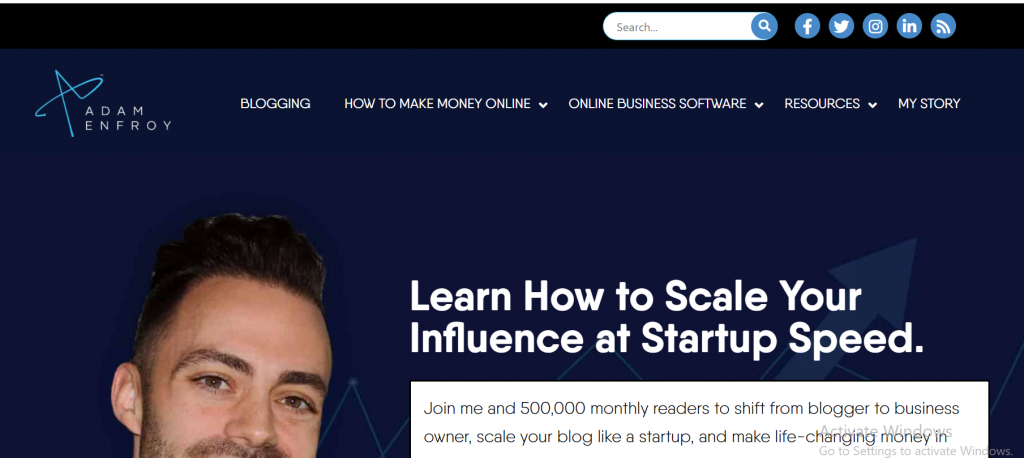 Adam started his blog as a side project in 2019 and it became one of the fastest-growing blogging businesses ever created.
In two years he made over a million dollars from his blog, with zero ad spend!
But Adams's road to success wasn't easy. He had failures and doubts before he really found what worked.
If you want to make money blogging, join Adams mailing list and get a FREE WordPress blog launch checklist, 2 free blogging eBooks and access to his private member's Facebook group.
Have a read through the blog to learn new ways to make money online, start an online store, scale your influence and make money on social media.
Make Money In Life has a huge amount of information on business startups, finance, ways to make money online and how to work from home.
James is the blog founder, starting the platform way back in 2011. Since then it's become one of the top finance and make money online blogs.
Make Money In Life gives you lots of unusual money making ideas including getting paid to write song lyrics, creating a business out of your passion and the best sites to buy and sell apps for profit.

If you're a mum looking to reset your relationship with money, this is the place to be.
On the Mums Money blog you'll learn how to write a family budget, slash your living costs and how to find a stay at home job so you can be a stay at home mum.
This blog is a goldmine for mums and you'll get money-making ideas from selling feet pics (yes really) to making and selling crafts for profit.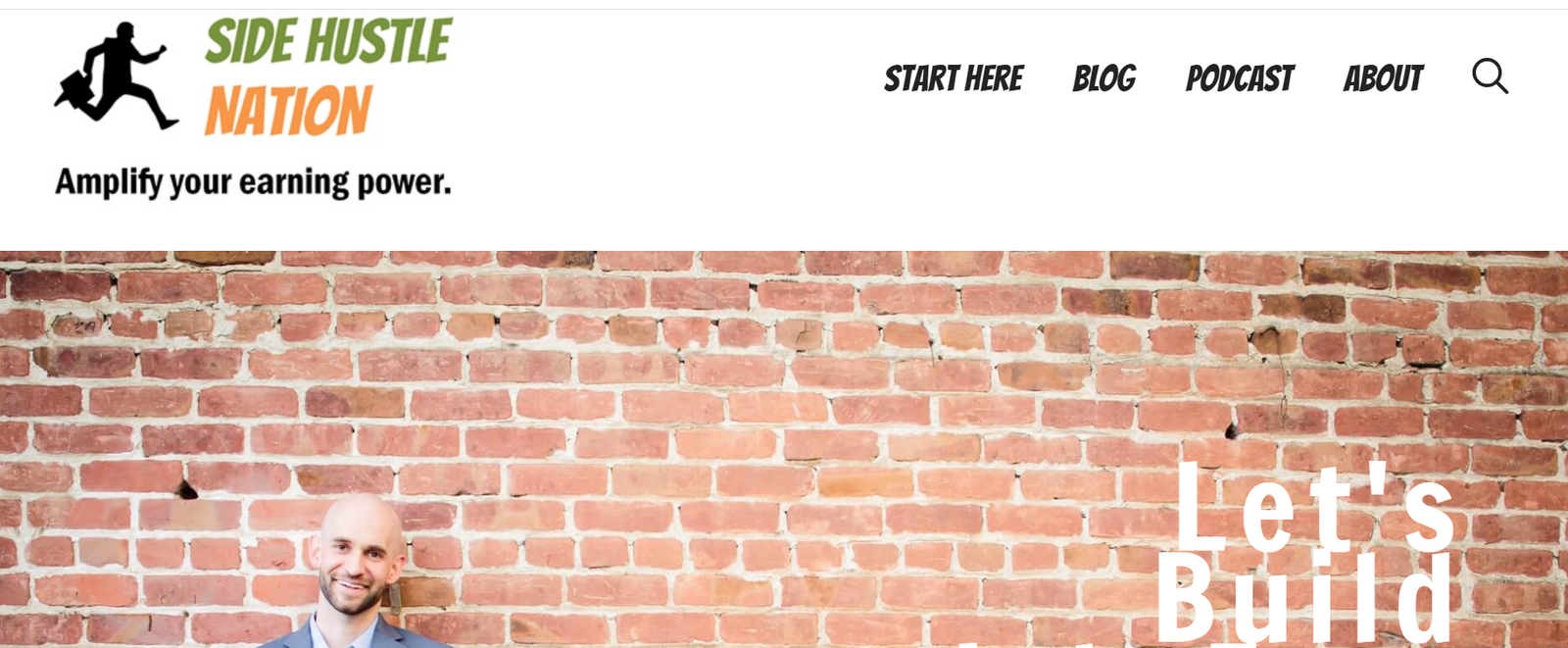 Nick Loper, the chief side hustler at Side Hustle Nation teaches you everything he knows about blogging, self-publishing, freelancing, making money with Amazon FBA and investing what you earn.
If you're looking to make extra money, pay off debt, learn new skills and escape the rat race, this is the blog to read.
Go check out the content pages on Side Hustle Nation or listen to the Side Hustle Show which is on Apple Podcast, Spotify and Google Podcasts.

If you're ready to make your dreams come true, Gathering Dreams will help you get there.
Gathering Dreams shows its readers how to stop worrying about money, make more money by working less, build up your savings, start your own business and work towards financial freedom.
Sara is the dreamer behind Gathering Dreams, which she started from the need of finding a better way to earn money rather than slaving for 60+ hours a week.
If you want to quit a job you hate and take control of your money and life, Gathering Dreams is the place for inspiration.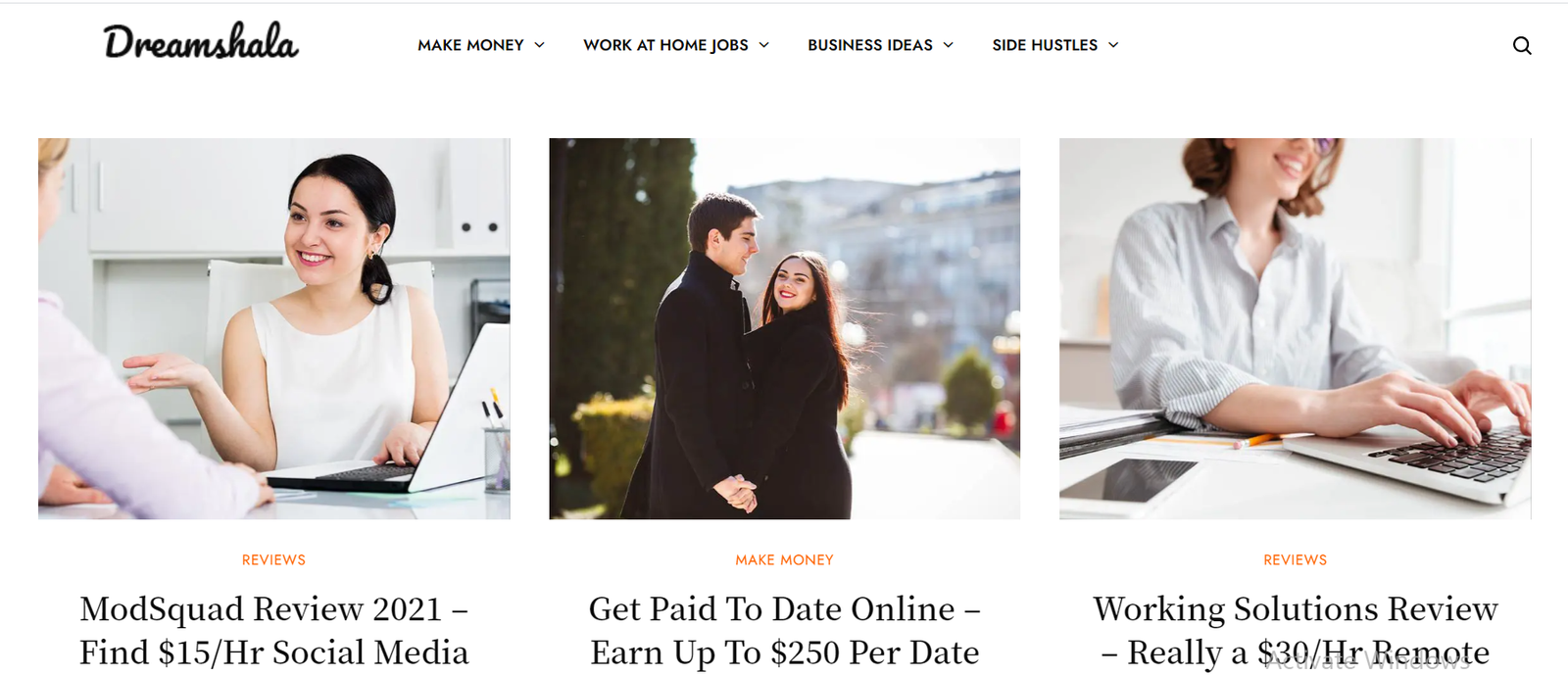 Dreamshala offers hundreds of ways to make money online, work from home, start an online business and make money with side hustles.
Whether you need to make $500 fast or you want to make money without a job, you'll find the answer here.
The name Dreamshala was formed by combining two words: 'dream' and 'shala'. Dream meaning our aspirations and desires and shala meaning school. Together the name translates to:
'' School of dreams, ambitions, aspirations and goals.''
The founder: Siva Mahesh was told in school 'dreamers never achieve'. So he decided to prove them wrong.

The Money Fox is waiting to help you make money, save money and get out of debt.
This beautiful blog has a ton of information on starting a blog, making money with matched betting, how to make money online in one hour, the best online transcription jobs and much more.
The blog is run by Francesca, a stay at home mum and multiple side hustler. She's on a mission to help 1,000,000 women achieve financial freedom so go join her!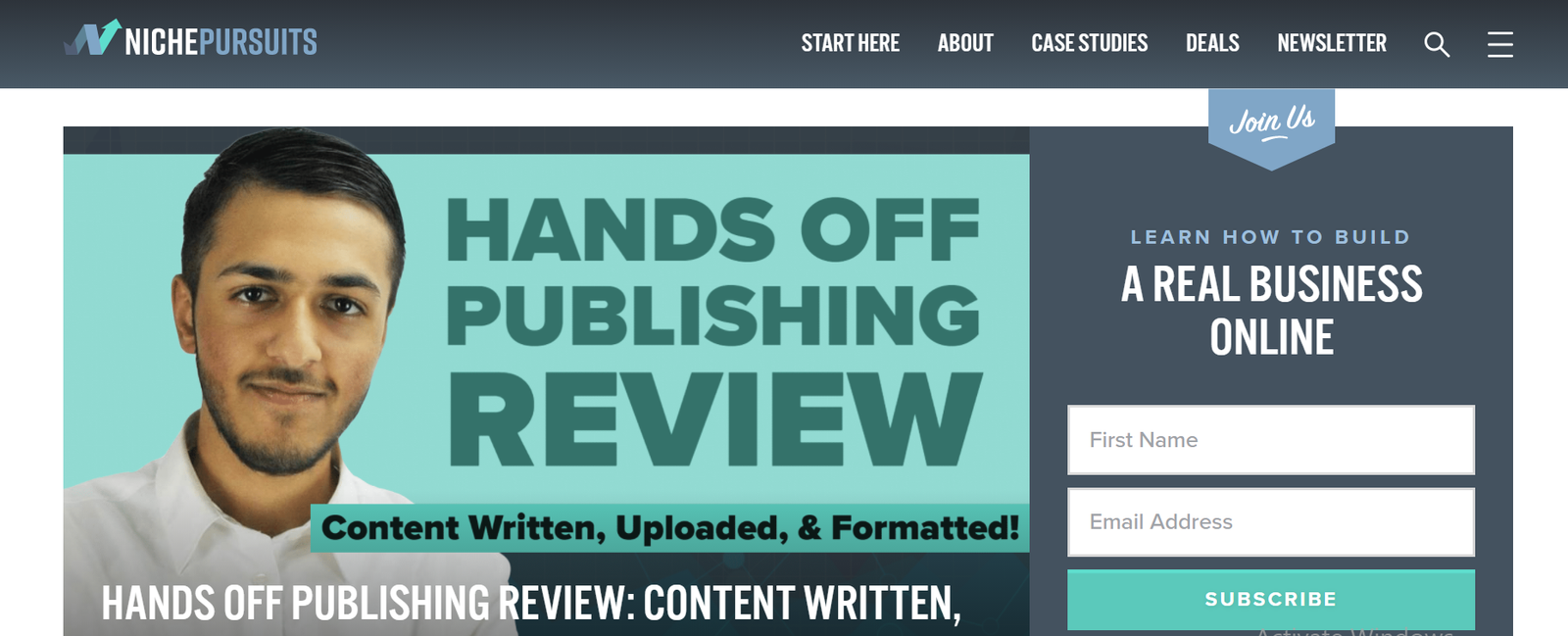 Niche Pursuits is run by Spencer Haws and his blog is actually where I got the inspiration for this post.
If you want to build money making niche affiliate sites, his blog is the one to follow. Join the Niche Pursuits email list to get a 10-part series on how to build high ranking affiliate sites.
The Niche Pursuits website has a ton of free tutorials on how to rank your first affiliate site and how to build a profitable FBA business, plus many inspirational stories to keep you motivated.
Spencer built his first website in 2006 and left his job to work fully online in 2011. You'll find all the information you need on Niche Pursuits to build your own online empire.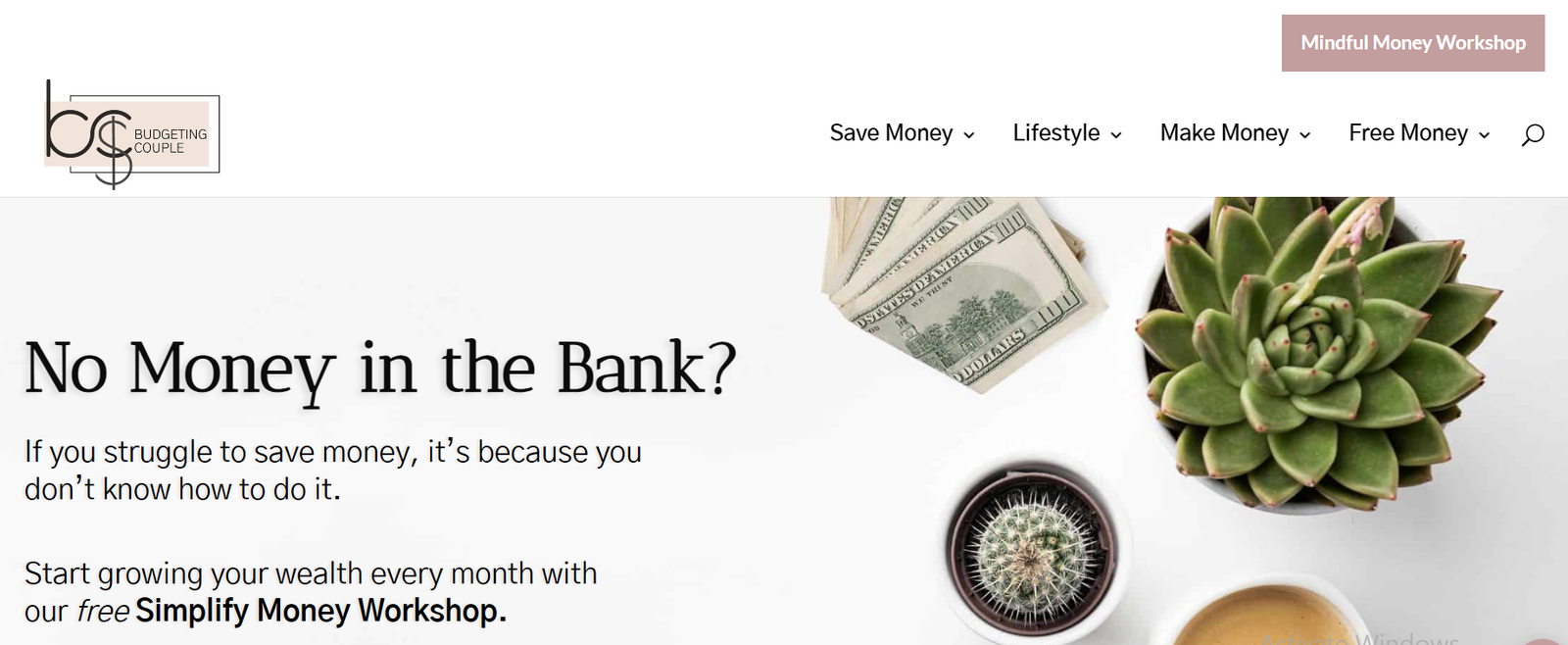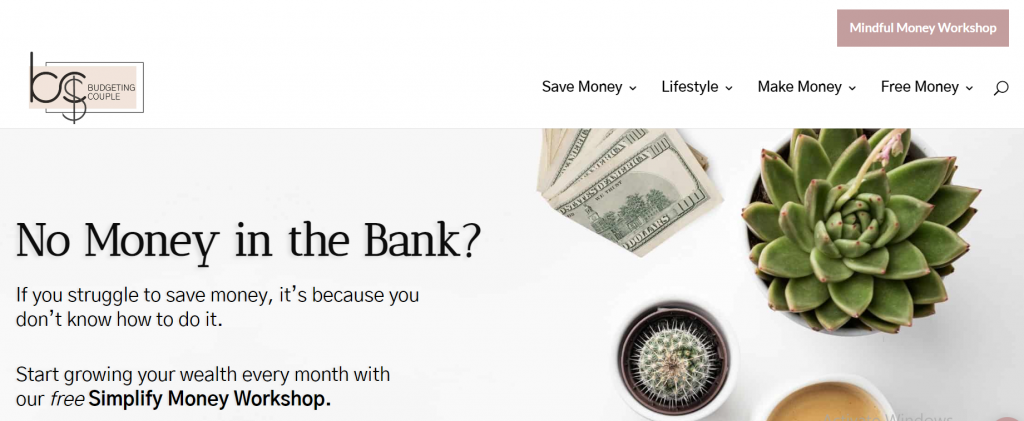 No money in the bank? The Budgeting Couple will show you how to change things.
Join their free Simplify Money Workshop to learn how to manage money, build savings and become debt free.
In the blog you'll find countless articles guiding you on money-saving, lifestyle, how to make money every day and where to make free money.
If you want to make extra money and reduce your stress attached to money, the Budgeting Couple blog is a must read.


The Modest Wallet offers a massive range of side hustle ideas to help you make money online.
Get info on the best work at home jobs, money-making apps, gig economy jobs, quick money ideas, saving money, budgeting and investing.
The Modest Wallet team believes that you don't need a finance degree to manage your money well and they offer the right education and tools to push you towards financial freedom.
Download their free Personal Finance Blueprint eBook to get started.

Digital Nomad Quest was started by Sharon who quit her job, traveled the world for two years and set up 10 passive income streams along the way.
On this blog you can take multiple free courses including; The Etsy Entrepreneur, Remote Rental Riches and Blog Launch Profit.
Inside the blog you'll find content detailing how to make passive income, marketing your business, how to become a digital nomad, building an e-commerce store and how to invest money.
If you want to make money online, this is a top blog to check out.

Addi Ganley is a wife, mum and business strategist who wants to help you build your own successful online business.
The blog has tons of information on making money online, how to blog for money, how to grow your biz and automate everything so you're not tied to your laptop.
Addi cracked the code of turning her hobby blog into a six-figure business. Get her free roadmap so you can do the same by visiting her blog today.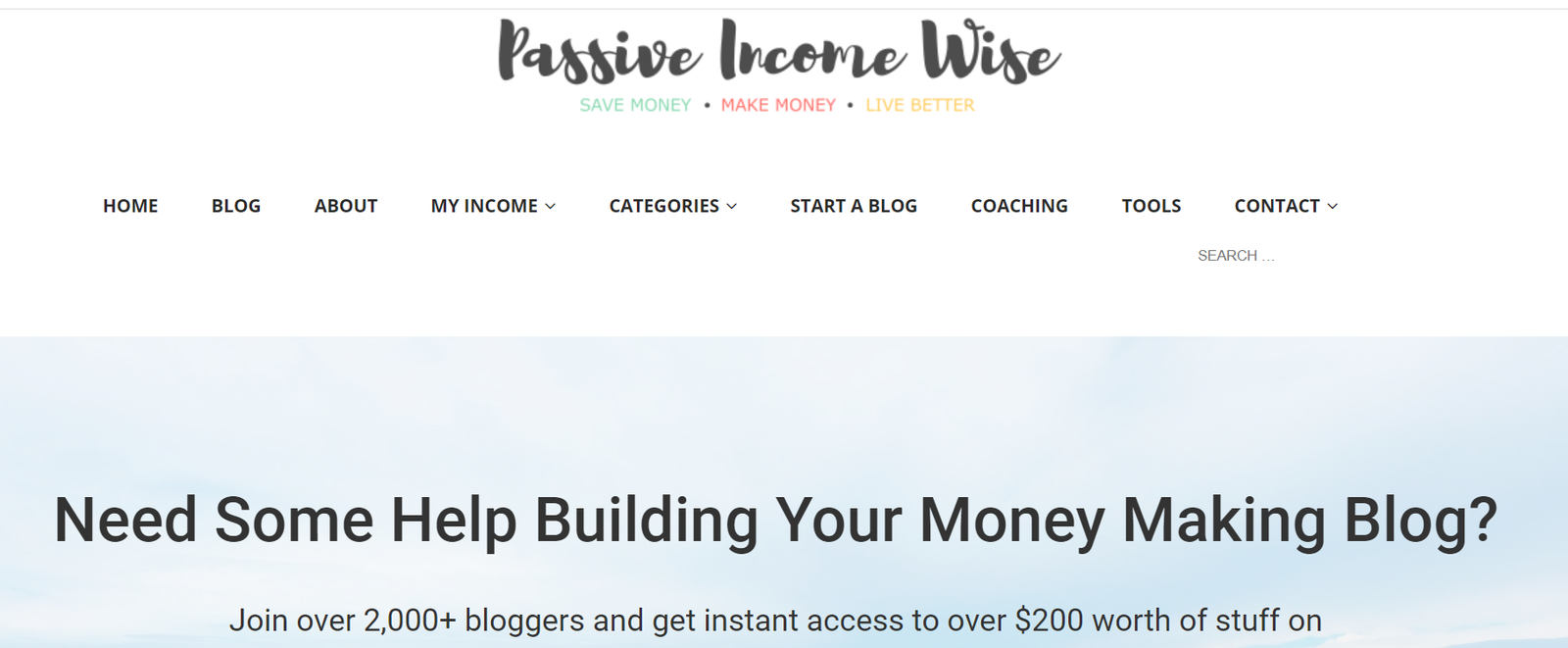 Passive Income Wise says it all in the name. If you want to learn how to make extra income, pay off debt, start a money-making blog and budget like a pro, this blog will reveal all.
Francisco is the owner of Passive Income Wise which was started in 2015 originally as a side hustle. Now the blog has grown and Francisco has helped over 2,000 other bloggers start and grow their online businesses.
Go sign up for the Passive Income Wise newsletter and receive $200 of free stuff.

If you want the best work at home jobs and money-saving ideas delivered right to your inbox, the One Fine Wallet blog is here to help.
Read through the many articles featured around; business ideas for women, finding non-phone online jobs, student jobs, side hustles and how to save money.
Saranya Ramanathan a personal finance and career blogger is the founder of One Fine Wallet which was started in early 2018.
Whether you're a stay at home mum, a college student or just someone in need of extra income, visit One Fine Wallet for inspiration.
---
Related articles:
---

The Make Money Online Blog is a one stop shop for creating an online business and becoming your own boss.
Learn how to launch your empire, make money online, powerful affiliate marketing strategies and how to blog your passion.
The Make Money Online Blog is the brainchild of Simon from Yorkshire. After working in call centres for years and getting scammed multiple times online, he came across Wealthy Affiliate and started his own blog.
Now he earns over $6k+ per month and lives in Thailand volunteering.
If you want to start a money-making blog or just need new side hustle ideas, the Make Money Online Blog is a must visit.
How We Make Money Online is a hub of information for the best work at home jobs, how to make money online, starting a blog and lucrative side hustles.
If you're interested in building your remote empire or you currently work at home and want extra cash, this blog will help you out.
Some niche topics covered include; how to become a proofreader, 120+ non-phone jobs, Pinterest virtual assistant jobs and a massive list of paid survey sites.
Go visit How We Make Money Online to put more money in your pocket.
Jump on the gig economy band wagon and make extra cash in your spare time.
On Gigs Done Right you'll find info about money-making gig apps, side hustles and the best freelancing jobs worth your time and effort.
As wages stay stagnant and many jobs have been lost during the pandemic, learn from the Gigs Done Right blog how to not let pandemics take control of your finances.
The Gigs Done Right team are people who've escaped their 9-5 using side hustle businesses and they want to help you do the same.


Sprout Mentor writes about a massive array of income ideas for its audience.
Read through the fast money-making strategies, how to get paid through PayPal, how to take surveys for money, how to make money without investment and the best side gigs from home.
If you've decided to start your own blog, take a look at the Sprout Mentor books; On Page SEO and How To Get 2,000 Page Views Daily Free.
Sprout Mentor is dedicated to helping beginners build successful online businesses and make money online. Go check it out for new money-making inspiration.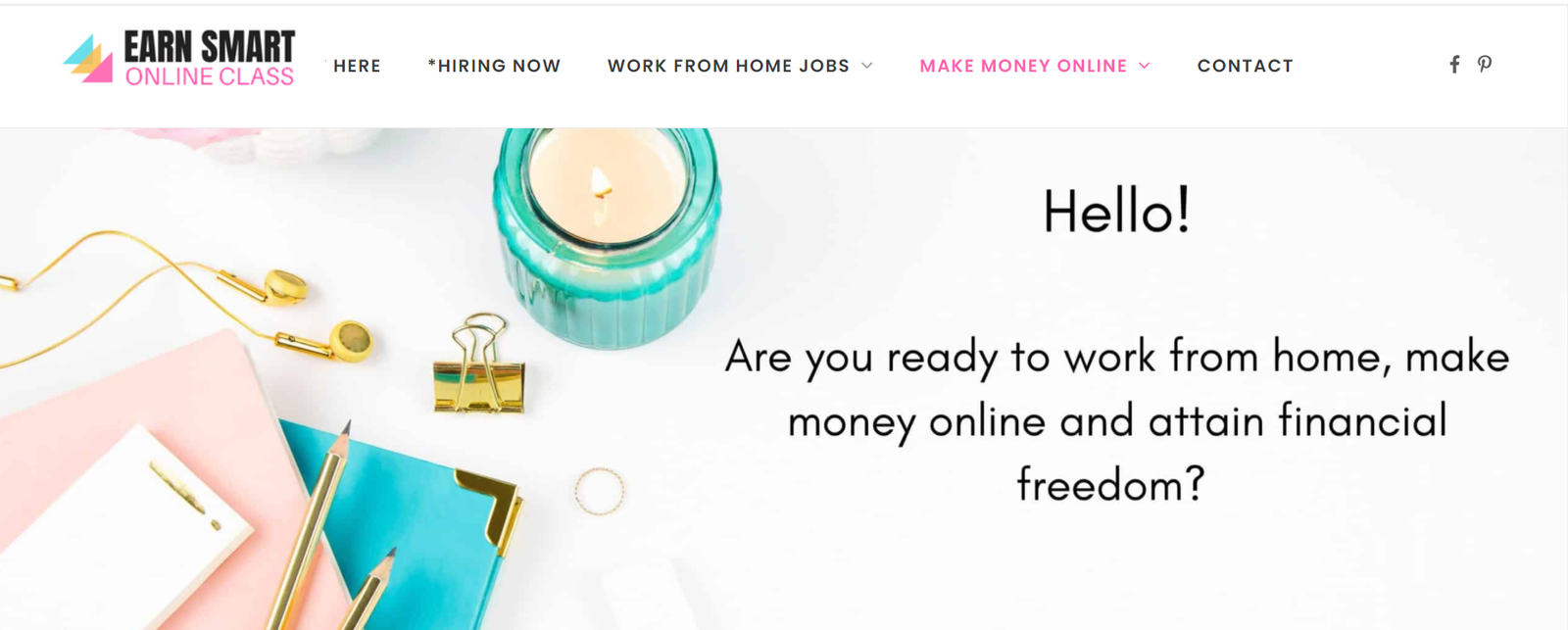 If you're looking to work from home, start a side hustle and attain financial freedom, Earn Smart Online Class will give you a ton of great ideas.
On the platform you'll find details about proofreading jobs, transcription jobs, Virtual assistant jobs, writing jobs, jobs that pay weekly and a range of side hustles that will make you money.
Click on the 'hiring now' tab to see companies and opportunities that need virtual workers right now.
Virginia Nakitari is the owner of this awesome blog which was launched in 2018 and now pulls in over 200,000 monthly readers.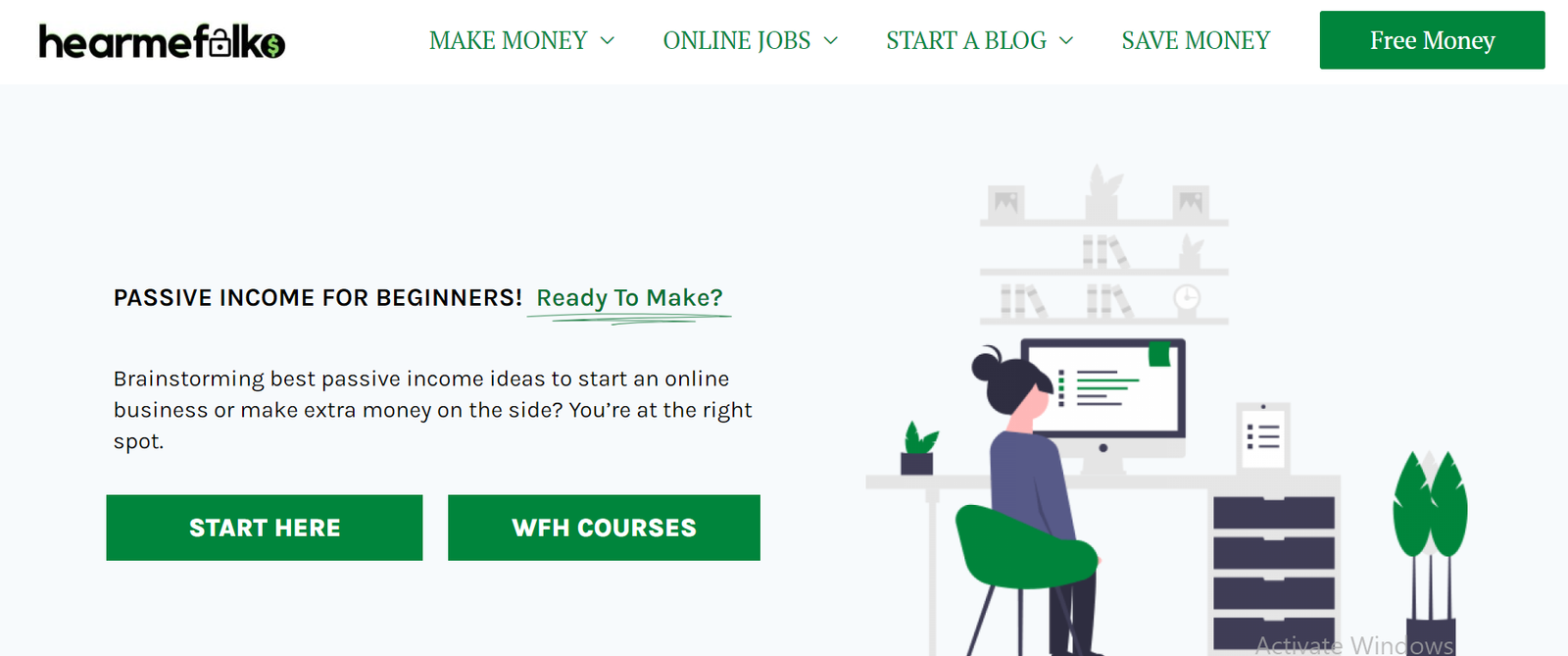 Do you need extra cash on the side? Hear Me Folks has got your back with a ton of lucrative side hustle ideas, online job recommendations and tips for saving money.
You'll find job suggestions for all sorts including night jobs (part-time and full time), online jobs for introverts and even daily paying jobs.
If you feel you don't have many skills, take a look at the 'work from home' courses tab to increase your knowledge.
Hear Me Folks was created by Swati, a mum and blogger who created the platform back in 2016. The blog has now grown to be her full-time income and a valuable resource for those wishing to make money online.

If you're looking to boost your finances and still have time for your family, The Work Life Blend is the place to go.
Learn how to build a money-making blog, land paid writing gigs, sell your stuff for cash, make money matched betting, start a home-based business or make extra spending money with surveys.
This blog is jam-packed with awesome money-making ideas to always keep your bank balance topped up.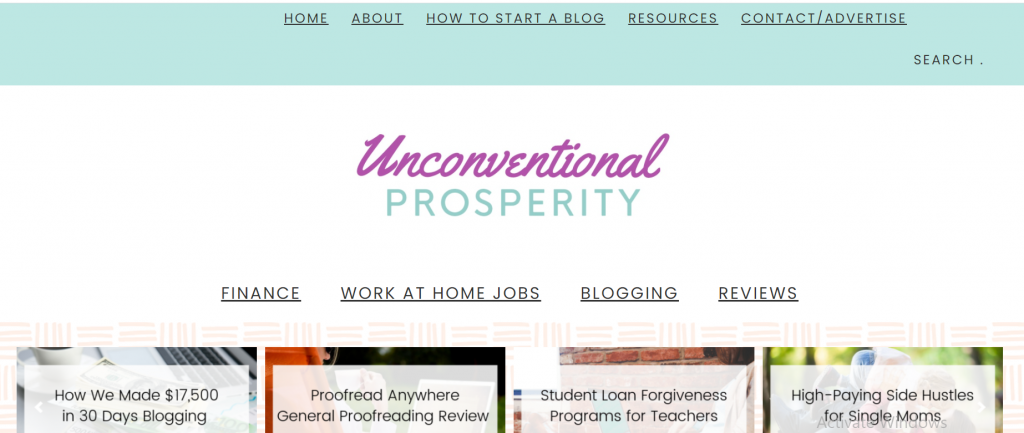 Russell and Maleah are the owners of Unconventional Prosperity, a blog about personal finance and the journey to a prosperous life.
On their blog you'll find a ton of info about work at home careers, side hustles, blogging, finance and quick money ideas.
They're very transparent and even share 7 income streams that make them up to $50K+ per month! If that sounds good to you, go check out how they did it.

The Wise Half is a lifestyle blog with a ton of money-making ideas thrown in. Learn how to start a blog and get traffic, get work from home jobs and how to make extra cash monthly.
The Wise Half was started by Ivy, a mother, wife and formal vocal coach. Ivy started this blog after the birth of her second child and the need to work from home to be with her kids.
If you are looking to work from home or make extra cash on the side, The Wise Half will guide you on your journey.
Do you want to make more money, save money, start a side hustle and grab some free money-saving tools? The Land Of Milk And Money is ready to help, without you needing to sacrifice your latte habit.
You'll find a ton of remote career options like teaching English online, how to become a virtual assistant, how to start a blog and many unique side hustle ideas to try out.
The Land Of Milk And Money was started by a currently anonymous millennial, who is on track to retire at 37.
So if you're always counting down to your next payday, go check out this blog for new ways to get the dollars flowing in.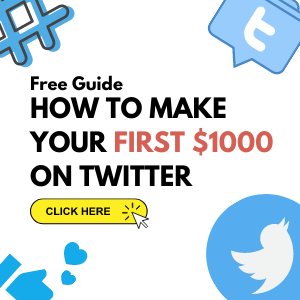 The Lifez Eazy blog is a wealth of information for aspiring remote workers and people who need extra cash.
Read through the many actionable guides on how to become a proofreader, how to become a freelance transcriptionist and how to start a money-making blog. Put extra money in your pocket with side hustles, paid surveys and unique business ideas.
Lifez Eazy was started by Mahesh from India who's on a mission to help as many people as he can make money from their couch. If couch made money sounds good to you, go check out the Lifez Eazy blog.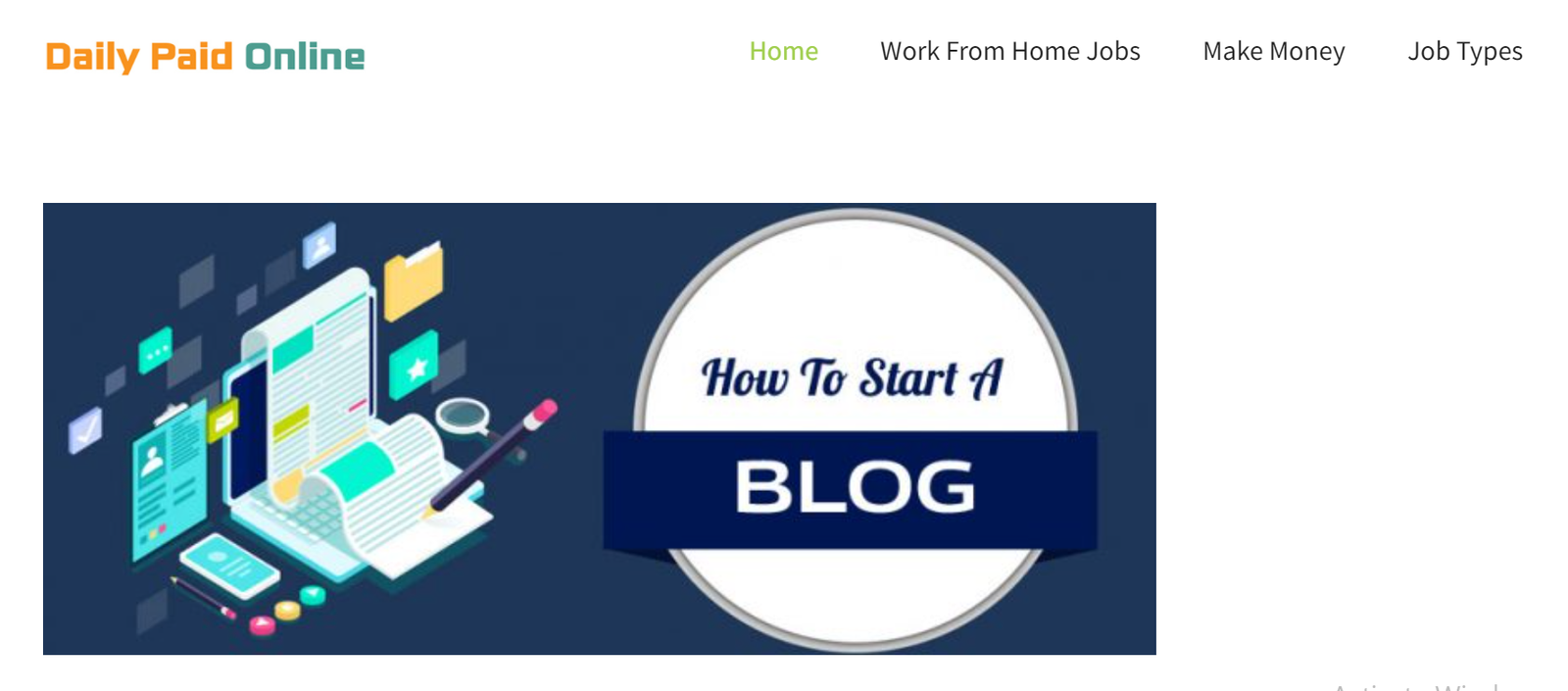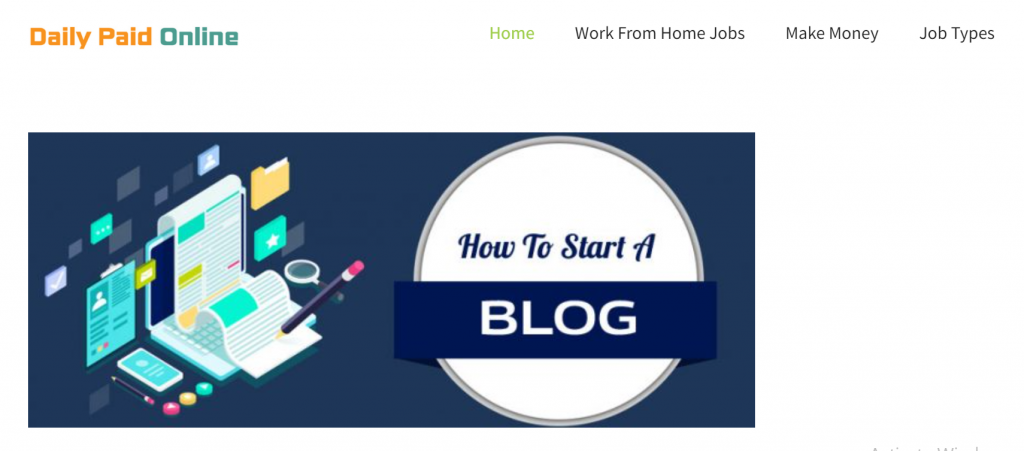 If you want more money every day, the Daily Paid Online blog is the place to go.
You'll find a ton of work from home gigs for skilled and unskilled workers including; jobs for mums, proofreading jobs, transcription jobs, virtual assistant jobs, tutoring jobs and more.
If you fancy starting your own freelance hustle, you'll also find guidance on how to get set up on Fiverr. To put a little easy cash in your pocket, read through the 30 money-making app post and the guide to make money using Facebook.
The author of Daily Paid Online is Moazzem, whose goal is to inspire and motivate more people to earn well online.


If you're a mum looking to start a work at home career or just to add more money into the pot, the Money Making Mommy blog has got all the info you need.
Check the 'hiring now' tab for companies needing remote workers or check the training tab to get yourself more employable skills.
If you just need extra cash quick, read through the articles in the 'earn extra cash' section for many ideas like; forum posting, paid focus groups, earning with your car and running small errands for a fee.
Run by a mum who's been through the struggle of losing her job and spending long nights looking for work at home opportunities. This is a valuable site that'll give you many genuine ideas to earn more.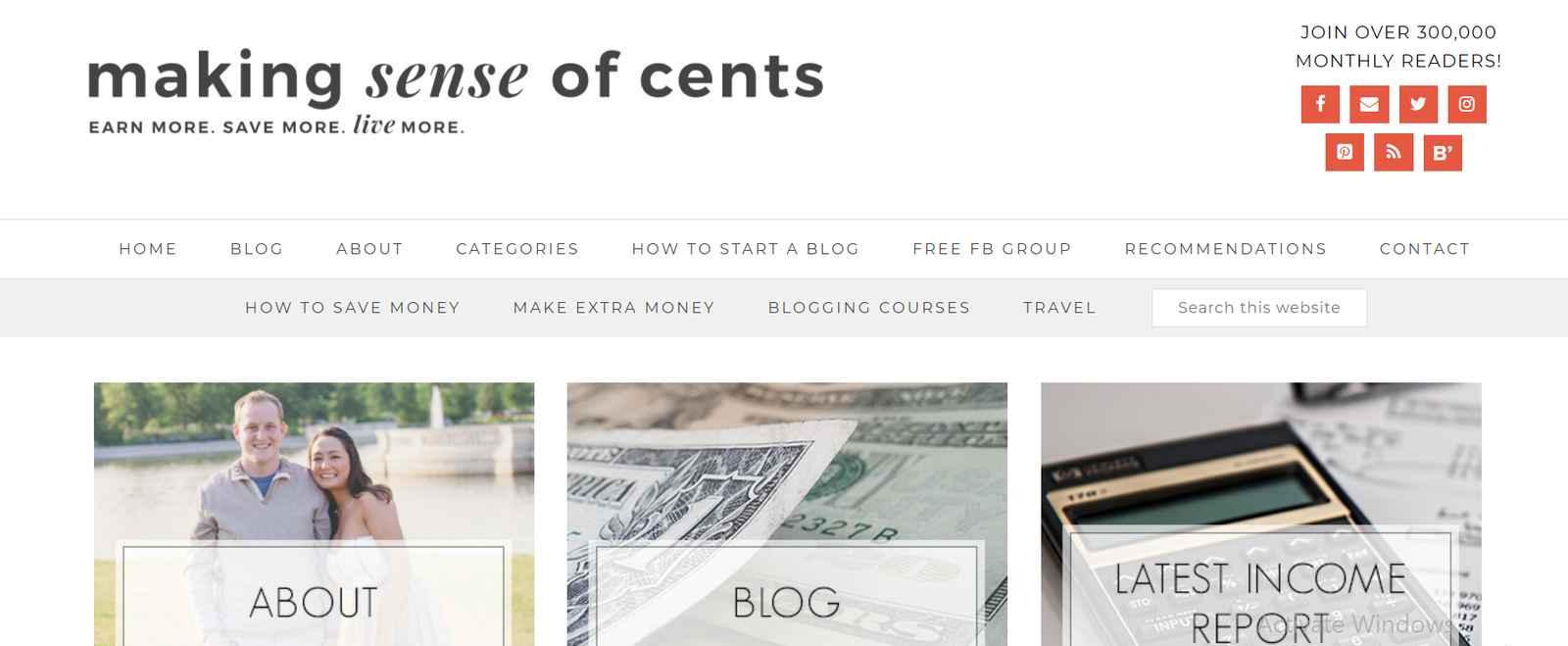 Making Sense of Cents will help you earn more, save more and live more.
Started by Michelle to originally help herself pay off debt, she did that and way more with her blog netting herself over $100,000 per month income! Follow in her path by reading about how to start a blog on her website.
You'll also find a ton of info on making extra money, how to save money and how to budget.
Michelle has a couple of paid courses including; Making Sense Of Affiliate Marketing and Making Sense of Sponsored Posts, but even just the free info will have you earning extra cash in no time.


Blogging can start as a hobby and become a full-time income if you stick at it. Read how to get started on the Love and Paper Flowers blog which gives you a ton of free guides and blogging resources.
Alongside the in-depth blog talk, you can read many other articles like how to write and sell an eBook and how to use Pinterest for affiliate marketing.
This stunning blog was created by Nataly a mother of two and registered nurse. She shares with you all the info she's learned along the way, building her own blogging empire.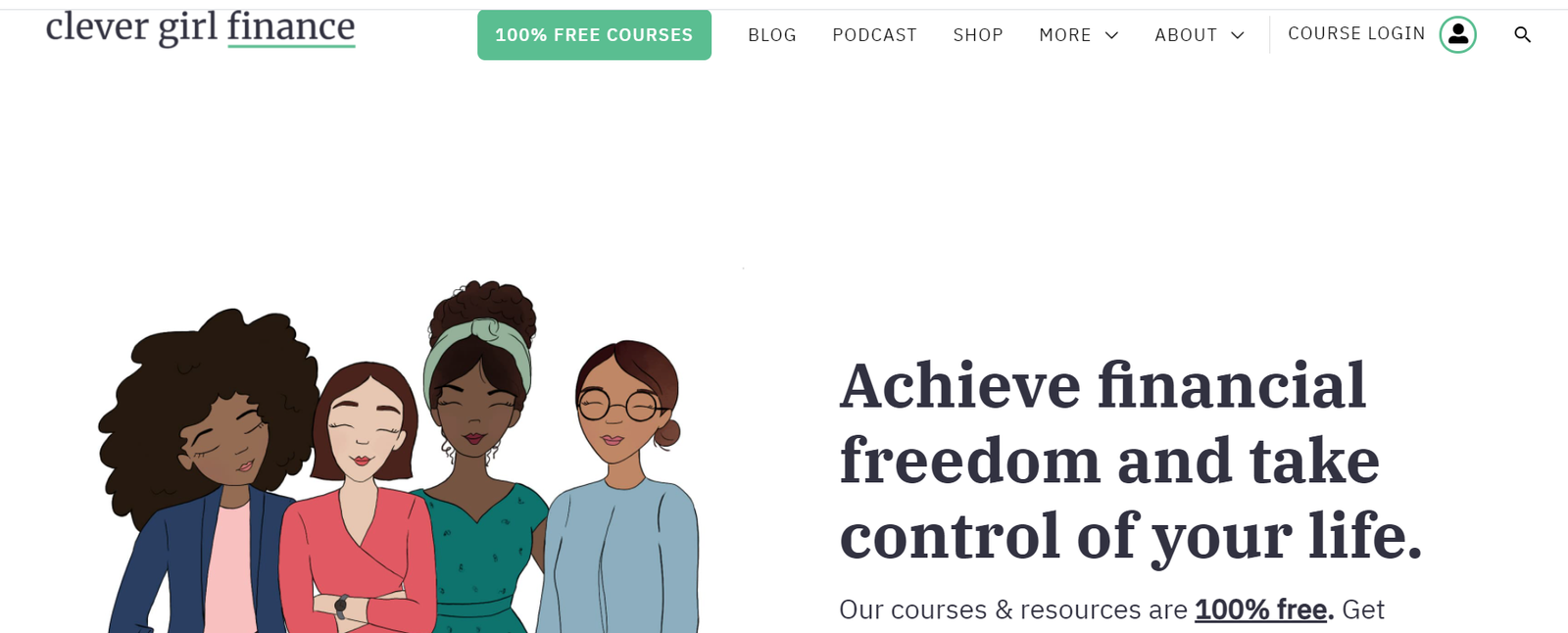 Do you have dreams of financial freedom but you're not sure how to make them a reality? Clever Girl Finance offers a wealth of detailed info to guide you through your money journey.
Once on the Clever Girl Finance platform, you can take over 30 FREE courses to improve your financial literacy. Courses include videos, worksheets and even free mentor calls!
On the blog scroll through the many business and side hustle ideas to see which resonates with you.
Clever Girl Finance was created by Bola Sokunbi, a certified financial education instructor. Bola took inspiration from her mother who paid for her education after working and saving for many years.

If you want to make more money, save money and manage your money like a pro, you'll do well listening to Suchot from Curious Frugal.
This lady is completely debt free, having paid off her mortgage with frugal living and side hustles.
Have a browse through the blog to read entrepreneur stories, tips on how to sell on Amazon, how to make money blogging and guides on money-making hustles.
One post that caught my eye was; How To Become A Professional Organizer. So you can see, there are a few unique money-making ideas on this blog, you may never have considered.
Did I miss any awesome blogs off the list? There are probably hundreds more! Let me know in the comments and I'll update every few months…
*Disclosure: I only recommend products I would use myself and all opinions expressed here are our own. This post may contain affiliate links that at no additional cost to you, I may earn a small commission.
Summary
Article Name
Top 50 Blogs That Will Help You Make Money Online
Description
Top 50 blogs that will help you make money online.
Author
Publisher Name
Publisher Logo