Last Updated on January 23, 2022 by Katie
Are you looking for courses on Skillshare to learn digital marketing that are actually worth taking?
Then you have landed on the right article.
Digital marketing is a fast-changing landscape. Just when you think you've got it figured out, Google changes something, right?
Alongside ever-changing technology, new SEO strategies get invented and smart marketers learn crafty ways to get ahead of the pack.
Phew! It can be exhausting trying to keep up. And, this is why you need to keep moving forwards by continually updating your knowledge.
Online course websites like Skillshare, Udemy, Teachable and many others have come along. These are a lifesaver for marketers, bloggers and online business owners wanting to update their knowledge without having to spend thousands on degrees and full-time courses.
Courses on these online platforms are taught by experienced professionals who've had huge success in their chosen fields.
What is Digital Marketing?
Digital marketing refers to the marketing efforts through online digital channels like social media, search engines, mobile apps, email and websites. These methods are used to market to new customers and re-engage old customers to sell more products and services plus promote a brand.
Digital marketing is vital for any brand or business. The majority of businesses will have a website or at least a social media presence. A digital marketer organizes marketing efforts across digital channels free and paid.
Without a digital marketing plan, a business or brand will be virtually invisible and probably see very little growth.
Why Learn Digital Marketing?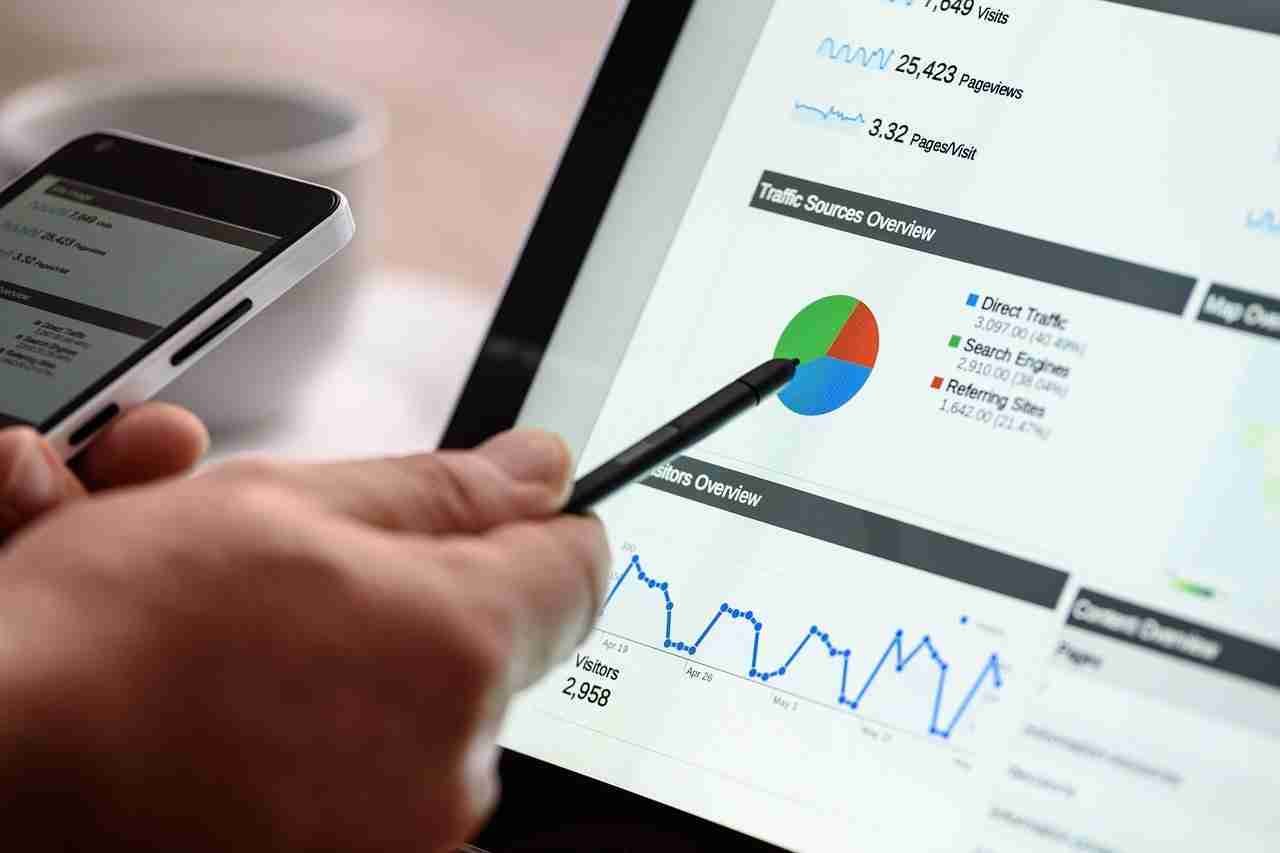 As discussed, a digital marketing strategy is vital for any business to grow and get more customers. With 69% of searchers using their phone to help them make a decision about an in-store purchase, a business needs to be on top of its digital marketing strategy.
Even if you sell products online or have a blog you're building up, you need to market your brand digitally to get traffic flowing in.
And with the demand for digital marketers on the rise every year, a career in this field is a lucrative one. The average salary for a digital marketer ranges from $73,000 to $114,000 on Indeed and you can set up your own remote freelance business. People who would benefit from learning digital marketing are;
Affiliate marketers
Bloggers
Online business owners
Aspiring remote workers
Freelance writers
SEO managers
Agency owners
Those interested in a career in digital marketing
Now let's take a look at five of the best free digital marketing courses online. Each course is hosted on Skillshare and taught by an industry expert. You can sign up to get 14-days free which is more than enough to watch multiple classes.

Taught by the best-selling author and YouTuber Jenna Moreci, this is one of the best courses on Skillshare teaching you how to effectively market your writing and grow your readership.
Writing a novel or starting an online publication is hard, but marketing it is even harder. Without a digital marketing plan, your writing efforts may remain invisible.
If you're struggling to engage readers or expand your reach, this digital marketing tutorial gives you the exact steps to develop your author platform, create an attention-grabbing voice and turn your audience into raving fans.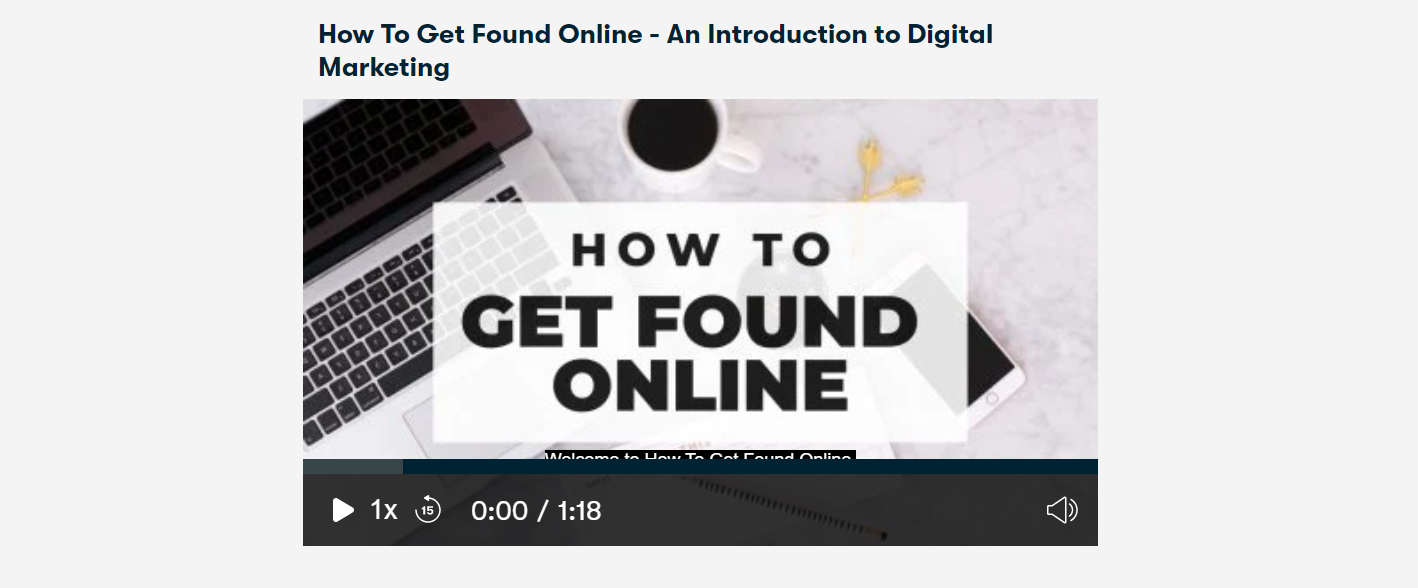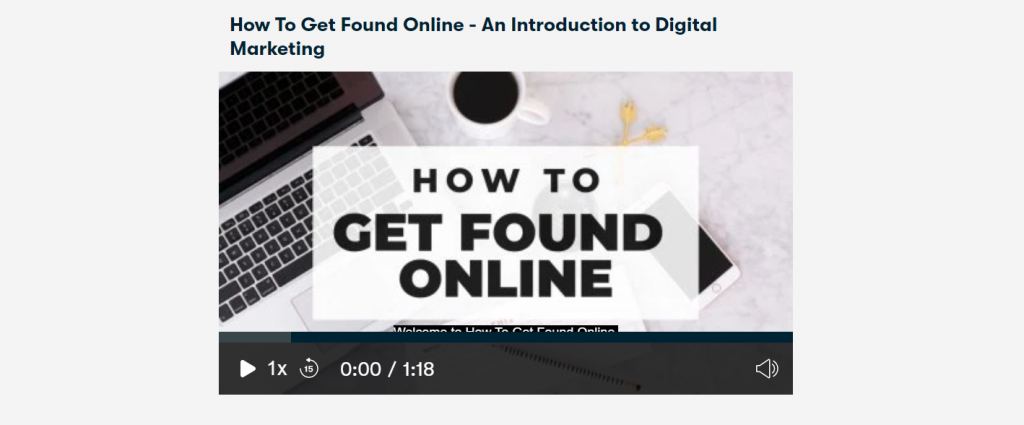 In this 41 minute tutorial, Laurie Wang (a pro digital marketer) teaches you various ways to get found online and attract more leads and customers.
As a brand or business, you need to have a presence and great content to get people engaged.
You'll learn how to choose the right social channels for your business, the importance of blogging and content marketing, how to create shareable content, a checklist of SEO essentials and much more. Laurie also introduces you to relevant case studies and examples to see things in action.
Perfect for beginners and people with no prior software knowledge online.

This course is taught by seasoned digital marketing strategist Maggie Stara.
You'll learn three ways to grow your business including; increasing the number of customers, increasing average transaction per customer and increasing the number of transactions per customer.
To do this, Maggie teaches you the ins and outs of profitable sales funnels that will scale your business on autopilot.
Maggie took years of trial and error to master these skills which you'll learn in a few short hours. By the end of the class, you'll know the exact sales and marketing strategies used by some of the biggest brands in the world and how to make them work for you.


This course teaches you to stop throwing pasta at a wall to see what sticks and start developing an effective digital marketing strategy.
Using competitive SEO analysis and auditing your site's domain pages, you'll learn your website's strengths and weaknesses. This gives you an understanding of why you may be prevented from better rankings in Google and other search engines.
This is one of the best courses on Skillshare ideal for bloggers, marketers, developers, writers and anyone looking to improve their business or their client's visibility online.
It helps if you're able to use Excel and Google sheets and know your way around Moz, Ahref, SEMrush, Chrome Dev Tools and Buzzsumo (but not required).

This course was originally written for a bachelor's study, but has now found its way onto Skillshare as a crash course.
You'll be guided through all the history, tools, terminology and targets with online marketing and how to use this knowledge to get your own campaigns running.
Lessons include; brand marketing, performance marketing, cost models, how to use Google analytics, setting up email campaigns, display advertising, using social media and much more.
This course is taught over 25 lessons and is an hour sixteen minutes in length. At the end, what you've learned will be tested with the instructor asking you to create a one-page marketing plan for your own online business or brand.
As you can see, there are many great digital marketing courses online for free.
Choose the course which best aligns to your goals and take notes as you go through each lesson. With a 14-day free trial of Skillshare, you can watch multiple digital marketing classes to increase your knowledge.
Whether you are new to online business, or a seasoned expert it's always a good idea to keep updating your digital marketing knowledge.
Just make sure you apply what you learn from each course.
Have you taken a digital marketing course on Skillshare?
I'd love to know your experiences in the comments below.
---
Further Reading:
---
*Disclosure: I only recommend products I would use myself and all opinions expressed here are our own. This post may contain affiliate links that at no additional cost to you, I may earn a small commission.
Summary
Article Name
5 Best Courses on Skillshare to Learn Digital Marketing
Description
The best courses on Skillshare to learn digital marketing.
Author
Publisher Name
Publisher Logo