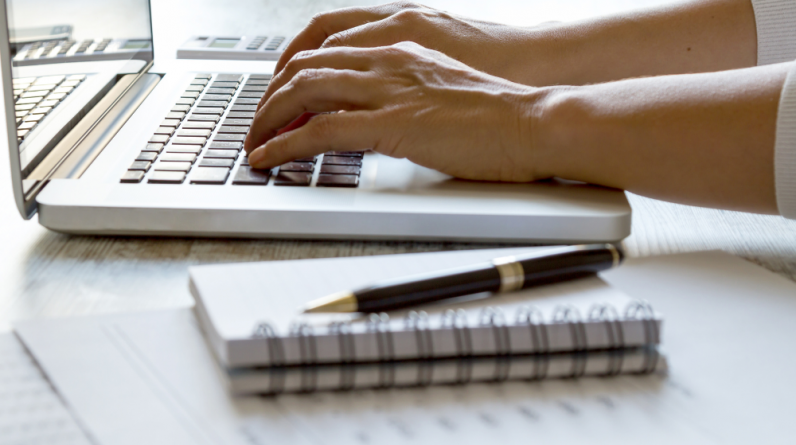 Last Updated on September 4, 2023 by Katie
Are you a good listener with accurate typing skills? If yes, then you can get paid to write subtitles.
According to statistics, over 1 billion hours of video are watched, just on YouTube alone! And many of these videos need subtitles, which is why subtitle writers are in-demand.
Subtitles allow the viewer to watch the video even with the sound muted or lowered.
Accurate subtitles also help the listener understand what's being said, when the actor has an accent or mumbles. And they can be handy when you're watching a video in a language that isn't your own.
From the video creators' point of view, subtitles are beneficial because they are indexed by Google, thus enhancing the channel's SEO (search engine optimization).
This can help the video rank higher in searches.
If you're interested in how to make money writing subtitles, this article is going to discuss what subtitling is, the different types of subtitling and which companies pay you to write subtitles.
Overview of the Best Companies to Get Paid to Write Subtitles
Vanan
VITAC
Rev
Aberdeen
AI Media
3Play Media
HappyScribe
SpeechPad
Content Creators
Upwork
Crowdsurf
Freelancer
FlexJobs
Fiverr
Indeed
---
Want to Make Extra Money Right Now?
Acorns: Get a free$10 just for signing up and start saving for your future. Your spare change is invested for you by experts. No investment knowledge is required! Join Acorns Now.
Survey Junkie: Earn easy money by taking surveys and giving your opinion on new products. Make up to $3 per survey and cash out quickly. Join Survey Junkie now.
---
Can You Get Paid to Write Subtitles?
Yes, you can get paid to write subtitles!
Marketers, video creators, entrepreneurs and big brands use subtitlers for their video content.
Subtitles allow deaf people to know what's going on in the video and they help people to understand the video, even with the sound down.
So, maybe when they're on public transport and don't want to have the sound on, they can still be entertained by video content with subtitles.
If you want to get paid to write subtitles, make sure your listening and typing skills are up to scratch.
Next, spend some time applying to subtitling jobs listed in this article.
With a little effort, you can make money as a subtitler part-time or full-time.
Related: 21 Best Remote Transcription Jobs for Beginners 2022
How to Get a Job Typing Subtitles?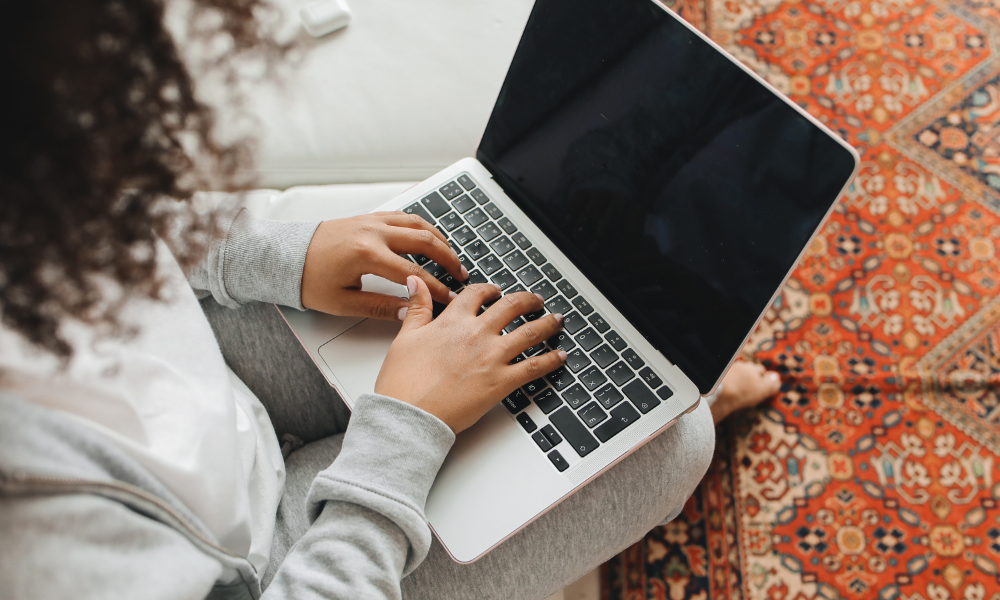 There are many simple ways to get paid to write subtitles. A few of the most common ways include:
Professional Subtitle Jobs
Subtitles are lines of dialogue at the bottom of a screen, being spoken by the person or people in films, webinars, TV, video games or other visual content.
As a subtitler, you'll be tasked with watching the content, listening to what's being said and typing it out accurately.
These subtitles help the viewer understand what's going on.
Many companies like HappyScribe have professional subtitle jobs available.
Make sure your grammar and punctuation are accurate. Subtitles need to be written well so the viewer can follow along with what is happening.
Subtitle Quality Control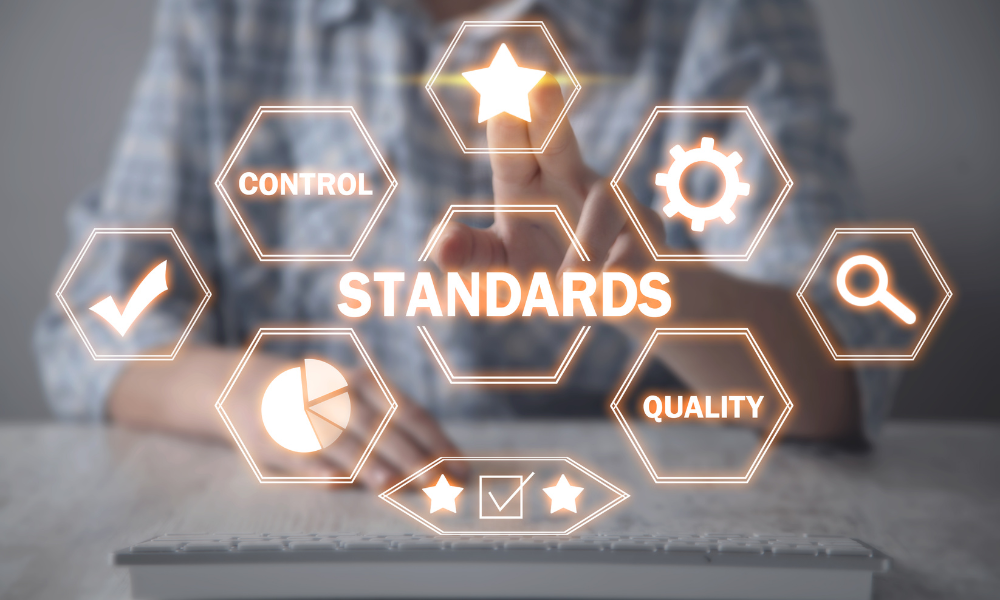 Some companies provide quality control services for subtitles.
This job includes checking subtitle spelling, punctuation and grammar, to ensure its error-free and ready to be uploaded to a video.
Subtitles also need to be accurately synchronized to the content it's used on.
The company Capital Captions offers quality control services for foreign subtitles and translation.
They also offer a range of subtitling and translation services for broadcast, YouTube videos and e-learning platforms.
Open and Closed Captioning
Open and closed captioning services allow a wider audience to enjoy video content by adding text to the screen that represents musical cues, sound effects and speech.
Captions differ slightly from subtitles. Captions are designed for viewers who are hard of hearing, while subtitles are aimed at viewers who do not understand the language being spoken.
Open and closed captions enable deaf or hard-of-hearing viewers to read spoken words on the screen.
This creates an improved user experience and helps video creators get the most from their content.
Find captioning jobs on platforms such as CaptioningStar.
Write Subtitles for YouTube Videos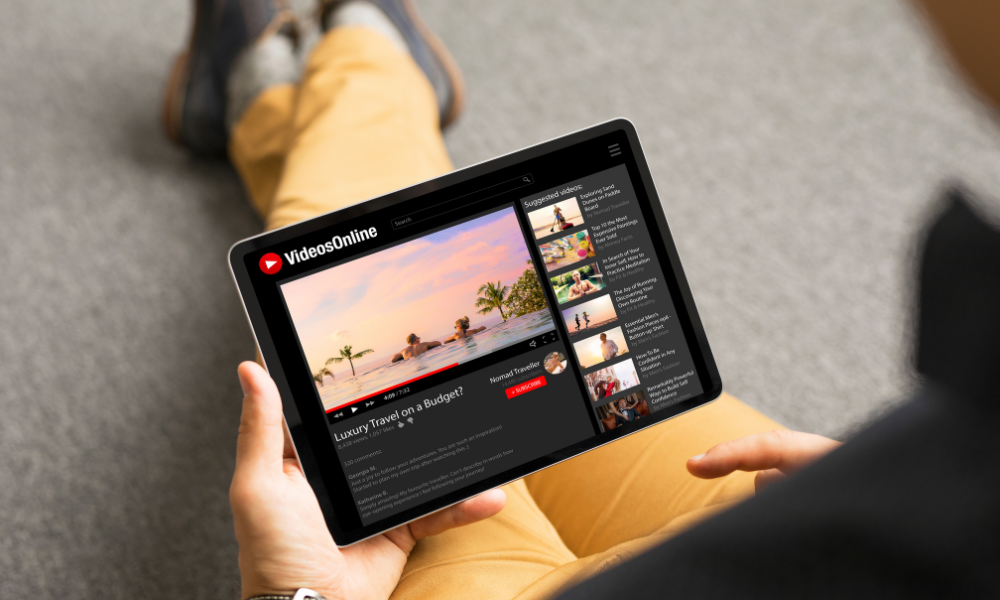 Many YouTubers will pay someone to write subtitles for their YouTube videos.
As previously mentioned, subtitles make it easy for a person to know what's going on in a video, even with the sound turned down.
They also help to include those who are deaf and hard of hearing, allowing the video to be watched by a larger audience.
Translate Subtitles Online
If you speak more than one language, you can get paid to translate subtitles online.
This is an in-demand skill because having a video translated into multiple languages allows more people across the world to watch and understand the video.
And, a wider audience means more leads and sales for the creator.
If a video is in French, for example, the video creator may want English subtitles.
Or, if the video is in English and the creator wants to build an audience in France, they may want French subtitles.
You'll need complete proficiency in two languages.
This is because, poor subtitling can do more damage than good, making the video content look unprofessional.
Check out Global Voices if you want to get paid to translate subtitles online.
You may also be interested in: 21 Best Data Entry Sites for Beginners Hiring Today 2022
15 Best Companies to Get Paid to Write Subtitles
Now, let's take a look at the best companies to get paid to write subtitles.
As a beginner, get started with a few subtitling jobs on the side to see if it's right for you.
Over time, if you enjoy the work and feel you have a knack for it, you can work up to become a full-time freelance subtitler or work for one main company.
Here are the best companies and ways to get paid to write subtitles:
1. Vanan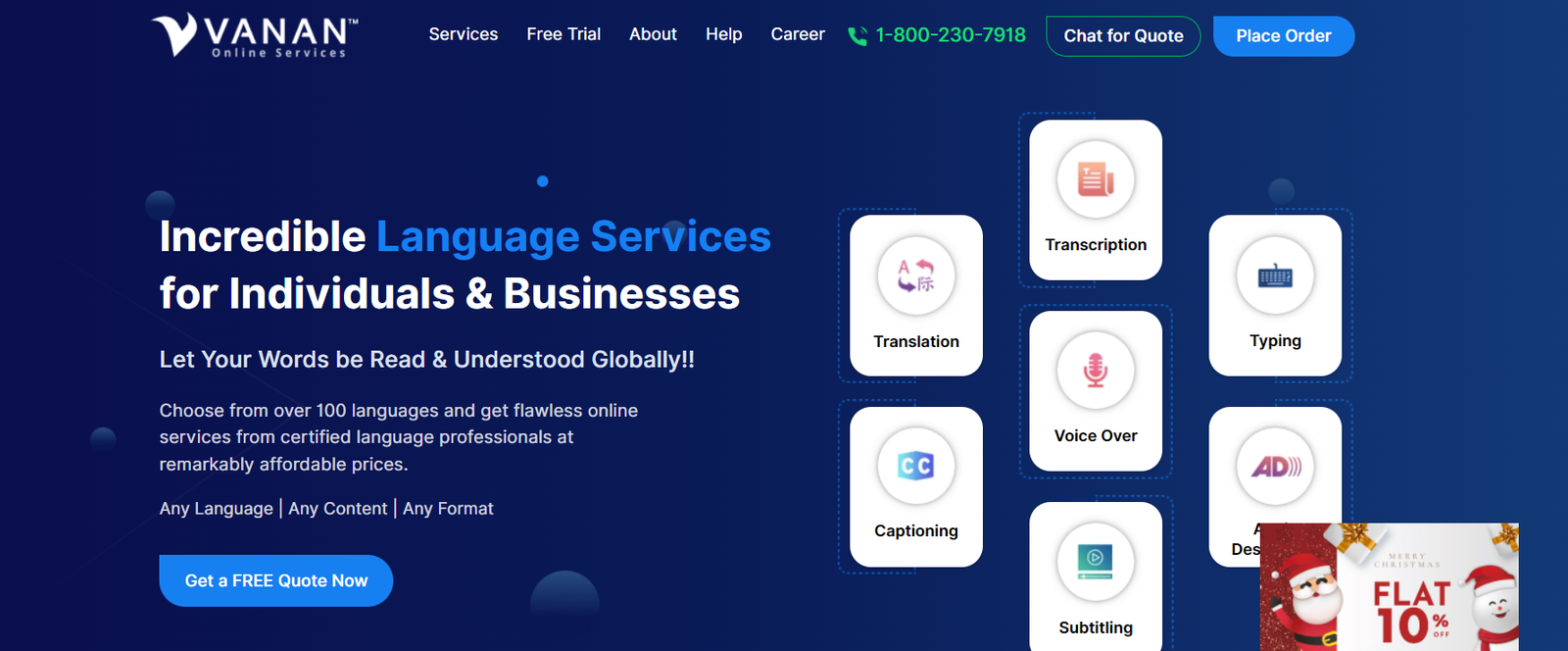 This platform offers a range of services including subtitling, translation, captioning, transcription, typing and voiceover.
Working as a subtitler for Vanan offers perks, such as:
Career development
Great work environment
Bonuses and incentives
Paid time off for vacation
Wellness perks
Remote forever
They've been in the industry since 2013 and are a well-established company with regular work available.
You'll need to go through a screening process to get work with Vanan.
This will include multiple-choice tests and timed tests.
Fill out their captioning employment form to get started.
2. VITAC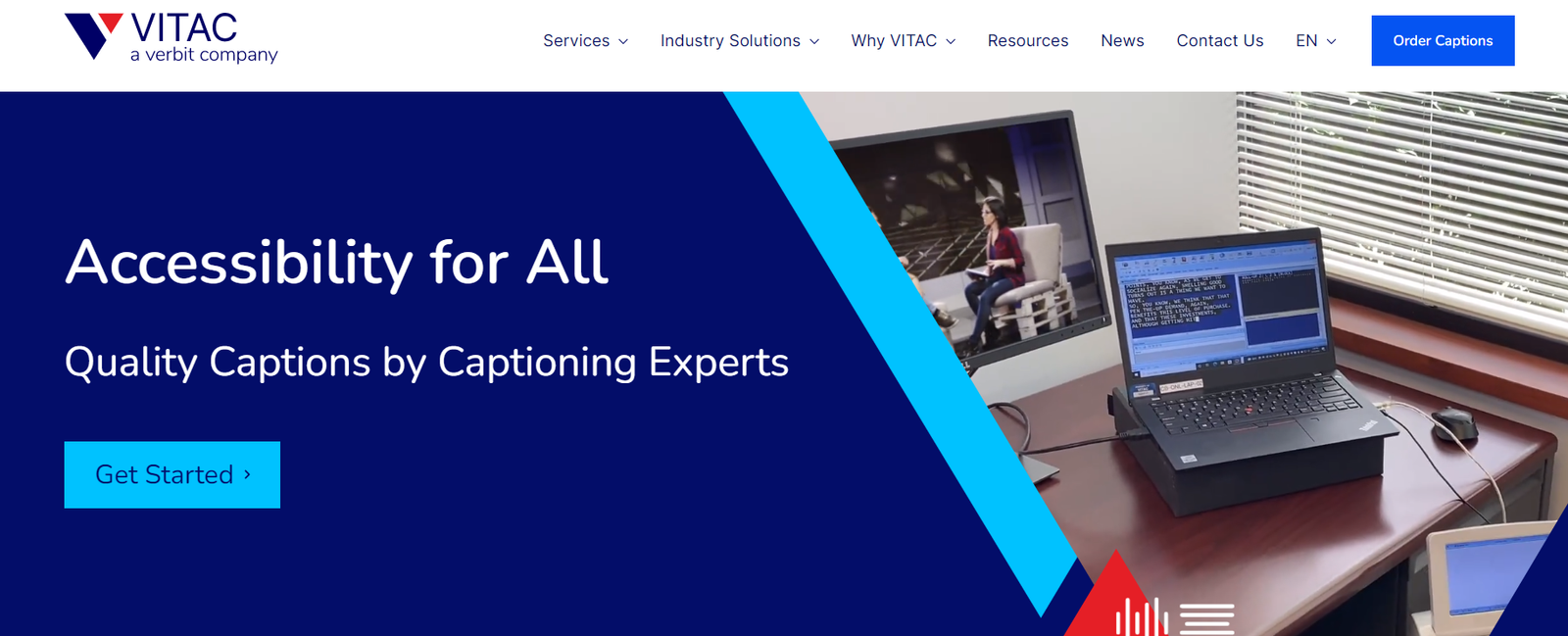 VITAC offers quality captioning, subtitling, audio description, transcription and Spanish dubbing services.
They provide these services for a variety of businesses in different sectors, such as government, education, corporations, media and event centres.
Working for VITAC comes with competitive pay and great perks, such as:
Three medical plans to choose from
Dental and vision coverage
A Healthcare Flexible Spending Account
Health Savings Account (HSA)
A Rich 401(k) plan. VITAC will add $1 to your plan for every dollar you contribute
Learn more about subtitle writing jobs at VITAC here.
3. Rev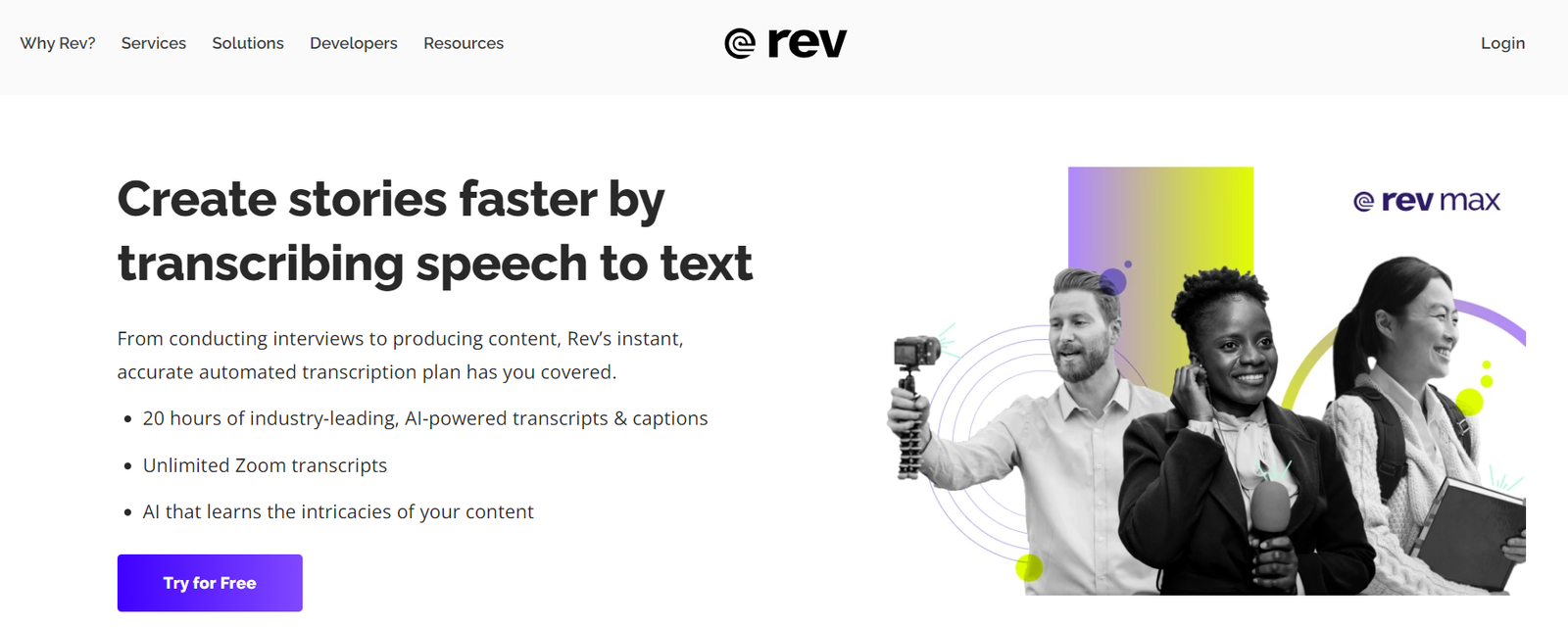 If you want to get paid to write subtitles, Rev is a good place to look for work.
They offer a range of services for clients around the globe, including audio and video transcription, English closed captions and globally translated subtitles.
They provide subtitle services in 16 languages and you can work as much or as little as you want.
The pay isn't great, but it's a good place to start as a beginner subtitler, to learn what's expected of you.
To become a freelance Revver, you'll need strong WIFI, headphones, a laptop and the ability to pass their test.
If you know a second language, you can translate subtitles and earn $1.50 – $3.00 per audio minute.
Sign up to be a freelancer with Rev here.
4. Aberdeen
If you're looking for subtitle writing jobs, Aberdeen is a company well worth looking into.
Work on offer includes subtitling, captioning and editing subtitles, so there's plenty of opportunity to increase your earnings.
Their aim is to simplify the workflow for broadcasters and provide an enjoyable viewing experience for all.
Real-time captioners and subtitlers can earn up to $75 an hour, but pay for normal work sits at around $12 – $15 an hour.
Check out the career opportunities at Aberdeen here.
5. AI Media

AI Media offers a range of services including live captioning, transcription, translation and subtitling.
They've worked with big brands such as Shopify, Mozilla and Amazon, but also work in a range of industries like government, education, corporate and broadcast.
You can work as much or as little as you want and can earn up to $42 an hour as a subtitler with fast typing skills.
As a subtitler with AI Media, you can enjoy:
Great work/life balance
Multiple office perks
Recognition with awards and bonuses
Take a look at the AI Media job opportunities page here.
6. 3PlayMedia
3Play Media was established in 1992 and has recently rebranded from Caption Max.
They offer transcription, captioning, translation, subtitling, podcast transcription and audio transcription.
Some of their big customers include Vimeo, Zoom, VidYard, DropBox and many more.
To get paid to write subtitles with this company, you'll need to fill out an application form and provide samples.
Pay for general subtitling and transcription is $14 – $23/hour and more for live closed caption work.
Apply for current job openings at 3PlayMedia here.
7. HappyScribe

HappyScribe is a company that offers subtitling and transcription services for a range of clients such as BBC, Forbes, Spotify and the United Nations.
They also support a range of languages including French, English, German, Polish, Italian, Dutch and more, so if you're multi-lingual, you'll do well here.
Enjoy the flexibility of working when you want and from wherever you choose.
Pay is 1.10 euros per minute and the average monthly pay for subtitlers ranges between €450 and €3,000.
To apply, you'll have to fill out your details and pass an assessment exam.
Submit your application
Complete a questionnaire
Pass an assessment test
Once accepted, you can choose the files you want to work on
Get paid bi-weekly via bank transfer
Apply for freelance subtitling jobs on HappyScribe here.
8. SpeechPad
SpeechPad offers subtitling, transcription and captioning jobs online.
You can earn around $2.50/minute for standard captioning jobs and up to $5 a minute for translations.
You're able to work when you want and for how long you want. Plus, you can pick the jobs you want to work on and enjoy getting paid twice weekly.
However, you'll need to be able to work to deadlines, as many jobs have a fast turnaround of 24 hours or less.
Upon writing this, SpeechPad had 3,253 minutes of audio/video waiting for transcription, so you can see they have regular work available.
Working with SpeechPad offers:
24-hour worker support
Excellent worker tools
Superior opportunities to advance your career
Check out SpeechPad here and apply for work today.
9. Content Creators
To get paid to write subtitles, you can skip the big platforms and reach out to content creators yourself.
This way you can charge what you want and build relationships with creators, so you get recurring work.
Find entrepreneurs who might need your subtitling services by searching big streaming platforms such as YouTube and Vimeo.
When you find channels that use subtitles, or that produce videos in different languages, you can send an email offering your help.
Remember that first impressions count and you need to be professional.
In the email, include details about your experience, any reviews you have, your rates and how you can help.
You can even offer a discount on the first project, or offer a discount for a bulk order to give the channel owner a reason to try you out.
10. Upwork

To get paid to write subtitles, Upwork is a platform worth using.
There are many subtitling jobs on Upwork for English and foreign language experts.
You can easily search for jobs using the handy search bar and you can set up email alerts so you're notified when jobs matching your skillset are available.
To get started, set up an Upwork account with your general details, any experience you have and your rates.
Remember, Upwork does take a commission fee on every job you complete, so set your rates accordingly, with this in mind.
11. Crowdsurf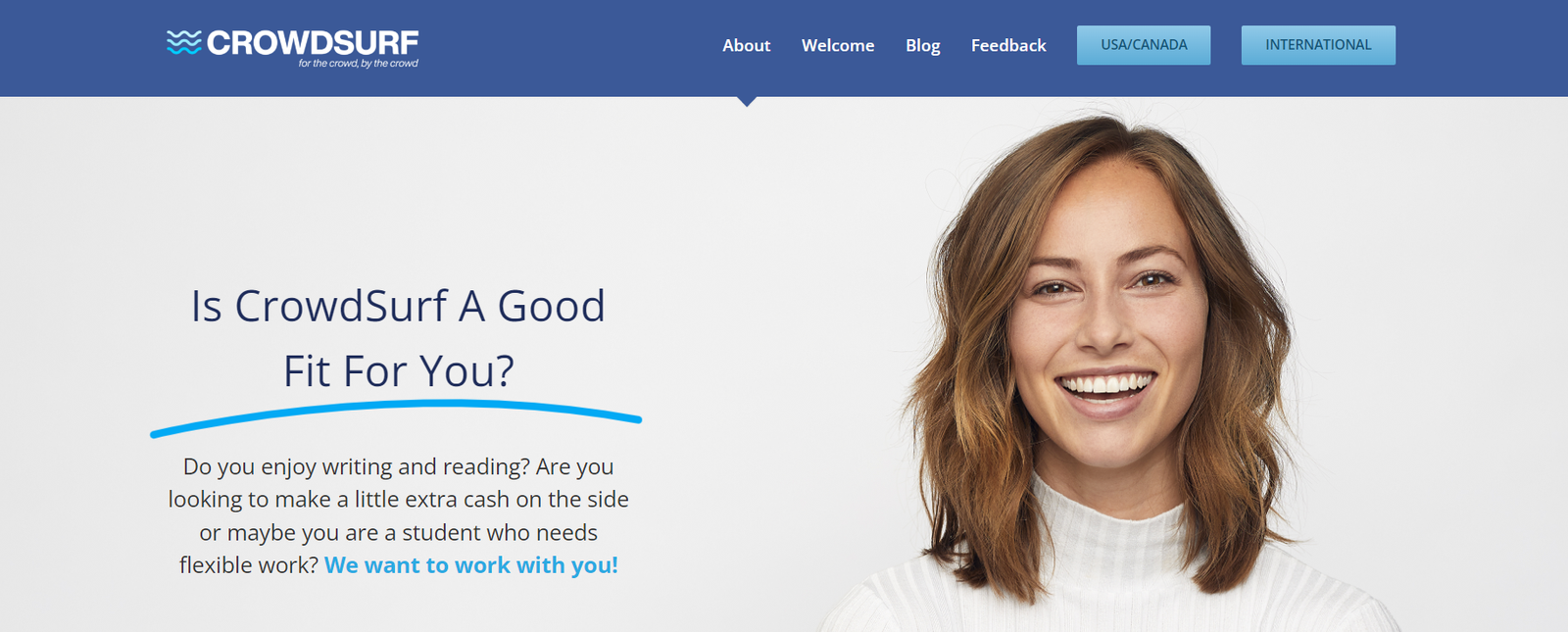 Crowdsurf uses recruitment groups to connect freelancers with employers offering freelance work.
The work includes transcription, YouTube subtitling and captioning services for second-language users and those who are deaf or hard of hearing.
You may also see different freelance jobs available such as social media posting and content marketing.
Crowdsurf works with thousands of independent freelancers who have little or no experience.
They provide all the training and support you need to get work, so this platform is ideal for beginners.
Work is available for international freelancers and those living in the US or Canada.
The 3-steps to get started, include:
Sign up on the Work Market
Apply to join CrowdSurf
Review the guidelines and take a brief assessment
Start CrowdSurfing and apply for jobs
Apply to be a CrowdSurfer on this page today.
12. Freelancer
On Freelancer, you can set up a profile and bid on subtitling jobs.
You may have to work for a lower rate here, as there are often many freelancers bidding on jobs. This means the project owner will often accept the lowest bidder.
However, this is a good place to get subtitle writing experience if you're new.
Click on the 'Browse Jobs' section and type subtitling into the search bar to see what work is available.
13. FlexJobs

There are many subtitling, dubbing and translation jobs available on FlexJobs.
One point to note is that you do have to pay a fee to apply for jobs through FlexJobs.
But, the good side of this is that they screen all jobs for scams, so you can apply confidently.
Other benefits of using FlexJobs include:
Customer service from humans
Access to 25,452 hand screened work from home jobs
Skills tests, courses, checklists and expert content to help you land a job
Browse work from home subtitle writing jobs here.
14. Fiverr

Fiverr is a marketplace for full and part-time freelancers to offer their services for a fee.
Originally, it was designed for $5 jobs but has grown to allow people using the site to set their own rates. You can even set rate tiers, for different levels of work you offer.
For example, you could offer to subtitle one video for $5, 10 for $20 and 100 for a higher rate.
Fiverr works a little differently to the other freelancer platforms, as you don't bid for jobs, but you set up a profile and wait for people to inquire about your services.
Set up your subtitle writing gig on Fiverr here.
Further reading: How to Make Money on Fiverr Without Skills 2022 (15 Easy Gigs)
15. Indeed

Indeed, is one of the best places to get paid to write subtitles.
This platform is a job board offering all types of work at home jobs for freelancers.
You can even find, beginner freelance writing jobs, proofreading jobs online, jobs that require an early morning start and jobs that require no degree.
Another plus is that you can upload your freelance portfolio and resume, so you can apply quickly to jobs when you see them.
Type 'subtitling' into the handy search bar and you'll be shown any subtitle and captioning jobs available.
Apply for subtitle writing jobs on Indeed here.
Get Paid to Write Subtitles FAQs
How do I become a Netflix subtitle Writer?
To make money as a Netflix subtitler, search the Netflix Preferred Fulfilment Partners page.
From here, you can click on your region, scroll through the list of vendors in your area and apply to websites that need subtitlers in your language.
While each company will have different sign-up processes, you'll probably have to pass a test before you can work on paid subtitling work.
To make more money, sign up to multiple companies at once, which will increase the amount of subtitling work available to you.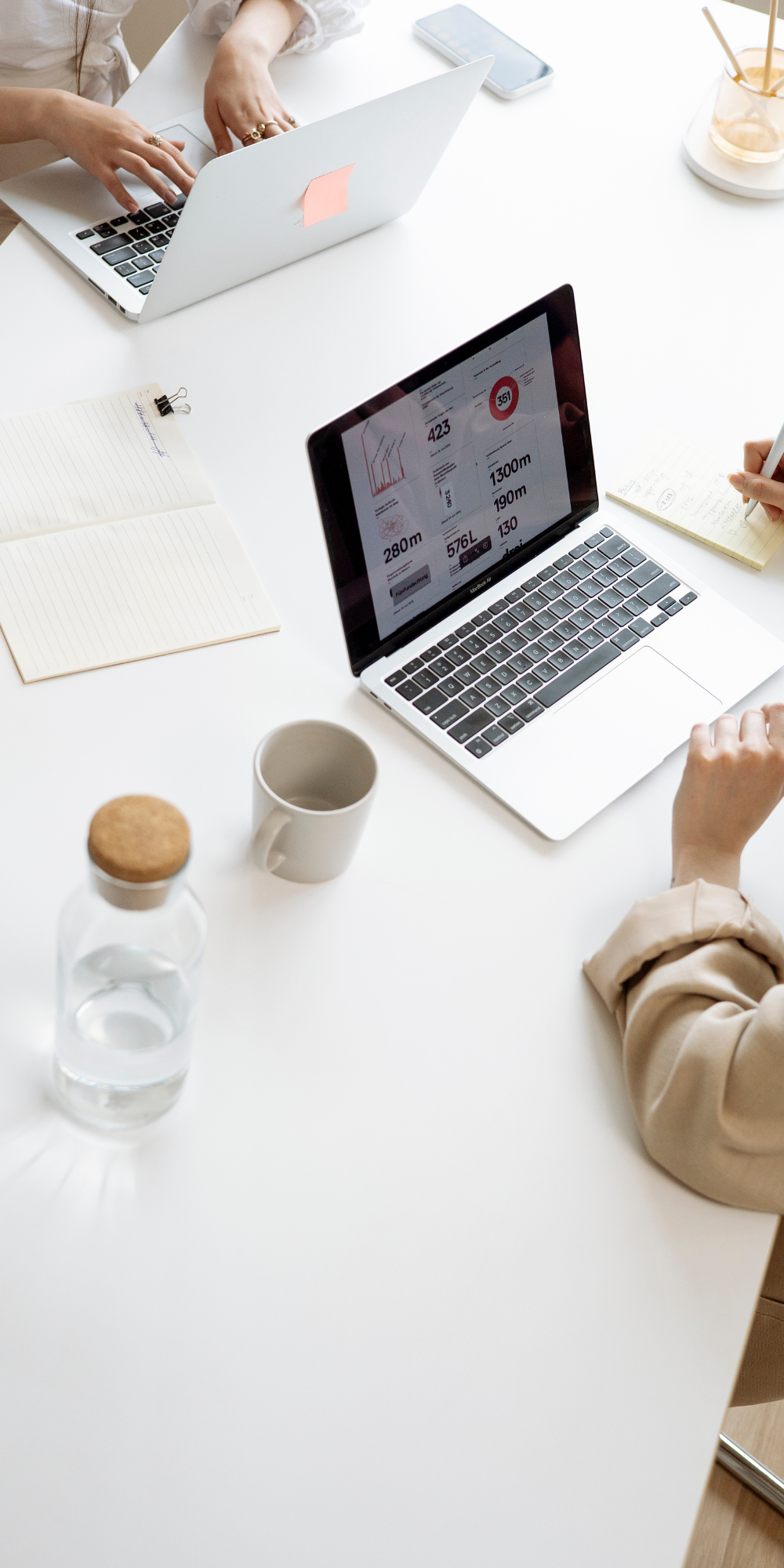 How do I become a YouTube subtitler?
Getting paid to write subtitles for YouTube will require you to do a little outreach contacting YouTube creators.
You can also search for YouTube subtitling jobs on freelancer platforms such as Upwork, Freelancer, Guru and PeoplePerHour.
Some YouTube creators need their videos subtitled in multiple languages. This means bilingual subtitlers have plenty of opportunities here.
Is it hard to be a subtitler?
It might take some time to become an accurate subtitler.
Beginners may struggle to understand different accents, mumbled audio or fast talkers.
If you make mistakes with your subtitles, this can completely change what's being said, which is not what video creators want.
So, take your time and practice the skills you need to be a subtitler.
And, while subtitling, take your time to type accurately and proofread your work.
The better work you produce; the more repeat work you'll get.
Check out this free digital subtitling practice from StageText to improve your skills.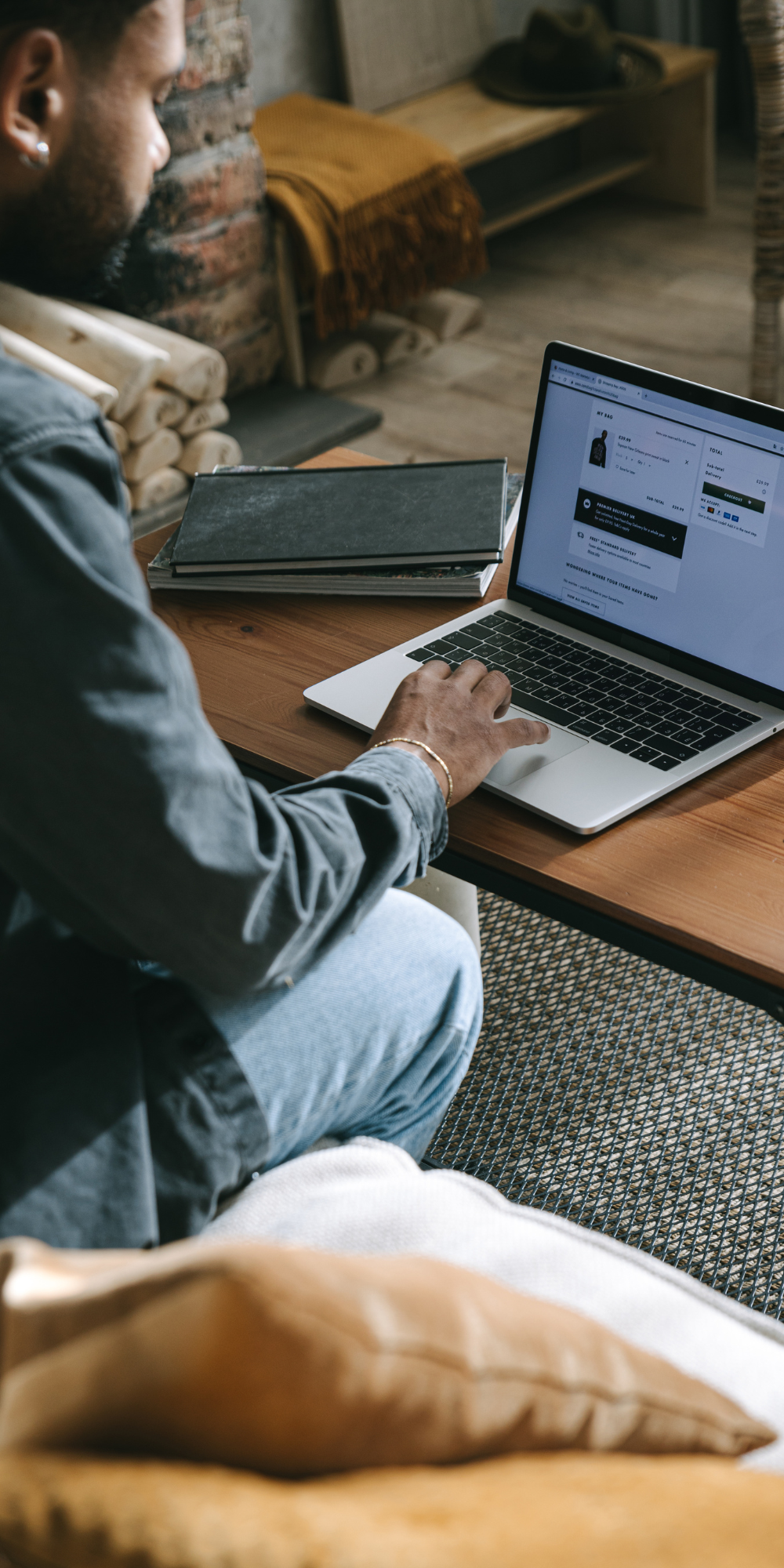 What skills are needed to be a good subtitle writer?
Subtitle writers need to be good at:
Grammar, spelling and punctuation
Fast and accurate typing skills
Accurate language skills (for bilingual subtitlers)
Screen spatial awareness eg: understanding how captions will appear on screen and how they'll impact the viewer
Great listener and ability to understand speech
If you have an excellent grasp on these skills, you can get paid to write subtitles and thrive in this career.
It pays to do your research, before applying for subtitling work.
The job requires more than just a typist, you'll be expected to know how to use different italics when there is a voiceover or someone is thinking or dreaming for example.
If you feel you lack the right skills, check out these subtitle writing courses on Udemy:
How much does a subtitle writer earn?
The average subtitle writer's salary in the US is $50,920 a year.
This translates to $24.48 an hour.
A senior-level subtitle writer (with 8+ years of experience) can earn on average $61,955 a year.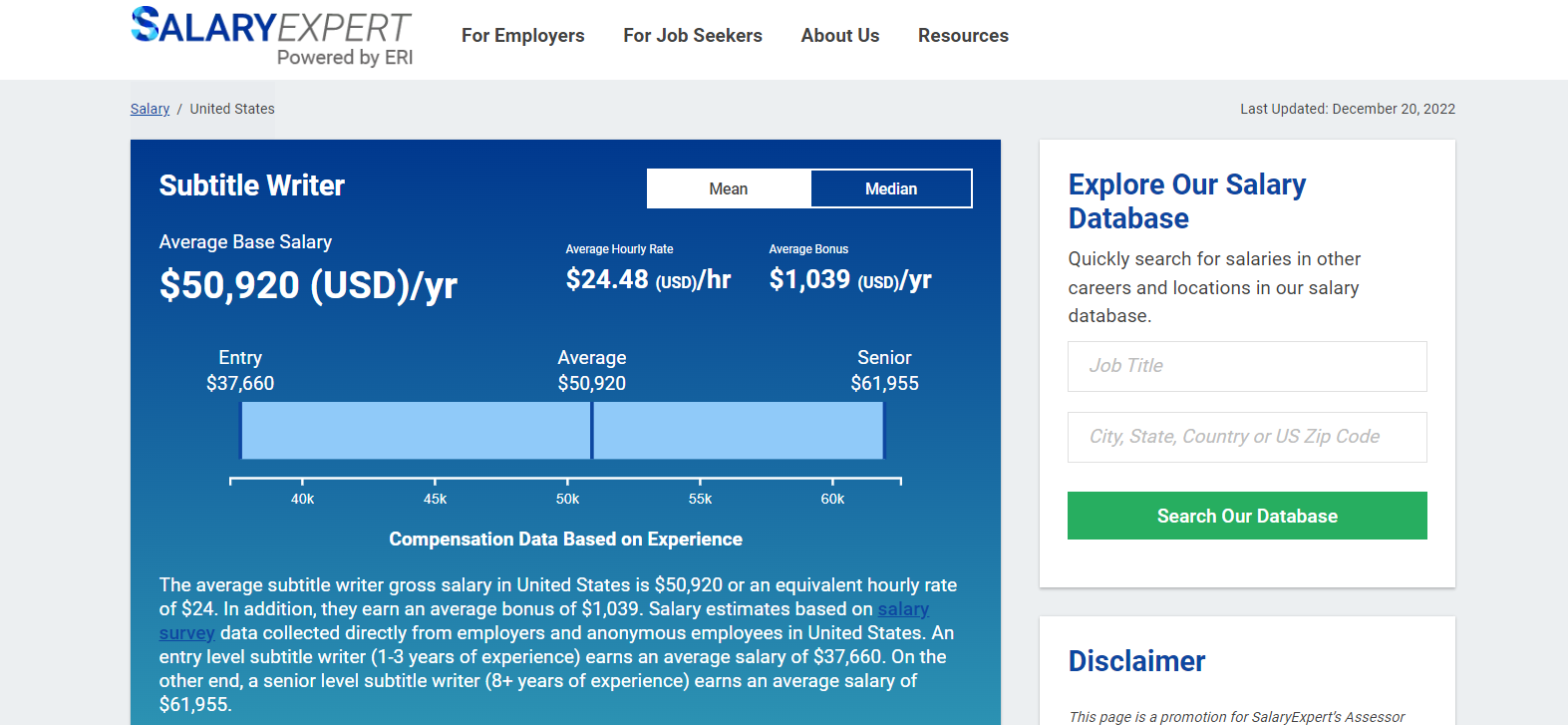 How many minutes can you subtitle in a day?
According to my research, it seems to be possible to subtitle 30 – 40 minutes of video in a day (6 – 8 hours).
However, this may vary depending on your experience and typing skills.
Plus, the amount of time it takes will depend greatly on the length of the video, its complexity and if multiple languages are involved.
Final Thoughts on How to Get Paid to Write Subtitles
Now you know how to get paid to write subtitles, even as a beginner.
It might take some time to improve your skills to the level where you can get high-paid subtitle jobs, but the effort will be worth it.
If you want a new freelance career or a remote job with a good work/life balance, subtitling is worth looking into.
Go and try it out to see if it's right for you.
---
More writing articles you may like:
---
*Disclosure: I only recommend products I would use myself and all opinions expressed here are our own. This post may contain affiliate links that at no additional cost to you, I may earn a small commission.
Summary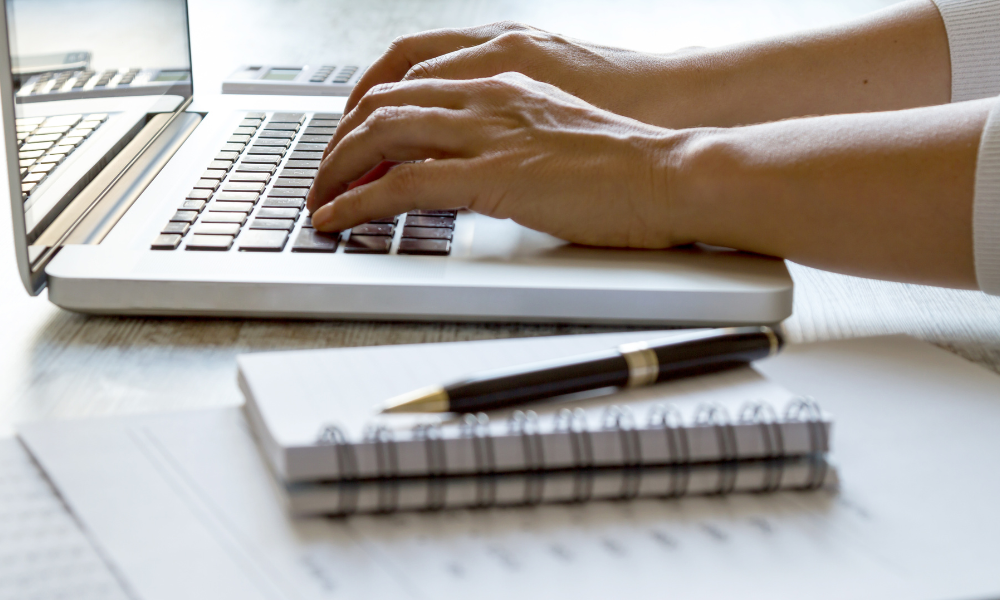 Article Name
Get Paid to Write Subtitles: 15 Best Companies Hiring 2023
Description
Get Paid to Write Subtitles: 15 Best Companies Hiring 2023.
Author
Publisher Name
Publisher Logo