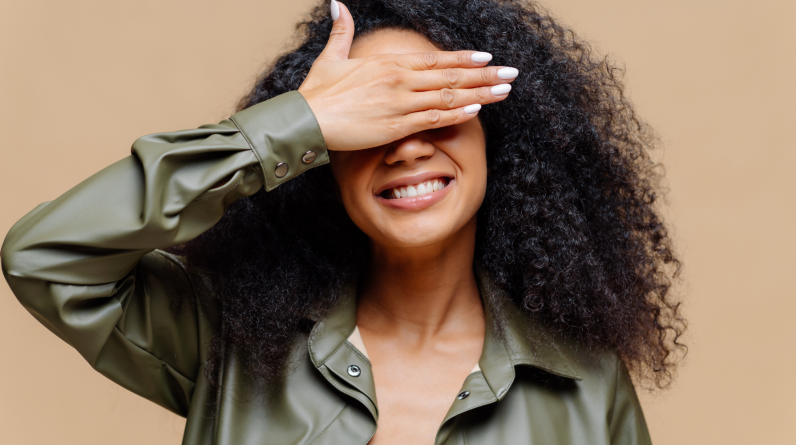 Are you looking for simple ways to make money without showing your face? Well, this article is going to help you out.
Maybe you suffer from anxiety? Or you don't like others to know your business?
Either way, there are many ways to make money anonymously which I will share with you today.
Many of the income streams mentioned can be started as side hustles.
But over time, with a little perseverance, they could become your full-time income and be your ticket out of the rat race.
The main ways to make money without showing your face include:
Making passive income from affiliate marketing
Starting an online business
Becoming a freelancer
Securing a work from home job that can be performed from anywhere
In this article, we're going to detail all the different ways you can start today.
Overview of How to Make Money Without Showing Your Face
Twitter Affiliate Marketing
Become a Freelance Writer
Offer Your Skills as a VA
Work as a Transcriptionist
Correct Errors as a Proofreader
Narrate Audiobooks for Money
Make Money Flipping Websites
Sell Simple Crafts for Cash
Write and Sell Ebooks for Money
Apply for In-Demand Remote Jobs
Start Your Own Niche Blog
Set Up a Niche YouTube Channel
Start a Dropshipping Business
---
Want to Make Extra Money Right Now?
---
13 Ways to Make Money Without Showing Your Face
1. Twitter Affiliate Marketing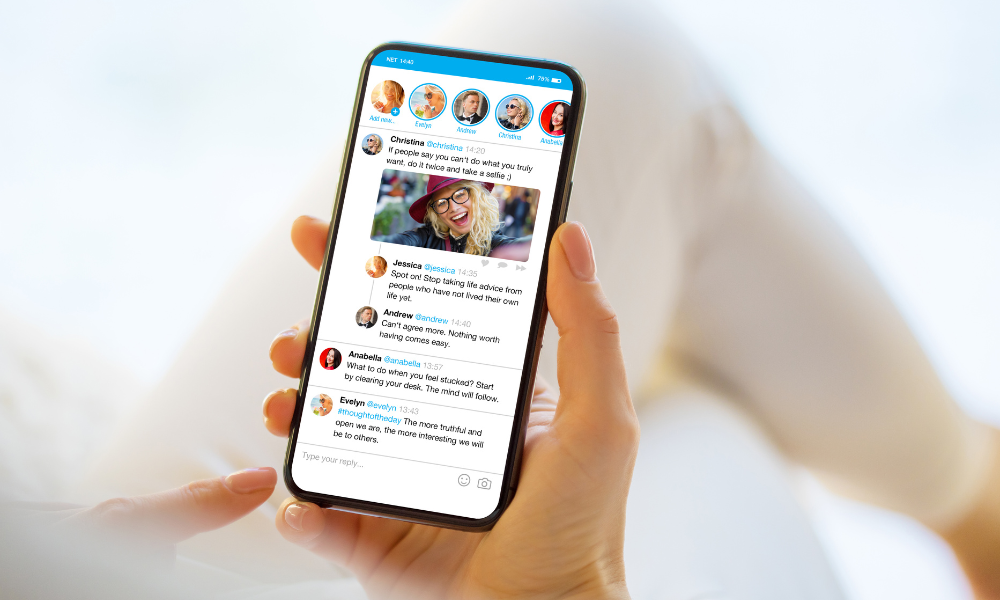 Twitter has over 330 million monthly active users.
While some visit the platform to read the news and laugh at memes, many savvy entrepreneurs are tweeting for cash.
Twitter offers the perfect landscape to make money online. After building a following in one niche, you can start promoting relevant products as an affiliate.
The main ways to make money on Twitter include:
Selling your freelance services
Writing and selling a course on Gumroad
Offering to ghost tweet for big accounts
Twitter account set-up and management
Paid promotional tweets (when you have a large following)
Promoting courses and products as an affiliate
All of these methods can be performed without even showing your face. It's common on Twitter to create a brand and use a logo for your picture.
Spend time building your account authority and followers. The more followers you have, the more people you have to sell to and this translates to a larger reach for your tweets.
The niches that do the best on Twitter are health/fitness, wealth building/finance, relationships and inspirational quotes.
But, if you have a niche skill, this works in your favour. If you are a sales email expert for example, start tweeting tips on how others can have success with email marketing.
You'll become known for this one skill and become the go-to guy.
This could help you get freelance clients and it allows you to promote specific products you know help this audience.
And, they will buy from you, as they have started to trust you from your content.
Read more:  Beginners Guide to Affiliate Marketing on Twitter: Make $1,000/M Tweeting
2. Become a Freelance Writer
If the written word is your thing, freelance writing is a way to make money without showing your face.
Writing changed my life and gave me the opportunity to work and live anywhere, which I'm very grateful for.
While some clients may want to video chat with you to discuss projects. Most will be happy to engage over email.
And the best thing about freelance writing is you can make money even as a beginner.
The pay will be a little lower when you start out, but this is the time to hone your skills and build up testimonials.
According to Micro Biz Mag, freelance writers and freelance copywriters are the 2nd and 3rd most searched Google terms in the UK each month. As you can see, there is a high demand for writers.
To start earning writing, build yourself a portfolio, set up a professional profile on LinkedIn and start sending out pitches each day.
---
Related reads:
---
3. Offer Your Skills as a VA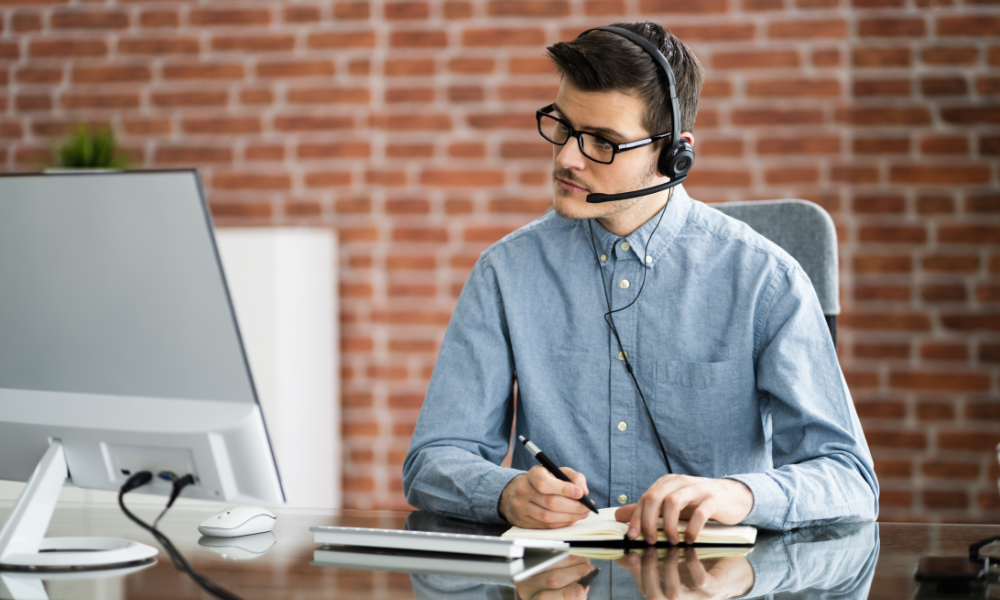 A VA (virtual assistant) works independently, outside of an office, providing a range of services for a business or entrepreneur.
Typical tasks a VA may perform include data entry, social media management, managing email accounts, blog management and writing, scheduling appointments, replying to messages, travel arrangements and more.
The great thing about VA work is you can offer the skills you are good at and feel comfortable doing. You decide your work schedule and the hours you are available.
According to Glassdoor, virtual assistants earn from $15 to $25 an hour. Of course, this varies depending on who you work for. If you set up freelance, you can charge your own rates.
Because this type of work is done remotely, you shouldn't have to show your face. All correspondence can be made through email and phone where necessary.
Related:  Legitimate Virtual Assistant Jobs Hiring Today ($3,000 – $8,000/Month)
4. Work as a Transcriptionist
Transcriptionists listen to recorded videos or audio and type out what they hear.
Content for transcription may include podcasts, videos, meetings, zoom calls, focus groups, phone calls, legal court proceedings, movies and more.
Transcribers can work in a general or specialised field such as medical or business. General transcription work usually pays a little less but is a good way to get started.
You can make money without showing your face as a transcriptionist. The work allows you to:
Set your own schedule
Work the hours that suit you
Work part-time or full-time
Have a constant flow of clients
Work from anywhere
Get started without a major qualification
Because online content is continually rising, work for transcriptionists is only going to increase.
If you're looking for a new career, or just to make extra cash part-time, transcription is worth looking into.
---
Related reads:
---
5. Correct Errors as a Proofreader
Proofreaders get paid to check and edit text before it gets published. They correct punctuation, spelling, format and grammar errors.
Proofreaders are the last eyes on an article before it's released to the general public.
This is why a proofreader needs to be detail orientated, have great concentration skills and have an excellent understanding of English grammar.
If this sounds like you, proofreading could be a great career to make money without showing your face.
Work can be completed remotely and correspondence with clients done over email and the phone.
A degree is not needed to become a proofreader and the average salary ranges from $47,554 to $61,882 a year in the US.
---
Related Reads:
---
6. Narrate Audiobooks for Money
Do you love to read and talk? Then narrating audiobooks for money is worth looking into.
Audiobooks are a convenient way for people to consume a book. And this is why they are hugely popular, making audiobook narration a lucrative career.
To earn money as an audiobook narrator you need a clear talking voice, the ability to control breath, energy and pitch control, a decent microphone and a quiet place to record audio.
While audiobook narration needs effort up-front, once recorded, you can receive passive income for years to come from the book royalties.
Audiobook companies hiring today include:
Further reading: How to Make Money Reading Audiobooks: 19 Sites Hiring Today
7. Make Money Flipping Websites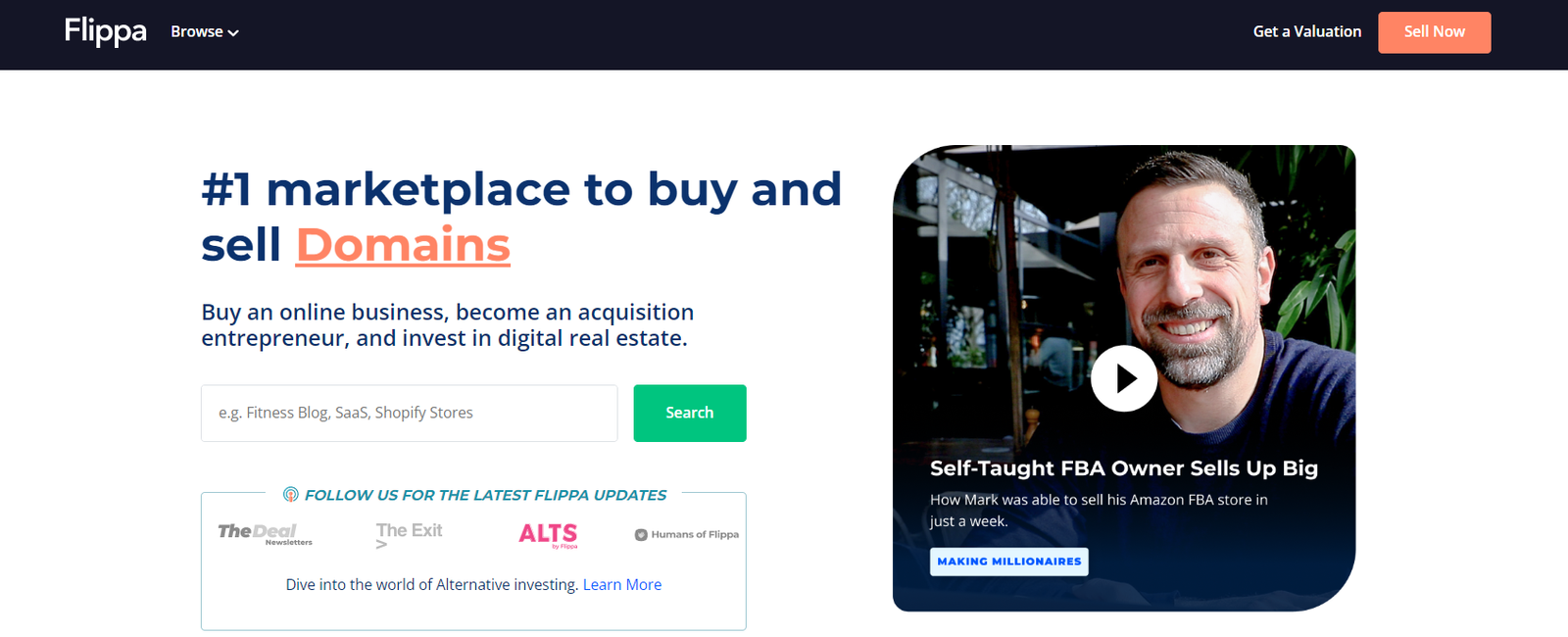 Flipping websites for cash is a great way to make money without showing your face.
You can buy starter sites for $100 on platforms such as Flippa and Empire Flippers.
Once you've acquired a website, spend time building up its authority and visibility on Google. You can do this by adding quality blog articles, promoting it on social media and building its backlink profile.
The more time and effort you spend building the site up, the more money you can make. For a fast turnaround, you could easily x5 times your money in one month.
If you have more time, hang onto it and sell it for thousands after a year or so.
For a little bit of inspiration, take a look at a few of the highest-selling domains of all time:
Business.com sold for $345 million
LasVegas.com sold for $90 million
CarInsurance.com sold for $49.7 million
VacationRentals.com sold for $35 million
PrivateJet.com sold for $30.1 million
Related Read: Make Money Flipping Websites: The Ultimate Beginners Guide
8. Sell Simple Crafts for Cash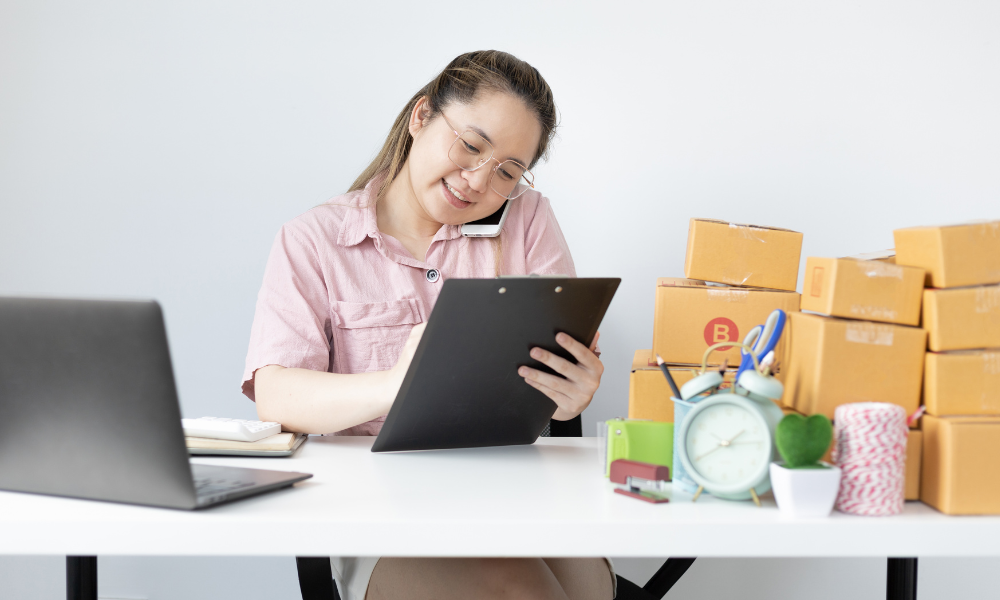 Let your creative side be free by selling simple crafts for cash.
Etsy and eBay are a goldmine for selling DIY crafts, art prints, clothes, digital downloads, beauty products and more.
There are literally hundreds of things you could make and sell on Etsy. It just depends on where your skills and likes lie.
Etsy allows you to sign up and build your shop for free but charges $0.20 per listing which lasts for 4 months.
Make sure you add quality photographs of each item and add keyword-rich descriptions. This increases the chance of your products getting found and you make more sales.
Related Read: Need Extra Cash? Check These Easy Things to Make That Sell
9. Write and Sell Ebooks for Money
Have you thought about bundling your knowledge into an eBook and selling it online?
This is a great way to earn passive income for years after you write the book.
eBooks can be sold on your website if you have one, on Amazon, on social media, through niche relevant blogs and through other publishing platforms.
To find a profitable eBook idea, think about what you are good at.
Have you overcome a problem or achieved great success in your career? This knowledge could be of great use, helping others to get the same results.
Also, search Google trends and the Amazon best sellers list. Knowing what questions people are asking, gives you ideas of what to write about.
Once you have your book written, create a free cover in Canva. To keep an air of mystery, you could even sell your book under a 'pen name'.
This really is one of the best ways to make money without showing your face.
Related Read: How to Make Money from eBooks (Complete Beginner Guide)
10. Apply for In-Demand Remote Jobs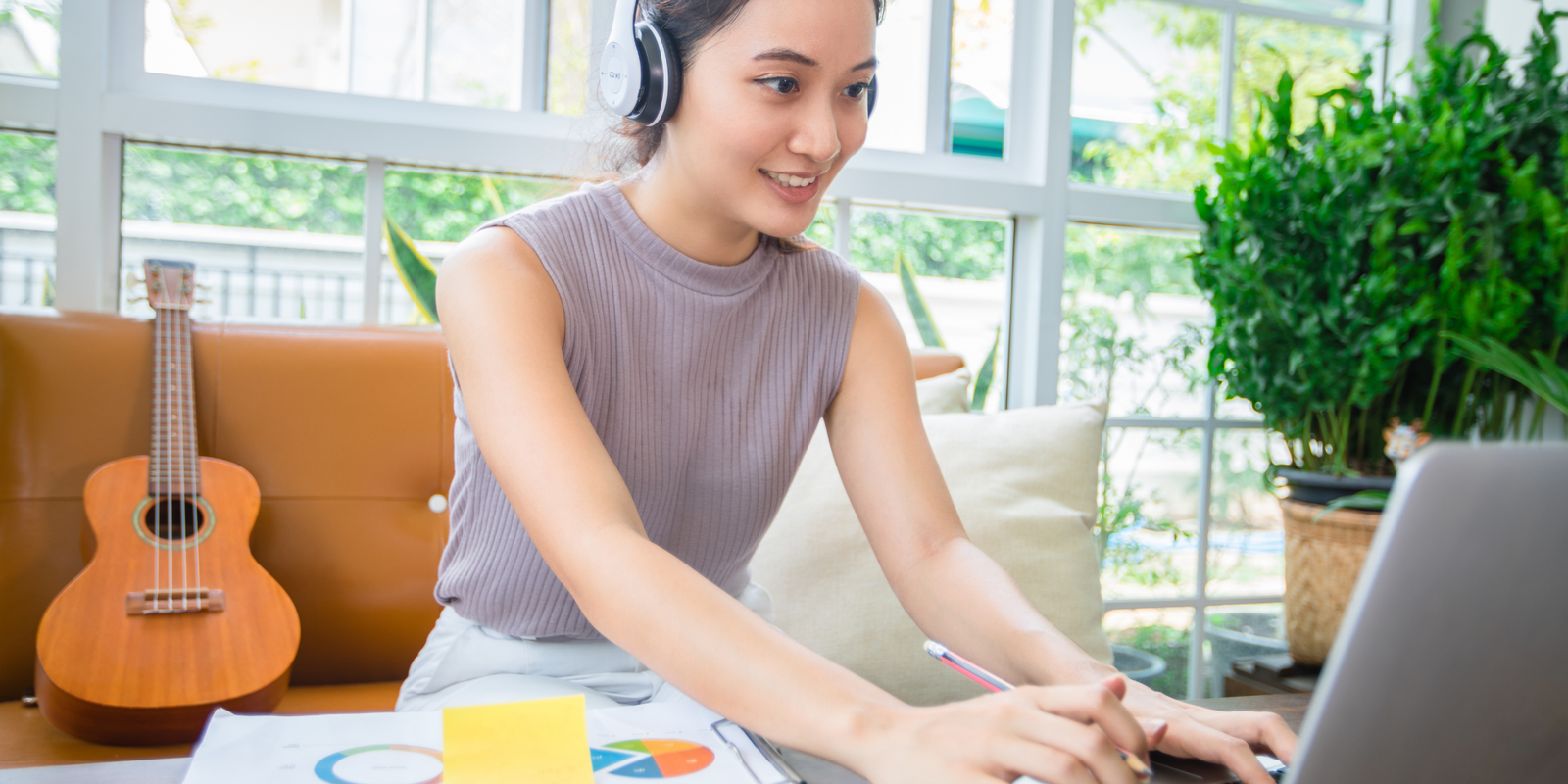 Working from home gives you the flexibility to work on your own schedule.
If you have a family and kids, or just want a better work/life balance, this is crucial.
Luckily, thanks to the internet, there are many companies that hire remote employees. And the good thing is, most of these jobs don't need you to show your face.
You'll find jobs like data entry, customer support, freelance writing, social media marketing, tech support, editing, remote chat agents, transcription and more.
If you feel you don't have the right skills to secure a remote position, take time to self-educate.
Here are a few free training programmes to give you the skills needed for different remote jobs:
And don't forget to check out the best job sites for remote work.
Hundreds of new virtual jobs are posted on these platforms daily. It pays to spend an hour each day sending out your CV.
11. Start Your Own Niche Blog
Blogging is one of the best ways to make money online without showing your face.
Earning a decent income from your blog does take time and effort. But, with persistence, you could make a full-time income in 2 – 4 years.
And getting started has never been easier. You can purchase ready-made blog templates (like the one I've used for this blog) and just add your own brand details and content.
Hosting is cheap also. You can get started for as little as $2.95 a month with Siteground which is extremely affordable.
Some bloggers don't even use their real name for their blog but a 'pen name'. So, you can keep your face and name hidden if you prefer!
Here's an overview of what you can earn from a blog according to traffic:
Less than 5,000 pageviews/month – Less than $100/M
5,000 – 15,000 pageviews/month – $100 – $300/M
15,000 – 30,000 pageviews/month – $300 – $600/M
30,000 – 50,000 pageviews/month – $600 – $1,000/M
50,000 – 1000,000 pageviews/month – $1,000 – $2,000/M
And, the earnings just keep growing the higher amounts of traffic the blog gets.
If these earnings look good to you, take a look at these tips to become a successful blogger.
12. Set Up a Niche YouTube Channel
The average worldwide user spends 29 minutes and 37 seconds on YouTube each visit.
Video content is hugely popular and will only get more popular. This is why YouTube creators start new channels every day.
The reason starting a YouTube channel has become so popular is that you can make money from it and even make a lucrative living.
To show you what's possible, here are a few of the richest YouTubers:
Ryan Kaji (Ryans World) – Earned over $29.5 million
Mr Beast (Jimmy Donaldson) – Earned over $24 million
Dude Perfect – Earned over $14 million
However, you might be wondering how you create YouTube videos without showing your face?
It's actually pretty easy, with many channels using slides and animation to teach something or to entertain.
And, the good news is that YouTube is favouring new channels as they want new creators on the platform to compete with Facebook watch.
This means you have a good chance of starting to earn from your new channel in the first year.
You can apply to monetize your channel with ads after you have 1,000 subscribers and have over 4,000 hours of watch time on your videos.
YouTube ad revenue is split 55% to the creator and 45% to YouTube.
When you have enough subscribers, you can also make extra money with your YouTube channel via affiliate marketing, selling merchandise and brand sponsorships.
Read more: Step-by-Step Guide on How to Make Money With YouTube in 2022
13. Start a Dropshipping Business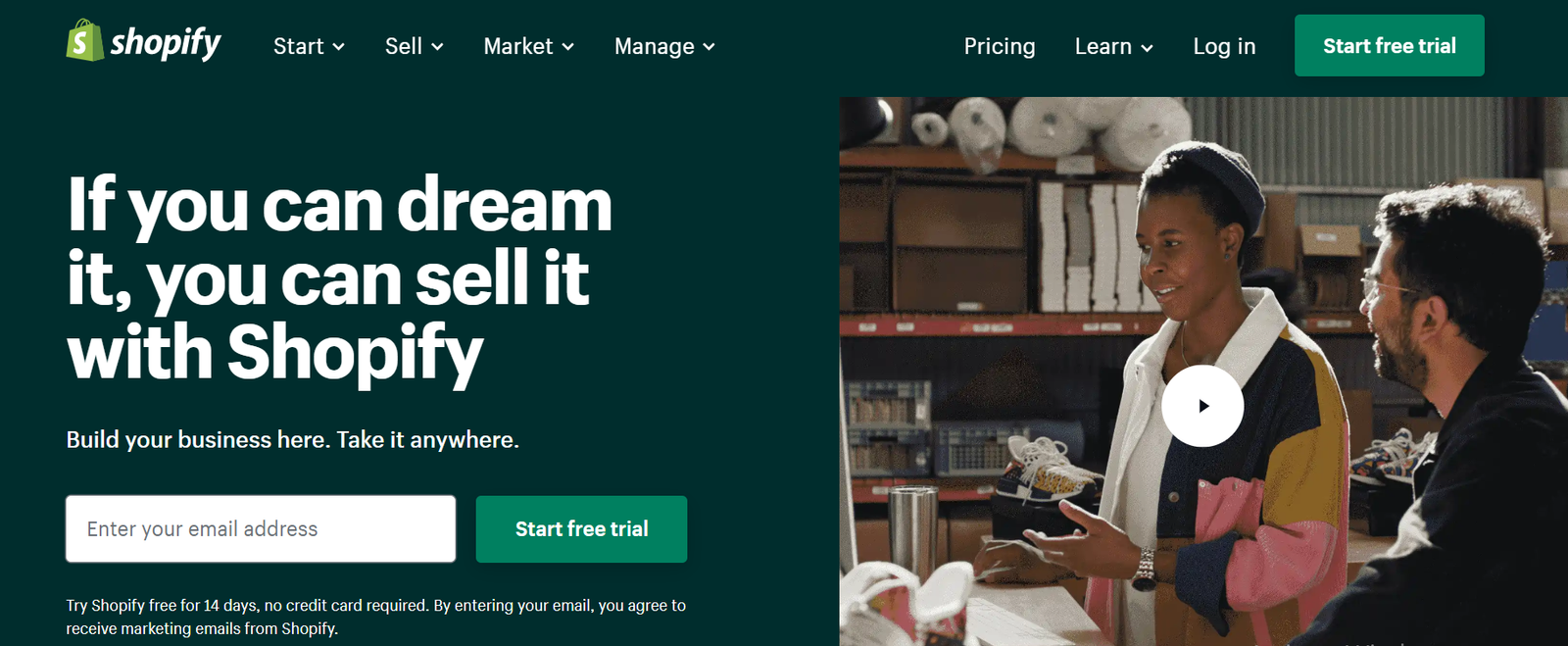 If you're looking to make money without showing your face, dropshipping is also worth checking out.
Dropshipping is where you create an online store that sells a product you source from a third-party supplier.
The advantage of this over having a physical store is that you don't have to store inventory that potentially may not sell.
When an order is made on your online store, the item is sent directly to the customer from the supplier.
This means that if an item you have in your store isn't selling, you can simply delete it and add a different product without losing anything.
According to research, drop shippers make a profit margin ranging from 10% – 45%.
So, if you have sales of $100,000, your profit will range from $10,000 to $45,000.
And, starting a dropshipping store on Shopify is super cheap as well at just $9 a month for the starter plan.
Check out how to start an online store with Shopify.
Conclusion: How to Make Money Without Showing Your Face
Now you know the many ways to make money without showing your face.
To make money quickly, start affiliate marketing on Twitter or your favourite social media platform.
Affiliate marketing is an easy beginner side hustle with little barrier to entry. You could literally get set up and start making commissions today.
If you have a little more time, try selling eBooks, making crafts or flipping websites.
All these side hustles need work, but once you know what you're doing, can bring in life-changing money.
The important thing to note is: nothing will work unless you do. Decide how you want to make money online, write down a plan and spend 2 hours a day working on it.
Do you currently make money online via the methods mentioned in this article? I'd love to know how it's going for you in the comments.
---
Related articles:
---
13 Simple Ways to Make Money Without Showing Your Face
*Disclosure: I only recommend products I would use myself and all opinions expressed here are our own. This post may contain affiliate links that at no additional cost to you, I may earn a small commission.
Summary
Article Name
13 Simple Ways to Make Money Without Showing Your Face
Description
13 Simple Ways to Make Money Without Showing Your Face.
Author
Publisher Name
Publisher Logo